General Blog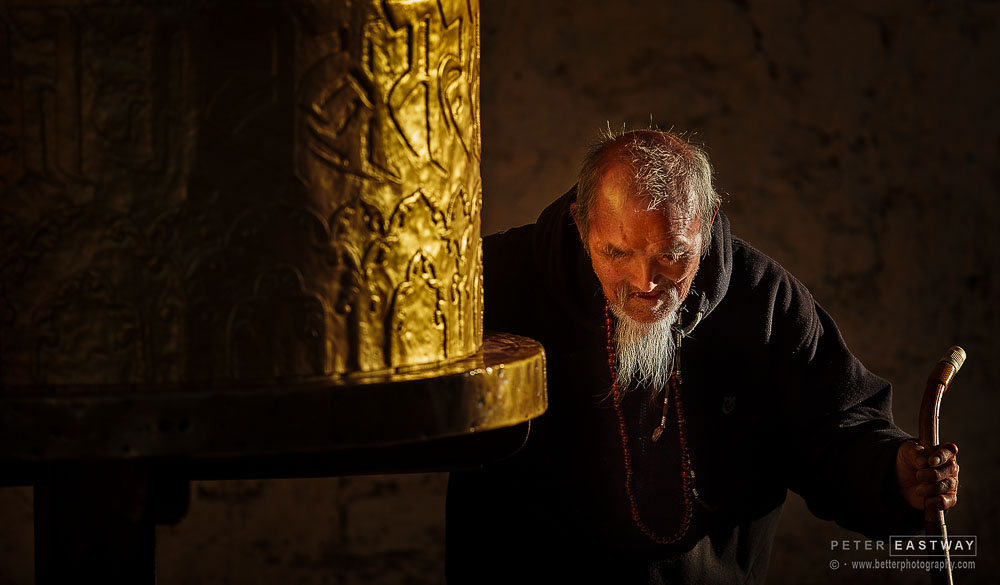 Elderly gentleman, Bumthang, Bhutan.
Canon EOS 5DSR, 300mm f2.8 lens, 1/2500 second @ f2.8, ISO 100
What is correct exposure? Are we talking about in the camera or in post-production, because they are two quite different things.

In camera, we want to capture 'good quality pixels' which won't limit our post-production. By good quality pixels I mean the lens has been correctly focused and the exposure doesn't clip the highlights or block up the shadows too much. Good composition and light don't go astray either, plus as David Oliver says, you need to capture the emotion.
(David, Robert van Koesveld and I are taking a workshop to Bhutan next year and we have places available, so please let us know!)

I think this photo has the emotion. It is delivered by the subject and his pose, one hand on his staff, the other turning the large prayer wheel.

However, if you click through to the website, you'll see that the captured exposure was a lot lighter and didn't have the same atmosphere or mood. By darkening down the image, but retaining detail in the face and the prayer wheel, I hope I have matched the mood and the emotion into something better than a straight capture. So, in this case, the correct exposure for the final image is quite different to the correct exposure in camera.

You might ask why I didn't just darken down the exposure in camera. Apart from technical reasons (loss of detail, noise), while I have darkened down the surroundings, I have lightened up the face. The final interpretation was not possible with a single camera capture. If I had taken a darker exposure in the camera, then I may not have had sufficient quality in the pixels to lighten up the gentleman's face (without introducing noise or posterization).

Looking at a 1000 pixel image on your phone or computer screen, it mightn't have mattered what the original exposure was like, but if you're going to take the image to a print or a book, then technical issues like this become incredibly important. At least, they do for me!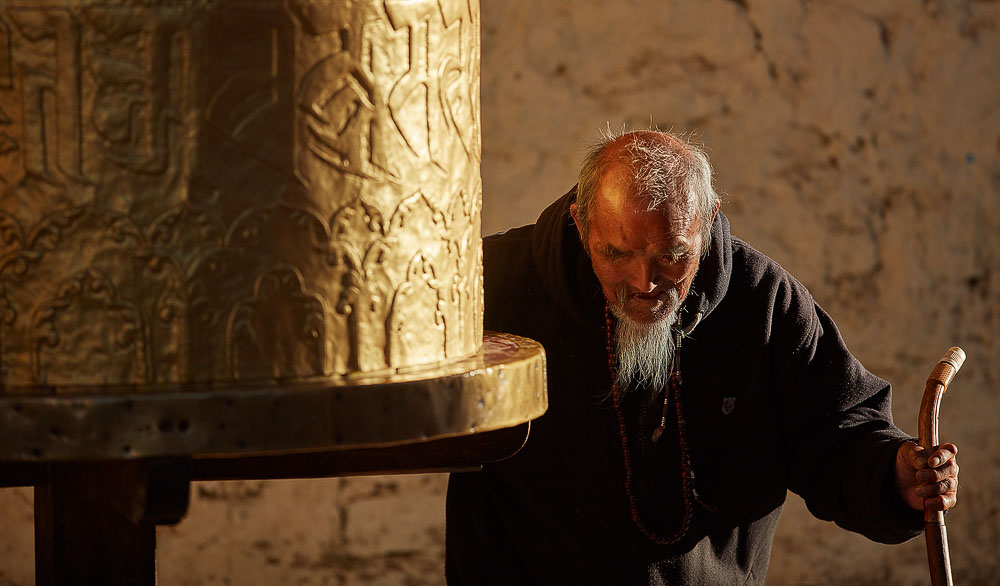 The in-camera exposure with minimal raw processing adjustments.
And if you're interested in a photography workshop in the next 12 months or so, I have places left on trips going to Bhutan, South West USA, Antarctica and the Silk Road. Full details on the Better Photography website!