General Blog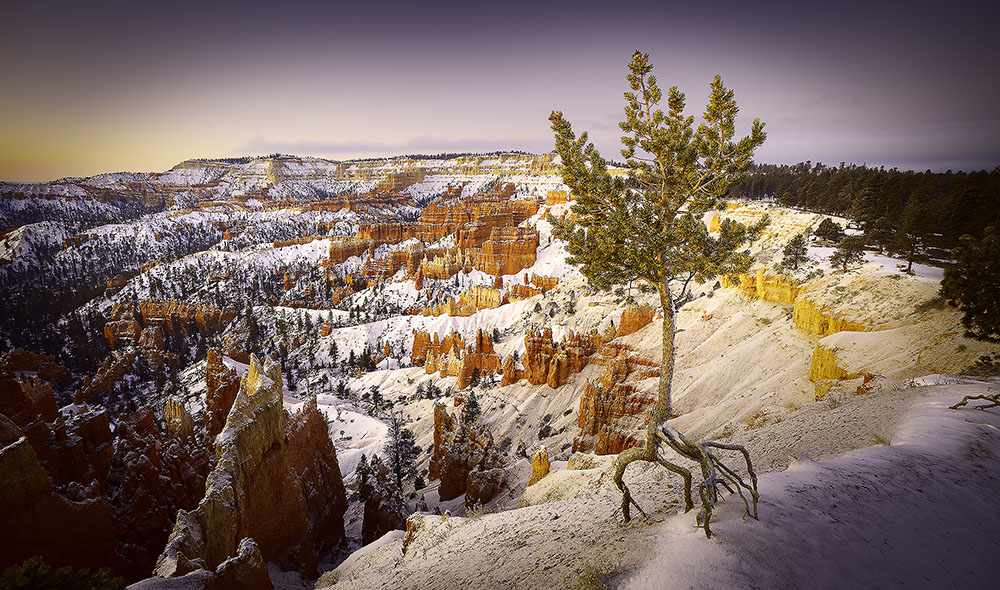 Tree, Bryce Canyon
24mm Schneider lens, Horseman body, Phase One P45 back.
I remember this photograph very well because it was taken on my birthday. I also remember a few days earlier, looking at a photo of Bryce Canyon covered in fresh snow, wondering how photographers were lucky enough to be in the right place at the right time!

I was in Las Vegas at the WPPI photography awards and after the event, Phil Kuruvita and I had a week or so in the desert, scouting for photographs. As we drove out of Las Vegas under perfectly clear skies, I put any thoughts of snow out of my mind.

However, the weather in the mountains, even relatively small mountains like those around Bryce Canyon, can be completely different. Late that afternoon, we found ourselves driving into Bryce Canyon with lots of low cloud. We drove back down to the hotel and it started snowing.
I didn't get my hopes up because often a snow storm will last for a couple of days before breaking, so I told myself. Nevertheless, Phil and I set the alarm and awoke to perfectly clear skies!

Out on the road, all was covered in snow, including the signs. In the darkness, we had no idea where to go, except we could see a glow of light over to the left. That must be where the sun was coming up, so we parked the car and walked into the forest through knee deep snow.

Well, we parked well. Out trail lead us to the edge of the Canyon at a spot called Sunrise Lookout and over the fence was this little tree, hanging on for dear life.

Not only was this my birthday, it was also the first serious photo I took with a Phase One medium format camera, however, Phil will say I'm still struggling 10 years later to get as good a shot again!
This week, Tony Hewitt and I are in South West America and while we won't get to Bryce Canyon on this trip, we're going to lots of other amazing places. I'll try to post from the road!