General Blog
Late afternoon - Yazd's Amir Chakmak Square, Iran
Photographs by Nuran Zorlu
Nuran Zorlu is a commercial photographer in Sydney - and a passionate traveller, historian and gourmet! He has visited Iran a couple of times and has published a book of photographs on the country, its architecture and culture. I'm not quite sure what I'm getting myself into with our tour to Iran later this year, but I'm sure it will be a lot of fun! Nuran was speaking to me about the importance of taking enough time at travel destinations to ensure you get the best light - as his three photographs from Yazd show.
Wrote Nuran, "I am starting to get excited about revisiting this historically and culturally rich country and one of the highlights of our journey will be Yazd. Being a desert city far away from everywhere has helped preserve its distinctive urban landscape. Many of its religious architectural specimens are unique as well.
"The Amir Chakmak Square in Yadz is named after the Timurid era governor. The complex dominating the square with the same name is believed to be the largest of its kind in Iran. As a photographer, I always like to check great locations more than once. The quality of light is imperative for taking the perfect image and a different time of the day will often dictate the mood of the resulting photo.
"For me, night photos are very exciting, especially if I am photographing architectural masterpieces. I decided to dedicate an hour in Yazd's Amir Chakmak Square. Night photography is a little like fishing beause it's a waiting game, but once it's happening, it happens very quickly. I find the best time to create the perfect night image is when there is still a little colour in the sky, so not quite completely dark.
"When the building starts to glow with the artificial lights, it's just a matter of waiting until the brightness in the sky balances the light on your subject. Which do you prefer? The image with more light in the sky, or with very little?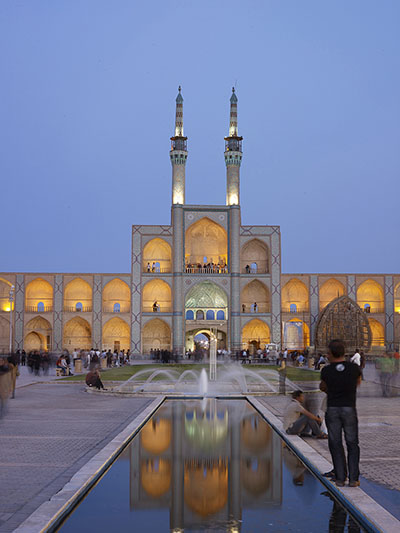 Twilight with lots of colour inthe sky.

Almost night - with just a hint of colour in the sky.
If you're interested in visiting Iran with Nuran and Peter this year, click through to the Better Photography website!