Equipment Etc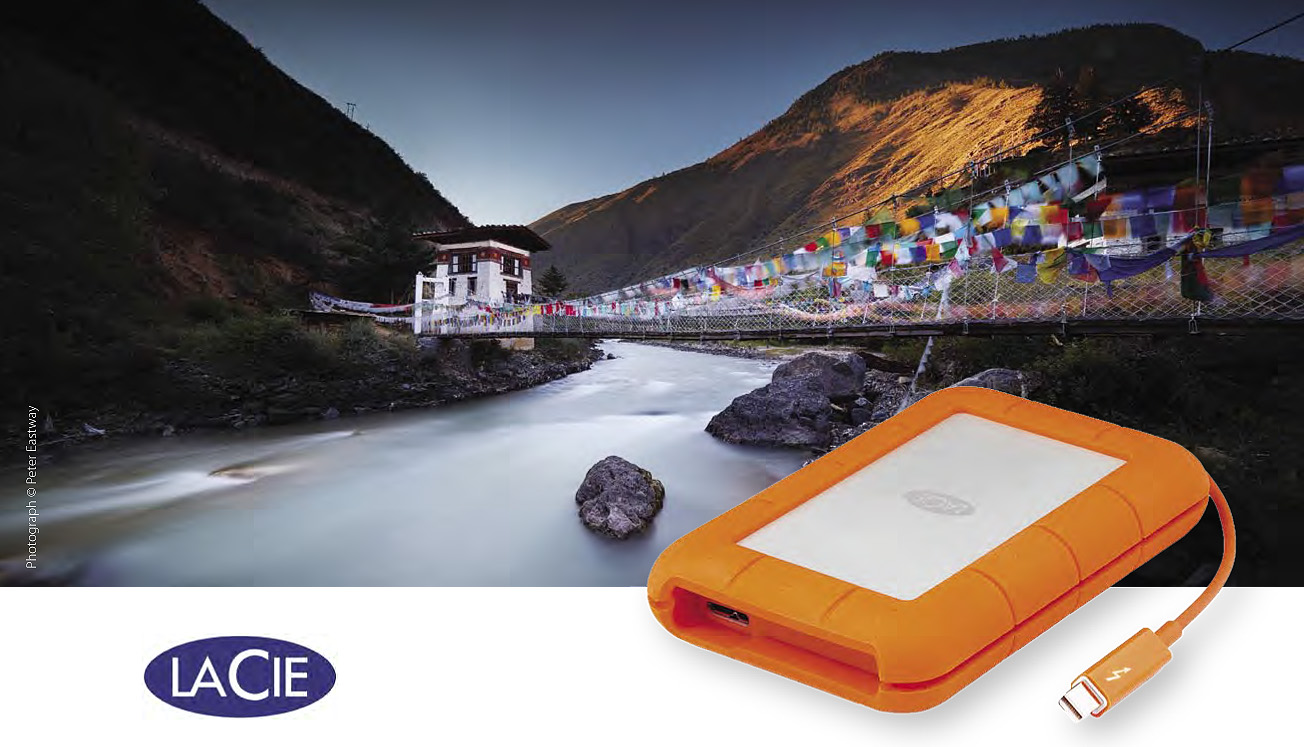 Article reprinted from a special promotion from Better Photography magazine.
Peter Eastway reviews LaCie's Rugged Mini on a trip to beautiful Bhutan and why it provided such a valuable sense of security. With the technology we have today, there is no reason to lose a photograph.
Ever.
Naturally that assumes your camera is working properly, but once that photograph is recorded correctly onto your camera's memory card, it should never be lost.
Safety Strategies
Different photographers have different strategies. For instance, if you are shooting a lot of photographs in a short period of time, such as at a wedding, then it makes sense to use a camera with two memory card slots and to record each image to both cards – so if one card were to fail, you have a second.
Other photographers are happy to review their photos from time to time during a shoot, because if the camera can read the memory card, the files should be okay (assuming the memory card doesn't fail later on, of course).
However, under no circumstances do you want to delete or erase your files from your memory cards until you have a copy of your photographs somewhere else. So, what's the best strategy?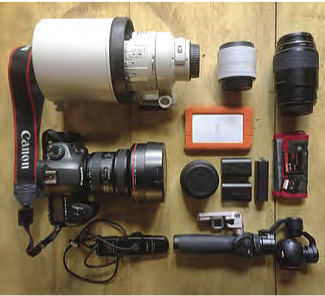 Bhutan Camera Bag: LaCie Rugged with Canon EOS 5DSR, 11-24mm, 50mm, 100mm macro, 300mm f2.8, 2x Converter, electronic release, Osmo video, Sandisk Extreme Pro cards, spare batteries.
How Good is the Drive?
Try to have sufficient memory cards for the entire shoot, so you never have to reuse a card.
During the shoot (unless it is a very short shoot, of course), copy your files onto a laptop computer (copy #1) and back them up immediately onto an external drive (copy #2). The two copies can be made simultaneously with both Lightroom and Capture One, for example.
You now have three copies of your photographs and that is a very safe position to be in. But what happens if you run out of memory cards? What happens if you run out of storage space on your laptop computer? Importantly, what happens if that external drive stops working?
My approach is to have two external backup drives because, inevitably on long shoots, I do run out of space on my laptop. If I delete files from my laptop and need to reuse my cards in an emergency, I still have two copies.
Those two external drives are critical and they aren't much use to me if they break down, so I don't want to be reliant on a low-cost, office-style external drive which, with even a slight knock or bump, can stop working and put my entire shoot at risk!
LaCie Rugged
While some external drives are incredibly cheap, they are not 'good value' for a photographer on the move – especially if they break.
If you are buying a couple of backup drives to keep your data safe, it only makes sense to buy drives that are rugged and built to last.
Photographers and video producers need robust external drives that will 'survive and thrive' in a photographer's camera bag, especially while out on location or on a trip.
That's why LaCie does so well with its Rugged range of external drives.
If you've been on a film shoot or a film set, chances are you've seen photographers and DOPs handling these bright orange drives.
The 'orange' casing is part of the added protection afforded by the Rugged drives and over the past 10 years, they have become a defacto standard for our profession.
I took a LaCie Rugged Mini 2TB drive with me to Bhutan recently to test it out for my still and video files. I confess I was careful, of course, but the drive lived in my camera bag for two weeks, sitting in a slot between a couple of lenses and it never missed a beat.
The Rugged Mini is shock resistant for a 1.2 metre drop, it will survive a one ton weight rolling over the top of it, it's rain and dust resistant, and if you wish, you can password protect it.
The USB 3.0 drive I used is up to four times faster than USB 2.0 and software on the drive will let you format it so it will work with both PC and Apple computers (by partitioning the drive).
Importantly, at 240 grams, you'll hardly notice it is there.
Complete Range
There are currently five LaCie Rugged models in a range of capacities from 500GB to 4TB with transfer speeds from 110 MB/s up to 387 MB/s. They offer a range of different connections to suit Apple or Windows computers, including the lightning fast Thunderbolt, USB-C, USB3 and FireWire 800, plus there's a 4TB RAID version.
The drives have a two- or threeyear warranty and slightly different degrees of robustness – meaning you can drop the Thunderbolt version from 2 metres, but the RAID is only rated for a 1.5 metre drop. Of course, we hope you won't drop either of them, but isn't it nice to know your files are safe and secure!
Studio Protection
Back home, as we return with more photographs and use larger sensors, our need for an efficient archive and storage system grows.
LaCie also has an extensive range of studio storage, archive and backup solutions with capacities from 2TB up to a massive 120TB.
For more information, visit www.lacie.com.au, or visit a specialist photo supplier like L&P Digital Photographics or Sun Studios, or better computer suppliers Australia-wide.