Equipment Etc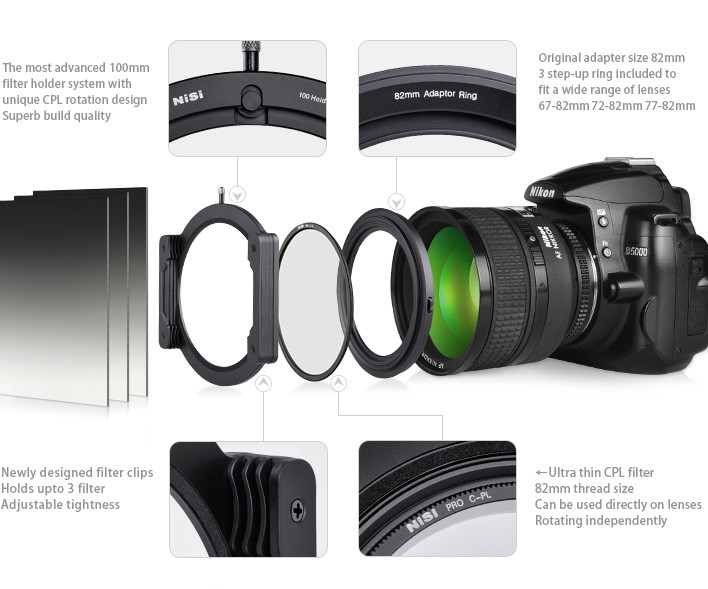 The new NiSi V5 100mm filter holder.
I've recently switched over to NiSi filters. I was given a 180mm 10-stop ND filter to use on my Canon 11-24mm lens which, given its large front element, is a challenge. The large NiSi filter holder was the simplest and easiest to use that I have seen, although I struggled to fit two filters into the slots (but this was the old design holder - read on)!

However, the most important aspect of the NiSi system were the filters themselves. With a lot of ND filters I have used, I ended up with a colour shift. Given I've used the same filter with different cameras and ended up with different colour shifts, I put it down to the Bayer filters over the camera's sensor and their slightly different transmission properties of the different filter colours. However, it appears it is more likely to be infrared wavelengths which can have a noticeable impact on long exposures.

Of course, I'm no optical scientist, but I know what I want: no colour shift. And using the NiSi 180x180mm Nano IR Neutral Density Filter – ND1000 (3.0) – 10 Stop, there was none. And it was the same on both my Canon and Phase One cameras. According to NiSi, it's the infrared nano-coating that makes the difference and keeps the colour shifts away.

However, putting a 180mm filter holder on my small lenses looked a bit ridiculous, so I figured it was time to raid the piggy bank and purchase a 100mm system for my Schneider and Rodenstock lenses on the Phase One. One thing led to another and now I'm delighted to be a NiSi Ambassador as well.

As you read this, I will be travelling through SouthWest USA with Tony Hewitt and a small group of photographers, following in the footsteps of some of America's greatest photographers. I'll also be putting my NiSi filters into action - along with the new filter holder design.

The problem I had slipping two filters into the holder has gone because the new V5 holder 'holding mechanism' has been completely redesigned. Instead of the filter being clamped down from the front, the filter is held in from the sides which makes entry and exit easier.

The NiSi 100mm Aluminium Filter Holder Kit V5 holds a circular polarizing filter (which I don't use for skies, just for reflections) and up to three flat filters. There's a dial on the edge of the holder that lets you rotate the polarizing filter while it is in the holder attached to the camera. Very cool. And adapter rings mean I can use the one filter system on all of my lenses.

In my kit I have 6, 10, 15 and 20 stop ND filters. I don't use graduated ND filters much, preferring to do tonal adjustments in post-production, but I know friends like Mike Langford and Jackie Ranken swear by their graduated filters. And for the 20 stop filter, I'm just working out if my battery power will last long enough to make an exposure!

For more information on NiSi filters, visit https://nisifilters.com.au/