MIddlehurst Middle-Earth
Bespoke Large Format Inkjet Book in Limited Edition + elegant presentation box
Description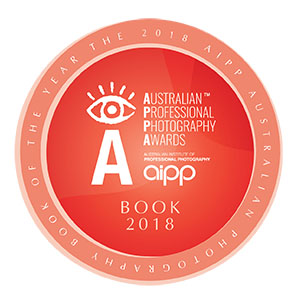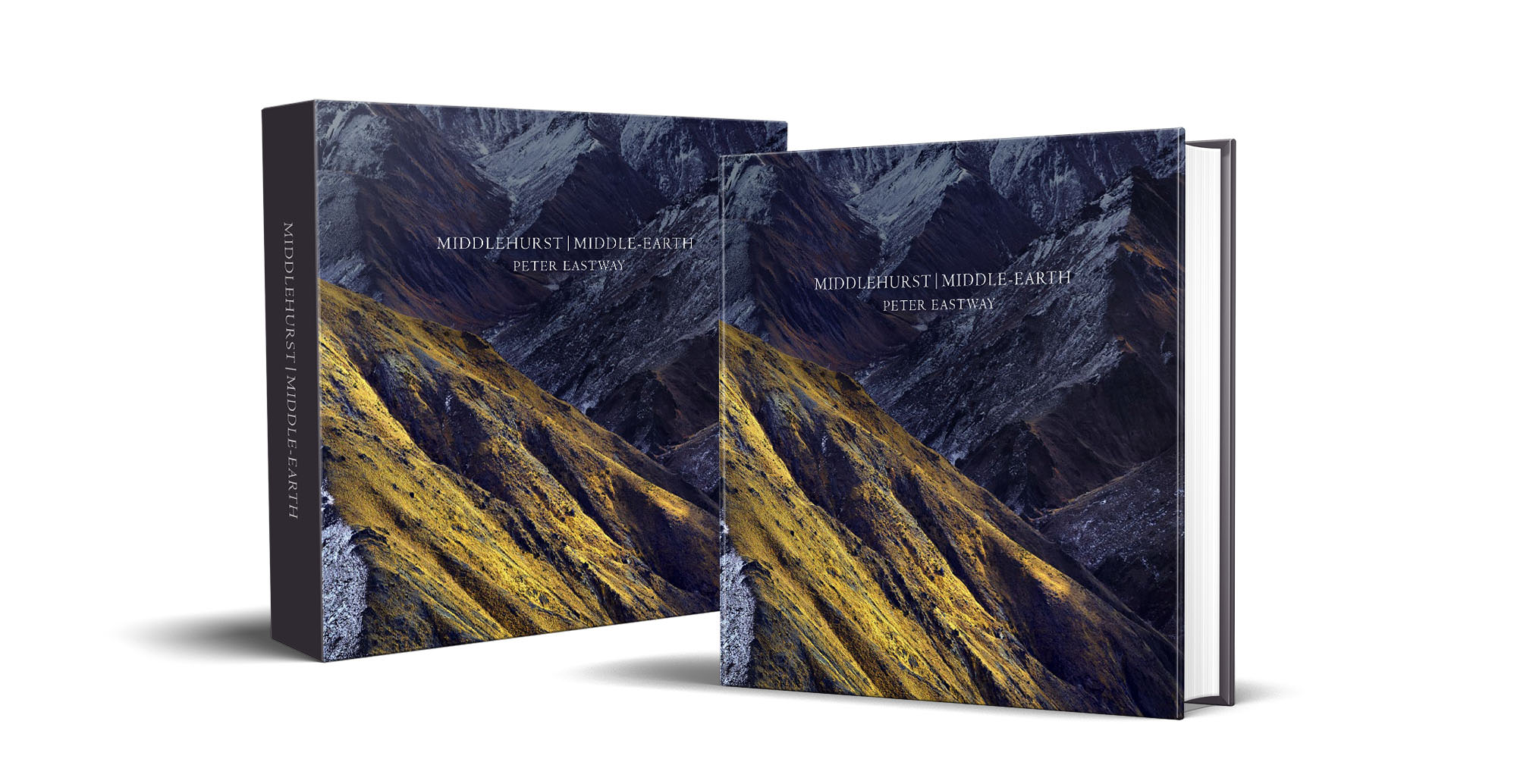 2018 AIPP Australian Photographic Book of the Year Gold With Distinction Award
2019 Best of Category for Art Books and 'Best of Show', 2019 Premier Print Awards, the largest and most prestigious print competition on the global scene, with 2,238 entries from 13 countries in 2019.
Middlehurst Middle-Earth represents a technical and aesthetic triumph of modern technology and progressive photography. The 94-page, large-format (420x420 mm) book presents a series of images photographed in and around Middlehurst Station, a remote wonderland found deep in the high country at the north end of the South Island of New Zealand.
All the images were photographed on 100-megapixel Phase One cameras with Schneider and Rodenstock lenses, producing images of outstanding detail and clarity. The medium-format files translate perfectly onto the large format matte pages, each individually printed using high-end Epson printers and archival Ultrachrome HDR ink. The book is printed and bound by Momento Pro in Sydney who are as passionate about book production as we are about photography.
The result is the culmination of years of experience, a defining portfolio.
And there are just 45 books available in a very special limited edition.
Please allow six weeks for delivery. We'll start work straightaway, but these are hand-made books. And while Momento Pro does great quality all the time, perfection takes a little longer!
For more information, contact Peter's assistant Kim - This email address is being protected from spambots. You need JavaScript enabled to view it.
International Acclaim!
Sydney based printer, Momento Pro, has attained the ultimate graphic arts industry honour by winning the 2019 Premier Print Awards James H. Mayes Jr. Memorial 'Best of Show' prize, for a collector's edition art book, Middlehurst | Middle Earth, by Australian landscape photographer Peter Eastway.
Now in their 71st year, the Premier Print Awards is the largest and most prestigious print competition on the global scene and the Academy Awards of the print world. Michael Makin, President and CEO of Printing Industries of America, stated that, "The Benny winners represent the best our industry has to offer. This year's entries were outstanding, with 2,238 from 13 countries."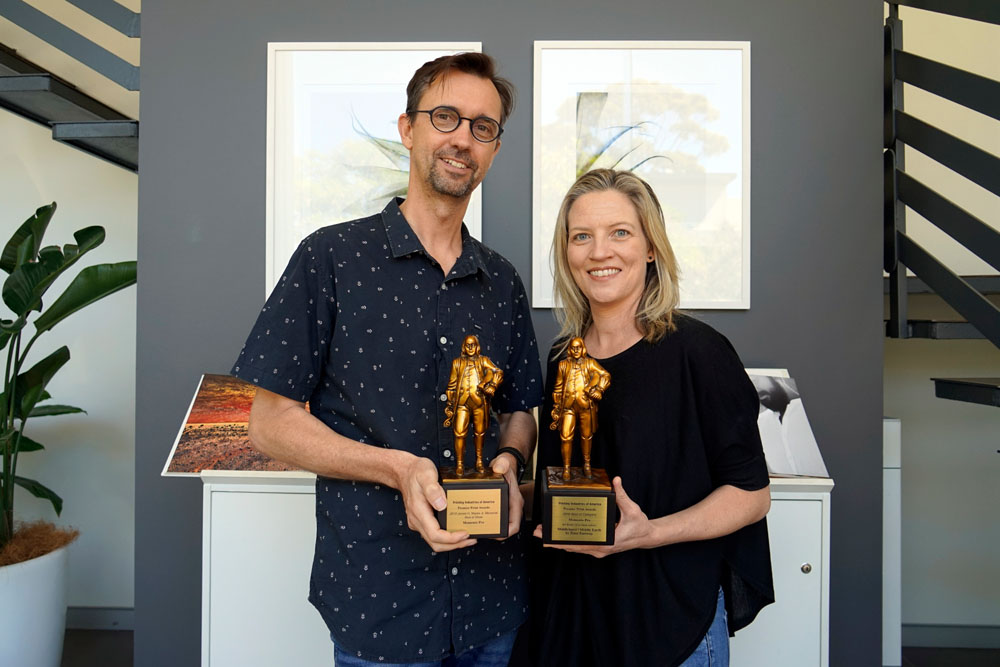 Libby Jeffery and Geoff Hunt of Momento Pro with their Benny Awards
In June, Momento Pro was notified that Middlehurst | Middle Earth had won the 2019 Best of Category for Art Books (4 or more colours), representing the most outstanding coffee-table book devoted to the reproduction of art, photography, or artistic collections.
The judges stated that, "The title of this masterpiece is Middle Earth, but a better title might be out of this world! Each spread is a visual feast for the senses. In the toughest category, this is numero uno. Extraordinary colour!"
On 2 October, at the Premier Print Awards Gala dinner in Chicago, the book was also awarded 'Best of Show.' Award Manager, Mike Packard describes this as, "The #1 award of the evening, the best of the best, resulting from all the Best of Category winners being judged against each other, and this was as close to a unanimous decision as we have ever had. Middlehurst | Middle Earth is a collector's item. Congrats Momento Pro on your Best in Show."
This self-published limited edition book is a 42 x 42 cm inkjet-printed colossus featuring flawless photography from renowned Australian photographer Peter Eastway. Eastway captured the grandeur of the New Zealand landscape on a Phase One camera, then printed the images in a size and quality that did the files justice.
The book was handcrafted from the highest quality materials with the longest lifespan available today. It was printed onto 100% cotton rag using Epson Ultrachrome archival inks, and colour profiles created by international colour expert Les Walkling. These were the same ingredients that led Momento Pro to winning the Art Books (4 or more colours) category in 2016 for the Ken Duncan Portfolio Collection - also a collector's item.
Momento Pro co-founder Geoff Hunt, confirmed that, "Winning the 'Best of Show' is humbling recognition of our 15 year focus on quality not quantity, for all our products, and for all our customers - consumers, professionals, photographers, artists and corporates. We'll also continue helping Antipodeans preserve their artwork and memories in world class quality prints, right here in Sydney, and prove that printing photographs is far from dead."
"It's a great thrill to be a part of the team that won the Benny Award", said Peter. It's one thing to use amazing cameras and visit amazing locations, but quite another to see your vision transformed into a beautiful physical work of art. And that's why I love working with Geoff and Libby at Momento Pro."
Units in box: 1