On Set With Fujifilm's New Medium Format Camera
Do cameras like Fujifilm's medium format GFX 50S have what it takes in the world of advertising and fashion? There's no doubt Markus Klinko and Koala Lee believe it does.
"I would never go back to mirror cameras," stated Markus Klinko emphatically.
"Photography is not just about practising technical things like a musician or a dancer, it's all about ideas.
"And working with a camera like the Fujifilm GFX allows me to transform these ideas into reality, almost as easily as if I were using a smartphone, so it's fun to be a medium format photographer."

Predominantly Fashion
Markus Klinko and Koala Lee work predominantly in fashion and advertising, a world that has changed dramatically since Markus began back in 1994.
Many photographers shot on cumbersome 8x10 and 4x5 cameras to produce the quality needed for large reproductions, but this required a tripod and a rather restricted shooting approach. Gradually, as film quality improved, small 35mm DSLRs were adopted and a much freer, looser style of photography developed, especially for fashion and editorial.
And this is where Markus excelled, developing a look and a style that celebrities like Iman and David Bowie appreciated and promoted.
Today, the majority of professional photography is shot on DSLRs, but that is changing. The smaller, mirrorless cameras can now match the quality, features and versatility of DSLRs, but with less weight and the advantage of an electronic viewfinder and superior autofocusing. However, the medium format GFX 50S takes this versatility a step further, providing unparalleled image quality.
At the heart of the GFX is a new G format image sensor, measuring 43.8x32.9 mm and nearly double the area of a full-frame DSLR. On top of this sits the X-Processor Pro image processing engine, which also handles Fujifilm's Film Simulation modes. Capture can be set to a range of different sizes and frame ratios, but the largest is 4:3 at 8526x6192 pixels as compressed raw, uncompressed raw files and/or JPEGs. HD video is also available.
While you mightn't want this number of pixels for every shoot, it's handy to have them along because you never know when a larger file may be required.
However, more important than the sheer number of pixels is the quality of the image file. The larger sensor also provides a greater dynamic range, which essentially means better shadow detail with less noise and finer, smoother transitions from highlights to shadows.
This is one of the benefits of medium format that is difficult to measure quantitatively, but is so easy to see qualitatively when you open a file.
And when it comes to autofocus, the mirrorless design allows Fujifilm to offer up to 425 autofocus points spread across almost the entire image area, meaning it is very unlikely you will want to focus on something that is not covered.
Importantly, you can adjust the focus point very easily, even with the camera to your eye, using an eight-direction focus lever. The GFX also offers Face Detection and Eye Detection AF, so suddenly the camera is looking very appealing for professional fashion and celebrity photographers.

Small But Big
However, as Markus pointed out, the big change is the camera's usability – its ergonomics and versatility.
The GFX is a small camera with a big sensor, meaning you can use it hand-held in places that are troublesome for more fulsome medium format cameras or larger DSLRs. Don't take this as carte-blanche for single handed shooting from the hip, at least not all the time. Sure, you can do it, but this is still a medium format sensor.
When you enlarge your image up to 100% on your computer screen, everything is magnified including missed focus and camera movement. You will need to know what you're doing to make the most out of this camera.
Of course, if you view your images at 5O% magnification, it's just like using a 24-megapixel sensor and maybe any technique deficiencies will be hidden after all. Shooting medium format is a skill that isn't difficult to learn, but mustn't be forgotten.
And so much easier with the GFX 50S.
Still, you will be excused for thinking you're shooting with a CSC or DSLR camera when you pick up the GFX. Apertures are controlled on the lens, shutter speeds and ISO on the camera body, with generous dials that can be locked into position (very much X-Series design).
The detachable electronic viewfinder is large and very bright with a 3.69 million dot screen, but you can also use the 2.36 million dot touch-screen LCD on the rear of the camera.
Concluded Markus, "What's so awesome about the GFX is that it combines the high quality of medium format in a camera that lets you take snapshots if you want to.
"It is very light and so easy to use in comparison to other medium format cameras – and the fact it's mirrorless means we're not looking backwards. This camera is the future and it's ready for the big time."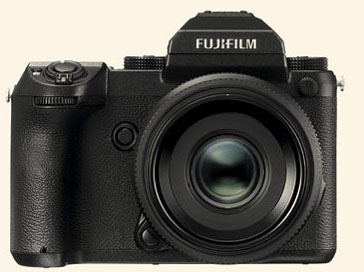 For more information on Fujifilm GFX, visit Fujifilm-x.com/gfx/ or take a trip to your nearest Fujifilm camera supplier.