A FUJIFILM/BETTER PHOTOGRAPHY SPECIAL PROMOTION
Better Photography readers will be well aware of the work of documentary photographer Michael Coyne. A stalwart Fujifilm X photographer, he has been enamoured with the X-Series cameras since the original X100. He's also owned all the X-Pro models and has recently been using the Fujifilm X-Pro3 to complete his massive project on villages around the world.

All photos by Michael Coyne. A reindeer herder steering a sledge
across the tundra in Siberia, Russia. Fujifilm X-Pro3, XF16mm f2.8 R WR,
f6.4 @ 1/320 second, ISO 640.
"It's really difficult shooting a project that involves so many different countries around the world. It takes a long time to gather together information about a location before you go, to set things up and then to hope you'll pull at least one good image out of that destination. I can easily spend a couple of weeks to get a single photograph that works.
"Most of the time is spent hanging around, meeting people, making plans and not taking pictures.
"The project is about village life at the end of the 20th and beginning of the 21st centuries, about people leaving rural areas and moving into cities. For the first time in humanity's history, there are more people living in cities than the countryside, so this aspect of life is quickly disappearing. Big corporations are destroying small farmers, climate change is affecting everything. In Russia recently, the reindeer people had to go further north and west or risk being attacked by giant mosquitoes! Everything is changing.
"However, it's not all doom and gloom. Not all villages are disappearing and sometimes we see people returning to their homes with new ideas to make their village viable.
"I see my job to document the loss of culture, customs and language, to show how indigenous people are trying to survive. I look at the good, the bad, the joyful and stressful – everything that talks about the narrative of what's happening in rural life today."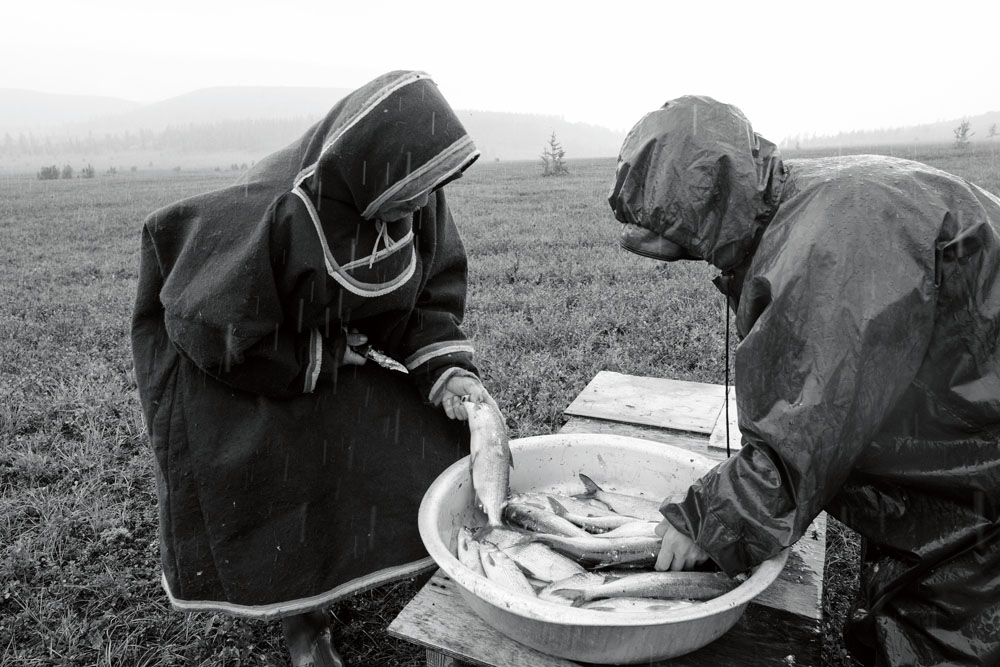 Nenets people fishing in Siberia, Russia. Fujifilm X-Pro3, XF16mm f2.8
R WR, f5 @ 1/250 second, ISO 640.
So why does Michael use the Fujifilm X-Series cameras for his professional work?
"I began with the first X100. It was small and light, fitting in a pocket and the files were beautiful, even for making huge prints. I can remember shooting a group of people sitting around a night fire in Pakistan and being really impressed by the image quality, so I have continued shooting with Fujifilm X-Series cameras ever since.
"And these cameras are reliable. I remember photographing villagers in an Indonesian volcano alongside a television film crew. Their cameras broke down with the sulphur and gases, but my Fujifilm kept going. In fact, I've taken my Fujifilm cameras to some of the dustiest, hottest and wettest places on Earth and they haven't missed a beat.
"I also think Fujifilm has moved forward with the design of the camera. For example, while personally I don't feel the need to look at the LCD screen on the back of my camera very often, I do like the new touch screen LCD monitor on the back of the X-Pro3 which gives more opportunities when I'm shooting.
"Okay, let's put it this way: I'm not the tallest photographer around and sometimes it's challenging to see over the top of a crowd. With the X-Pro3, I can flip the LCD screen and hold the camera up high to shoot over the people in front of me. It's a small point for some, but one I've found incredibly useful now that I have it!"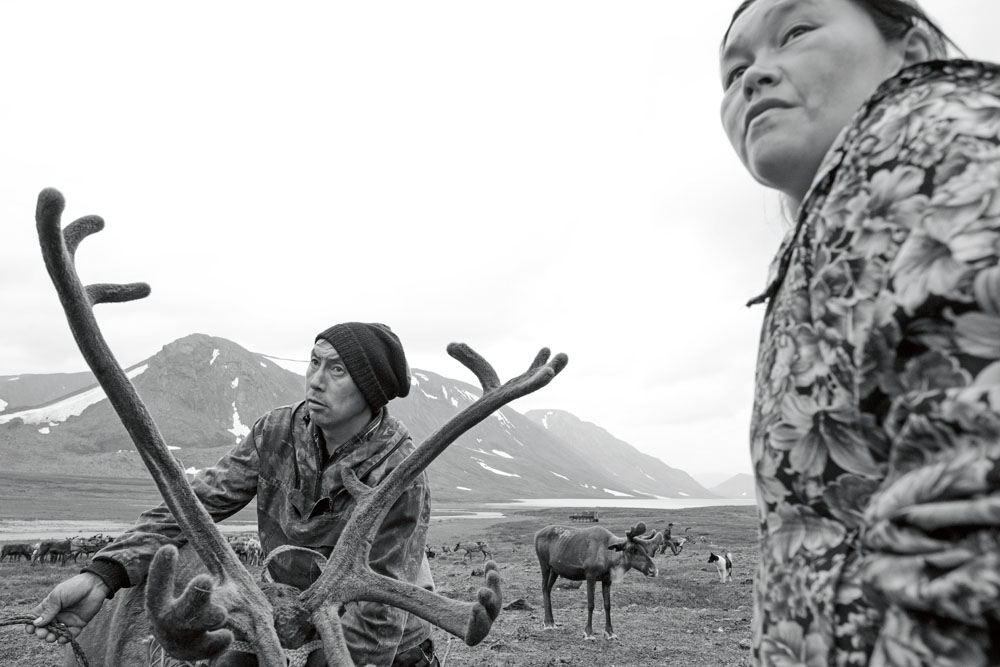 Reindeer herders working with their animals in Siberia, Russia.
Fujifilm X-Pro3, XF16mm f2.8 R WR, f5.0 @ 1/640 second, ISO 1000.
And the camera bounces! Michael remembers his recent trip to Siberia when he tripped on some rocks and lost hold of his X-Pro3.
"The camera actually bounced from rock to rock down the hillside and I thought I was in big trouble. The security guard who was travelling with us picked me up by the back of my shirt and then I went down to pick up what remained of my camera. But there wasn't a mark on it! It's titanium, I know, but I admit I was surprised how tough it was and it just kept on working.
"In this part of Siberia with Russia's largest oil reserves nearby, you can't just go wandering around without someone looking after you.
"We had two people from the government and the security guard didn't let me out of his sight for the whole time we were there.
"One night, the security guard said, 'You come with me, I am going to whip you"!
When you hear someone the size of this guard speaking like this, your hairs stand on end, but in northern Siberia, we had no option but to follow him. Fortunately, he took us to a sauna where he traditionally whipped us with birch branches – but I suspect he enjoyed it more than we would consider healthy!"
Michael says working in Russia was fantastic and the people were really helpful and friendly, but there were times when he felt he was being closely watched.
"I was in Red Square, Moscow taking a picture with a pre-production model of the Fujifilm X-Pro3, when I could feel someone looking at me. I turned around and there was indeed someone taking a photo of me, but he quickly ran through the crowd and disappeared. Interesting, I thought. Was he from another camera manufacturer?"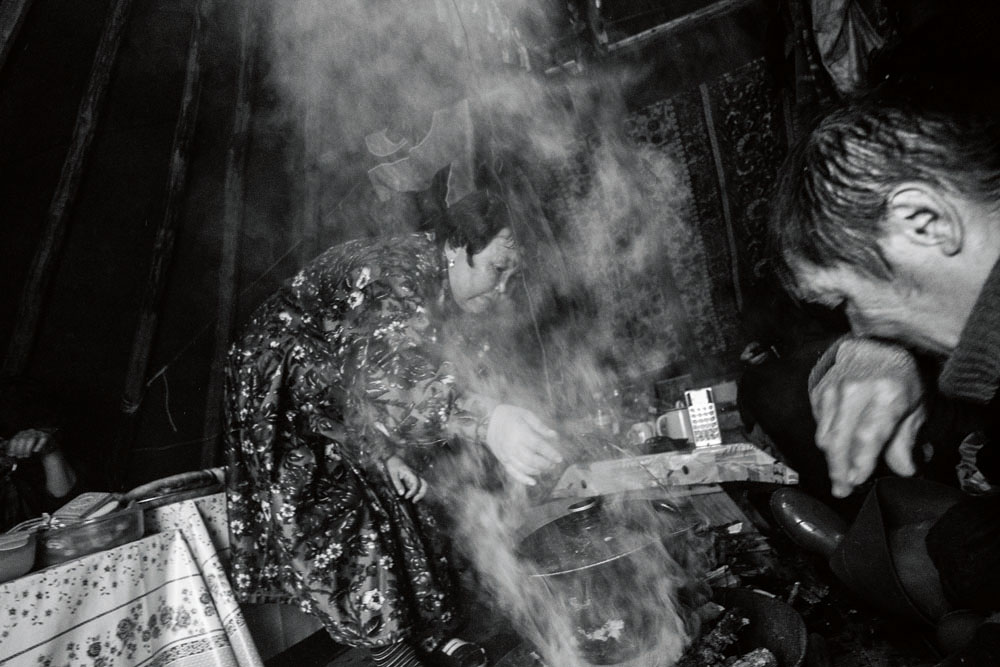 Nenets people preparing a meal in their Girt (tent) Siberia, Russia.
Fujifilm X-Pro3, XF16mm f2.8 R WR, f2.8 @ 1/30 second, ISO ISO 2500.
"Most of my work is shot with an XF 16mm f2.8 R WR or XF 18mm f2 R wide-angle lens.
"I like getting in close and in fact, I believe getting in close is important if you want to relate to the people you're photographing. Using a wide-angle lens means I give myself no choice, I have to relate to people!"
Michael says that by using the small prime wide-angles, he's not promoting himself as a photographer.
"The small camera and lens package doesn't frighten my subjects and so I'm not at all threatening. And the cameras being so light to carry, it makes a big difference when I'm travelling because I always have a camera with me."
However, Michael acknowledges there is a time and a place for zoom lenses. Recently he travelled on assignment to South America with the Fujifilm XF 16-80mm f4 R OIS WR and XF 8-16mm f2.8 R LM WR zooms.
"Mainly I used them to shoot video of the Gauchos and life in Argentina, but I also used the XF 8-16mm lens for street photography in Buenos Aires where I captured some great candid pictures in La Boca.
"I also pushed the lenses to their limit in a tango hall. Because the venue was so dark, I shot at 1/60 second wide open at ISO 3200 and ISO 5000 and was very happy with the results I achieved."
So, what does it take to be a successful documentary photographer?
Michael suggests you need an abundance of perseverance and patience. And a Fujifilm X-Series camera.
For more information, visit www.fujifilm.com
To read more about Michael Coyne's approach to documentary photography, check out issue 99 of Better Photography.  Available in newsagencies now, or can be viewed with an online subscription, click here.