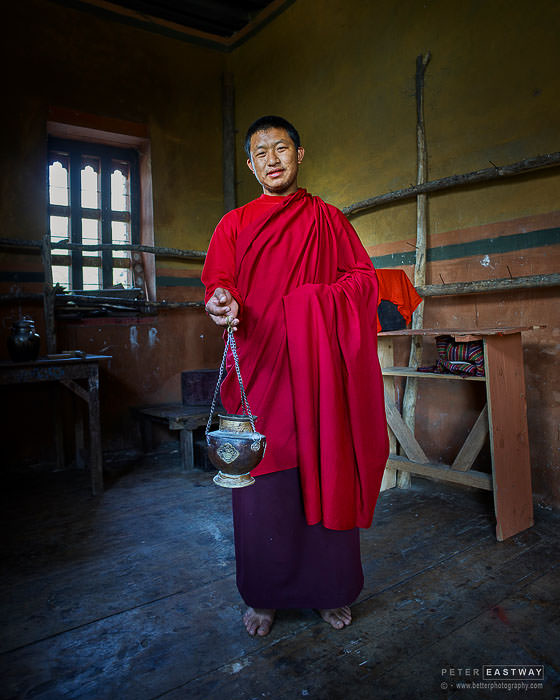 Monk, Rangjung, Bhutan
Phase One XF 100MP, 35mm lens, 1/50 second @ f5, ISO 800
In the last couple of weeks, I have given a travel photography presentation with Oged Wagonstein from Israel (as part of the Head On Photography Festival), and interviewed Lesley Downie for the AIPP Journal (the June issue, so it's not out just yet). Both are wonderful portrait photographers and have no trouble interacting with people as they travel around the world. How do they do it?
A lot of photographers are shy when it comes to pointing their camera in a stranger's face - and sometimes that describes me as well. On other occasions, I'm very relaxed and will photograph anyone. So if you find yourself in a position where you don't feel comfortable, don't worry too much. Maybe it's not quite the right opportunity, maybe you're not in the right mood, or maybe you're reading the situation accurately and people don't want to be photographed.
However, if you always feel a little shy, then maybe the problem does lie with you. Everyone has their own way of approaching people, but perhaps you could start by putting your camera over your shoulder and just walking up to people to have a chat - or buy something from their store. What you probably need to do first is break the ice - to interact with your potential subject. As you build a relationship, lots of things become much easier, including taking a photo.
Language can be a barrier, but only if you want it to be as many of my photos have been taken with a smile and a point at my camera. But it does require you to break the ice. Practice makes perfect and rather than hoping to take photographs of everyone you walk up to, practice talking to people and interacting first. I think you'll find that on many occasions, you'll work it out and pulling the camera off your shoulder to take a photograph will feel very natural.
In Bhutan, I remember being in a temple where we'd had special permission to take photographs. At one point, I wanted to photograph the head lama, so I made eye contact with him and pointed at my camera. He shook his head to the side - which I interpreted as 'no'. However, I now know that a sideways nod in Bhutan is actually a 'yes' or 'okay'. So, yes, language can be a problem, even unspoken language, but not for long - and certainly not when you gain some experience in a foreign country.
Gradually I'm developing that experience in Bhutan. David Oliver and I are returning there this November/December, with a new itinerary that travels across Bhutan from west to east. We're really excited about this trip which we researched last year. The monk in the photo above was photographed in Rangjung, Eastern Bhutan. Who knows, we may meet him again this trip! Why not join us this year as an early Christmas present to yourself! Details can be found here.