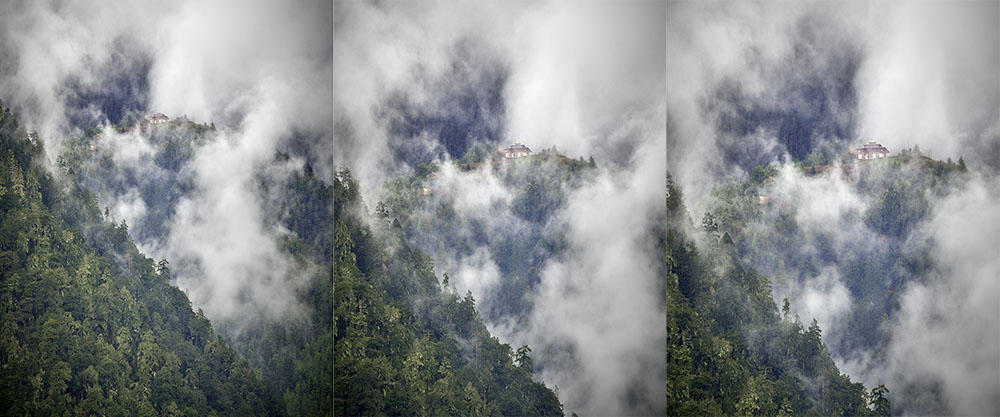 Hilltop monastery, near Haa, Bhutan
Phase One XF 100MP Trichromatic, 240mm Schneider lens, f5.6 @ 1/800 second, ISO 200
One of the limitations of medium format is the lack of a super telephoto lens. In fact, the problem applies to all photographers who don't own a super telephoto lens. And the solution is the same: crop. We all have more than enough pixels these days to crop our images, sometimes quite severely, and (technically speaking) still come away with a good quality file.
Take a look at the photo above taken near Haa in Bhutan. You're almost guaranteed one or two days like this on a two week trip, with swirling clouds engulfing towering peaks that in turn dwarf a tiny dwelling or monastery: man's insignificance in nature.
On this particular day, we were driving up to Chelela from Haa. It seemed every time we turned a corner, there'd be a dzong or a temple partially hidden by clouds. However, the distances were great and I needed to crop, certainly for a small image on social media.
One of the aspects of photography we don't talk about enough is the size of the photograph when presented for viewing. In the digital world, we have no idea whether our image is going to be looked at on a small, ageing iPhone screen or a brand new EIZO CG318 4K monitor – yet size is important. If you're looking at these photos on your phone, you might not even notice the temple at first. On the other hand, imagine looking at a one metre tall print on a wall: you'd certainly notice the tiny temple then. So, scale and the physical size of your photograph when viewed is incredibly important.
In this case, for my website and blog, I felt I needed to crop the image quite severely (middle and right) so the small temple is more prominent. On the other hand, the wider crop (left) for a large print would make me very happy!
Come along to Bhutan at the end of this year with David Oliver and me – we have a new itinerary going from west to east Bhutan! For more information, visit the website or click here.