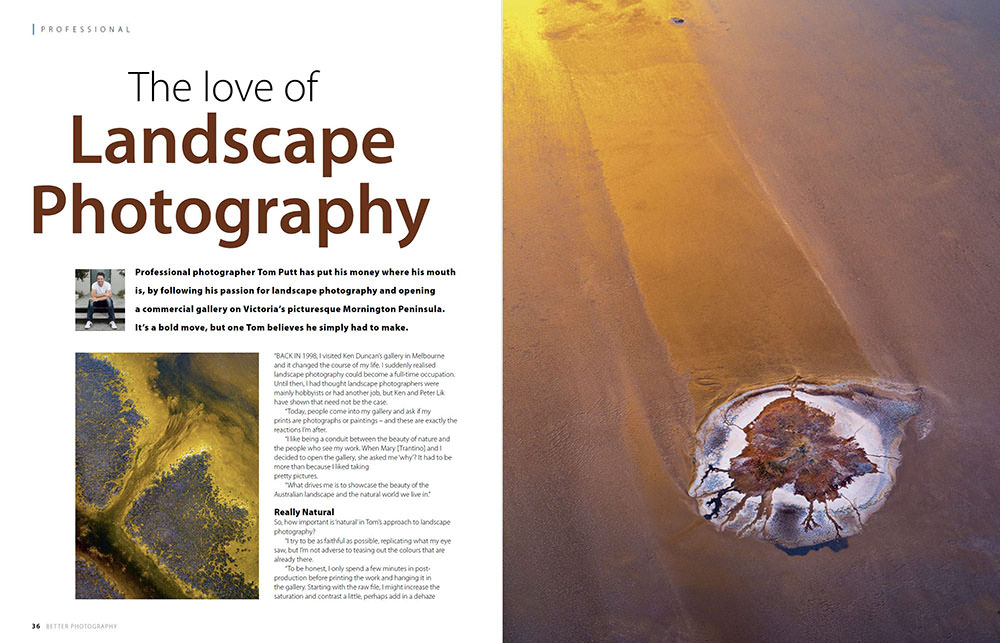 Do you dream of giving up your day job and being a full time landscape photographer? Tom Putt has done exactly that and in the current issue of Better Photography (Issue 98), we ask him what it was like to make the move? Is he a millionaire already? Is every day filled with photographing incredible landscapes? And is there a secret or two to success? 
The answers may surprise you, but there's more to running a gallery and perhaps the most important part is sales!
Said Tom, "I sat down with a business coach the other day and he asked me who is my ideal client? It's a difficult question to answer, but let's say it was a semi-retiree with an appreciation of art and squillions of dollars to spend! So, how do you find these people so you can market to them?
"Answering this question is one of the reasons I procrastinated so long before opening the gallery; the uncertainty of whether it would work, would I find the right location for the gallery, would I be showing the right prints when a customer walks in, was the price right? All these variables are difficult to define and, like all aspects of marketing, some choices work and some do not.
"Professional portrait and pet photographers have a huge advantage when selling their prints: an emotional connection with the subject. A client may have had a dog for 20 years and so there's an immediate connection and money is no object when it comes to buying a print. 
"However, as a landscape photographer, I'm often selling to people where there's no immediate emotional connection, yet I'm wanting them to look at my images and fall in love with them! 
"I remember seeing a photo of a snow gum in Scott Leggo's gallery and I couldn't walk out without buying it. I tell all my clients that they have to fall in love with my photos. Some people buy there and then, others are more considered, but I'm not a big fan of the hard sell. It's really just not me. I approach every sale with the premise that we don't need it."
Tom provides a very honest insight into what it's like to make a living as a landscape photographer and you can read all about it - just subscribe to Better Photography magazine online. You'll find details on the www.betterphotographyeducation.com website here.