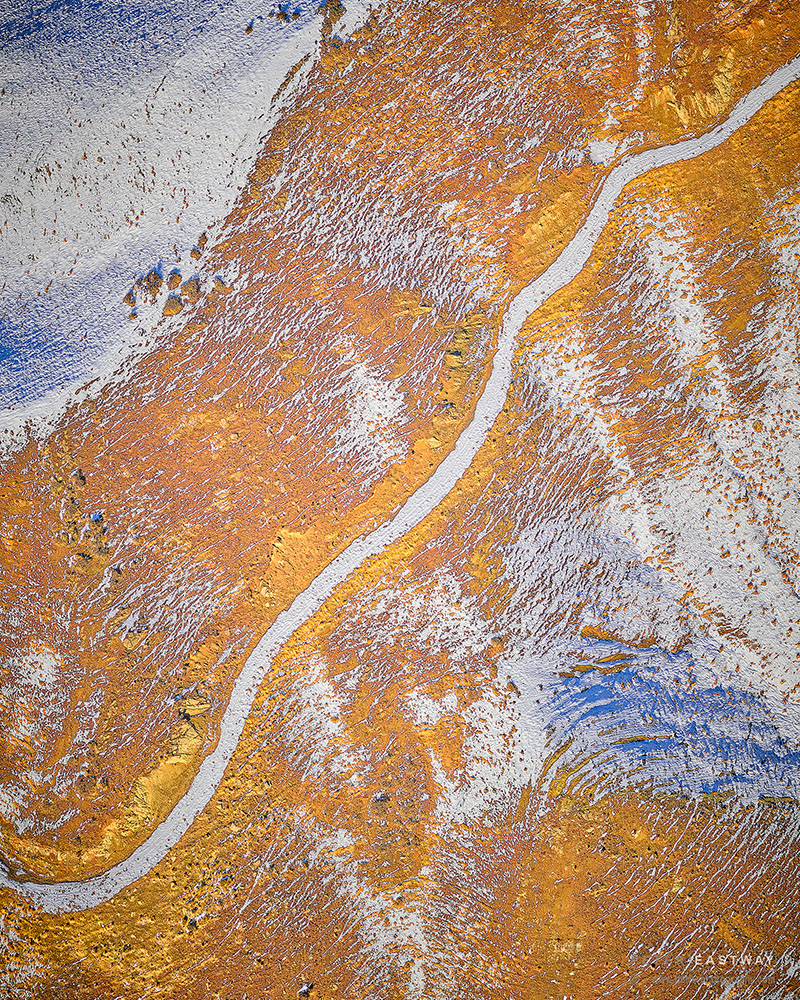 Station track, Middlehurst, 2019
Phase One XF, IQ4 150MP, 80mm Schneider lens, f6.3 @ 1/2000 second, ISO 100
With every photographer shooting aerials these days, is the genre at risk of becoming cliche and boring? I don't think so. While photography judges might struggle to give 'yet another aerial' a really high score, the simple fact is aerials can look great! Like sunsets and photos of green tree frogs with bulbous eyes, they will always be popular.
But in any event, why are you taking photographs? Hopefully it is to please yourself, so it DOESN'T MATTER what others think! If you buy a drone or have the opportunity to get airborne, make the most of it! I still love getting into the air and can't see that thrill lessening any time soon.
When airborne, I'll shoot the scenic shots like everyone else, but what I like most are the abstracts that can be best created by tilting the aircraft over and shooting directly down. The plan view. Then the trick is to find an interesting composition and perhaps one of the easiest devices is a diagonal line.
In this case, the diagonal line is formed by a station road covered in snow. The snow has mostly melted away from the surrounding paddocks, revealing the yellow grasses below and an interesting pattern of lingering snow. It's a simple composition and there aren't lots of extra bits and pieces to distract the viewer.
When judging photo competitions, I think the biggest mistake most aerial entries have is trying to fit it all in. From up in the air you can see lots of different things that are all interesting in their own way, but when left together in a wide-ranging composition, tend to be complicated and confusing. A simple composition is best and often it can be easily achieved by cropping. This image has been both cropped and rotated to get a composition I was happy with.
And if you're interested in listening to a little piece Tony and I recorded about the Middlehurst experience, check out YouTube here: https://youtu.be/AEzhEKcKMsk