Now showing at Focal Point Gallery in Geelong is an exhibition celebrating Australia's involvement in the Antarctic, from 1912 to the present day.
Douglas Mawson had been on Ernest Shackleton's Nimrod expedition (1907-1909), but he wanted a truly Australian expedition dedicated to scientific research rather than purely exploration or a race to the South Pole (reached by Norwegian Raold Amundsen in December 1911).
Mawson's Australasian Antarctic Expedition (AAE) is still regarded as the greatest scientific expedition ever to sail to the Antarctic. It covered the fields of oceanography, meteorology, terrestrial magnetism, geology and biology. Its complete record of research filled numerous volumes that took over 30 years to publish completely. Its eight major sledging parties covered more than 4,100km, while the SY Aurora sailed more than 2,900km along the coast, mapping the continental shelf through 55° of longitude. Sadly, it also suffered tragedy with the deaths of its two dog-handlers Belgrave Ninnis and Xavier Mertz, and almost in the death of Mawson himself.
Frank Hurley was the official photographer and his work in Antarctica is a remarkable achievement, being shot under extreme conditions, with primitive equipment and equally primitive means of measuring the amount of light for exposing the glass photographic plates and early roll films. He also shot a considerable amount of movie film, which formed the basis of his film Home Of The Blizzard, released in 1913.
Mawson led a second expedition to Antarctica in 1929-'31, the British Australian and New Zealand Antarctic Research Expedition (BANZARE), with funding from all three governments. On this expedition he claimed numerous parts of Antarctica in the name of the British Empire, which were transferred to Australian control in 1933. Frank Hurley was again the official photographer on this expedition.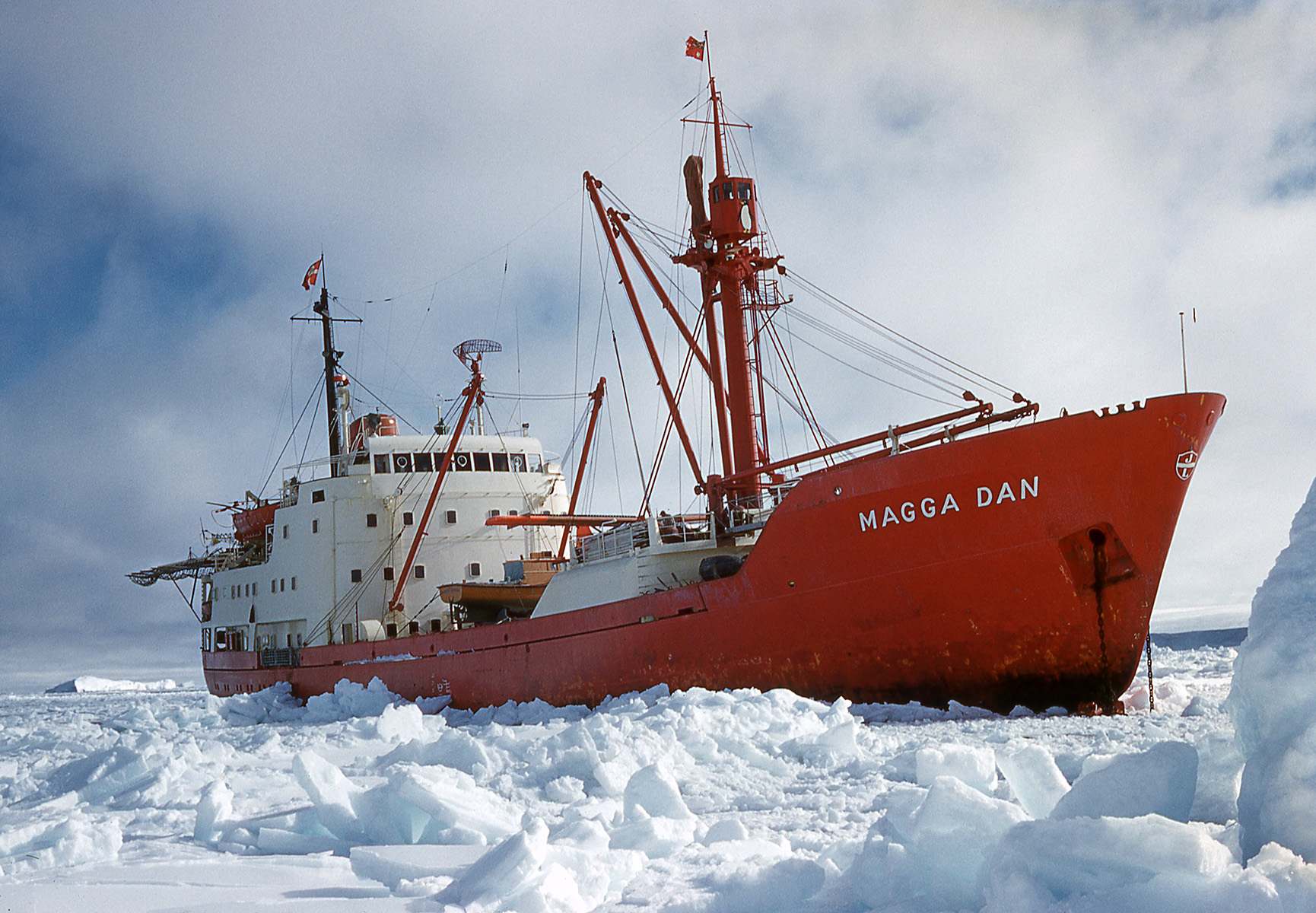 1963 – Magga Dan
The Lauritzen Line "Dan" ships from Denmark were the main source of supply to Australia's Antarctic bases from 1953 to 1987. In this photo, the Magga Dan is anchored in pack-ice off the Wilkes Antarctic Base in 1963. Dr Phillip Law, who took the photo, was on the first ANARE to Heard Island (1947-'48) and was head of the Australian Antarctic Division from 1949 to 1966 and led 23 expeditions to Antarctica.
Photo by Phillip Law
BANZARE resulted in the establishment of the Australian Antarctic Territory in 1936. Throughout the 1930s and 1940s Mawson lobbied the Australian Government to establish a permanent presence in the Antarctic, which led to the formation of the Australian Antarctic Division and the first Australian National Antarctic Research Expedition (ANARE) to Heard Island in 1947, and subsequently to the establishment of three permanent bases on the Antarctic Continent.
Alan Campbell-Drury was radio operator and second photographer on the first ANARE and shortly afterwards became head of the AAD's photographic section for about 30 years. Alan made numerous long- and short-term trips to the Antarctic, and we are pleased to include many of his photographs, thanks to the generosity of his family.
Although work from other photographers is included in the exhibition, the third major collection is from Charles (Chas) Taylor, who worked as a radio technician at Casey Station in 1983.
Australia still maintains these bases, Casey (near its predecessor, Wilkes), Davis and Mawson Stations, although the term ANARE is no longer officially used. Important geological, meteorological and climate research work continues at these and many other international bases across the continent.
Today, Antarctic tourism is increasing in popularity, as members of the public are able to experience some of the sights and conditions of Antarctica, while enjoying luxuries polar explorers of old could never have imagined. International treaties are keeping tourist numbers down, but small and exclusive tours offer photographers opportunities to photograph spectacular scenery and wildlife not seen anywhere else in the world.
The final selections of photos, illustrating the extent of Antarctic tourism, come from Lothar Huber and Peter Eastway.
1912 – Southern Party, Christmas Day
The Southern sledging party takes a break on Christmas day, 1912. The  party had left Cape Denison for the South Magnetic Pole on 30 November.  By 21 December they calculated they were still some distance from the  Pole so turned back, arriving at Cape Denison on 11 January 1913.
Photographer unknown but attributed to Frank Hurley.
This exhibition gives a glimpse into to the lives of some of the men from the "Heroic Age of Antarctic Exploration", the increasingly mechanised and modernised Antarctic research since the Second World War, and the changing face of global tourism.
The exhibition is also educational, with many interesting facts disclosed in the captions with each photo. Whether your interest is in photography, geography, history, polar exploration or the climate, the exhibition has plenty to offer.
Focal Point principal Craig Watson, said the exhibition came about initially from memories of his first studies in photography. "My first photography lecturer, at Swinbourne Institute (as it was known then) in 1980, was Alan Campbell-Drury. Alan often started his lectures with a short slide show of his work from the Antarctic, to inspire and encourage us students. It was through Alan's encouragement that I went on to become a professional photographer."
"When I started Focal Point, in 2019, I thought it would be great to feature an exhibition of Antarctic photography, centred on Alan's work", Watson continues. "I made contact with his son Rick and was given access to a number of Alan's photos, as well as quite a few from Frank Hurley. That formed the basis of about half of the exhibition, which was supplemented by work accessed through the Australian National Library and State Library of NSW. But I wanted this to be more than just an historic exhibition and was able to get onto a local photographer and former ANARE Club member Chas Taylor, who worked at Casey in 1983. To completely bring the exhibition up to date, there are photos of Mawson's Huts in 2008 by Lothar Huber, and landscape and wildlife photographer Peter Eastway, publisher of Better Photography magazine and organiser of global photographic expeditions."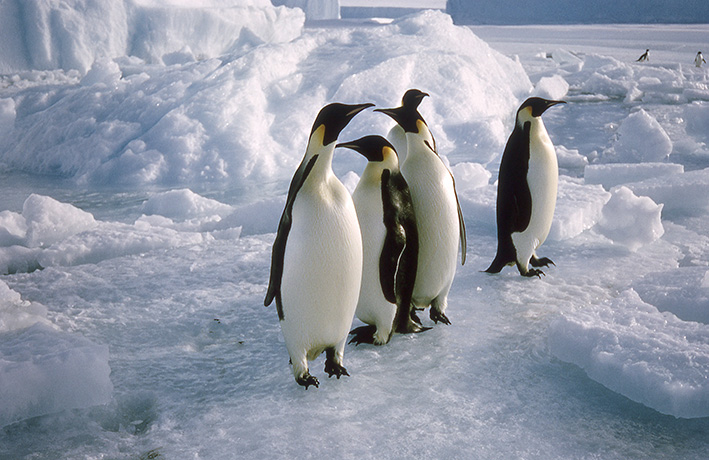 1963 – Emperor Penguins
A group of Emperor Penguins near Wilkes Station. The Emperor is one of only two penguin species that live and breed exclusively on the Antarctic continent. The other is the much smaller Adelie Penguin. The Emperor is the largest of all penguins and the only bird in Antarctica that breeds in winter. There are an estimated 238,000 breeding pairs, making it the least common of the eight species of Antarctic or sub-Antarctic penguins.
Photo by Alan Campbell-Drury
Originally planned to take place in 2020, COVID restrictions, changes of plans, changes in format and eventually sponsorship from Ilford (who supplied all the digital photography paper for printing the exhibition), finally brought the exhibition to fruition this year.
The exhibition is open 10am to 5pm Fridays to Sundays until 30 July. As Focal Point is a private gallery, there is a modest entry fee of $10 for adults and $8 for concession/seniors. U15 and disability carers get in for free.
When the exhibition finishes at Focal Point, it will be taken by Ilford for a national tour, so there is a chance interstate readers will still be able to see it. Although details have not been finalised, keep an eye out for future exhibition dates and locations in your state or territory.
FOCAL POINT DARKROOM GALLERY WEBSITE - https://focalpointdarkroomgallery.com.au/