Now, I might have my chronology a little out of kilter, but I reckon Sony and Canon wildlife photographers have had a leg up on Nikon and Fujifilm shooters for a year or so because of their subject-based autofocus. However, the scales have evened out and Nikon now offers deep learning for subject autofocus and Fujifilm's X-H2s has also hits the ground running with its subject detection system for animals, birds, automobiles, motorcycles and bikes, airplanes and trains.
I've been playing with the X-H2s for the past few days and I have to say I'm very impressed.
My first experiences with subject-based autofocus (where the camera recognises a subject and focuses on it) were up at Kakadu when I used a Sony A1 and then a Canon R5 with their respective telephoto zooms. I can remember marvelling at the little red box jumping all around the viewfinder screen as the camera followed a tiny bird among the branches in a tree. 
Of course, you can also read the reviews and watch the YouTubers pull apart the Sony and Canon systems. Nothing is completely foolproof, but let's step back and look at what we're doing - shooting at 15 to 30 frames a second and nailing the focus on the eyes of our subject each and every time. It's technology at its best, especially with the higher resolution sensors and the ability to really see whether or not the autofocus is precisely correct.
My experience last week with the Fujifilm X-H2s was similarly very impressive. I was surprised how it picked up the face of my dog, even though her head was turned 90% away from the camera, even though I could only just discern her eye myself! The X-H2s found it. Then looking across the neighbour's fence, I found a lorikeet looking for pollen. I zoomed the XF 150-600mm F5.6-8 R LM OIS WR out to 600mm and let the camera do it's stuff. As you can see (possibly) in the screen shot above, the eye is perfectly focused. And the bird's legs were slightly softer, due not to missed focus, but shallow depth-of-field. Yes, I was impressed.
In fact, with this camera and lens combination, I'm thinking I just might make it as a nature photographer, although I'm sure I can find someone who will disagree :>)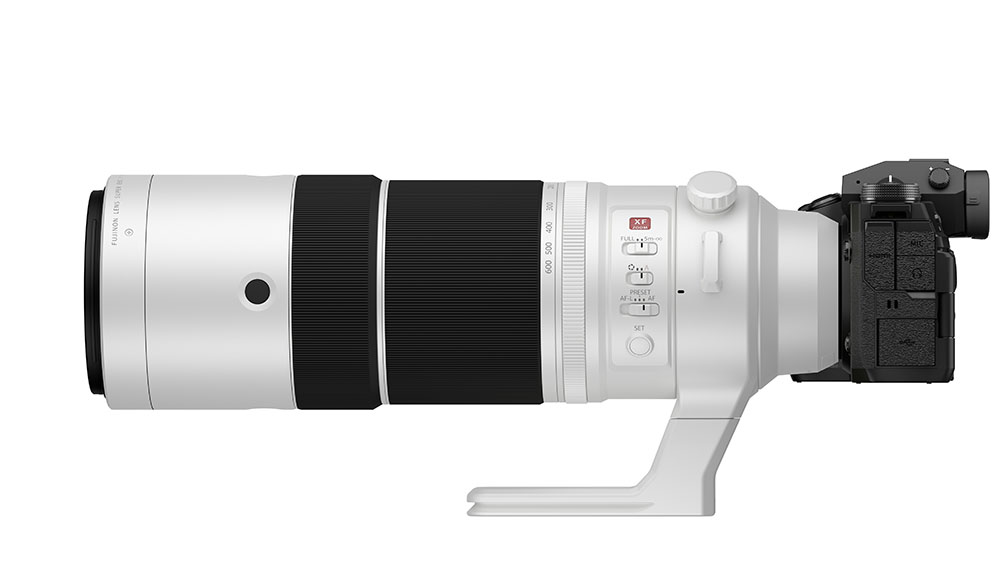 The Fujifilm X-H2s with XF 150-600mm f5.6-8 R LM OIS WR lens attached. The camera body is around $3800 and the lens around $3300.