Indonesia, 2004. Canon EOS-1Ds, 300mm f2.8 with 1.4x teleconverter
1/2000 second @ f5.0, ISO 100, hand-held, no filter.
Digital photography spent quite a few years in the wilderness, especially in the field of publishing. While the technology was capable, many people were distrustful as they made the change from analogue to digital. For instance, magazine printers warned publishers about drastic loss of quality from low grade digital files and there is no doubt this could happen if the photographer providing the files didn't know what he or she was doing. Similarly, the printers could take perfectly good image files and mess them up during printing if they didn't know what they were dealing with.
I was a partner in Surfing World magazine and I managed to score an unpaid surfing charter to the Mentawai Islands with Danny Wills, Dean Morrison, Matt Wilkinson, Jay 'Bottle' Thompson and Mitch Colburn. Tim Baker came along as the writer, along with Hilton Dawes as a second photographer and Mat Graham, the magazine art director. I could write a very entertaining chapter about that trip!
What I didn't foresee was the fear the magazine's editor Reggae Elliss and the art director had of digital photography. I was told in no uncertain terms that my digital files wouldn't be good enough for reproduction as full page or double page spreads and that they would only be used 'down small'. My experience with Better Photography magazine showed them that digital files could certainly be used up big, but no, it was further explained to me, surfing photographs were 'different' and it just wouldn't work. They weren't about to risk the magazine's reputation on technology that was proven to be inadequate.
To be fair to my colleagues, photographers at that stage, in general, had no idea about image quality, capturing JPEG files and providing them to clients uncorrected. I had seen first-hand how poor the quality of digital images could be, so I understood their reticence.
At the end of the trip, I was very happy with the quality of my digital files. Hilton, who was shooting on film at the time, resorted to quite a few black and white shots because the light we had wasn't great for film. On the other hand, the same light captured with a digital SLR was easily enhanced with a digital workflow, if you knew what you were doing. I felt that I did, but I wasn't able to convince the editor. Not that it mattered from the magazine's perspective since we both had some great shots and the only difference was Hilton's went up big and most of mine went down small.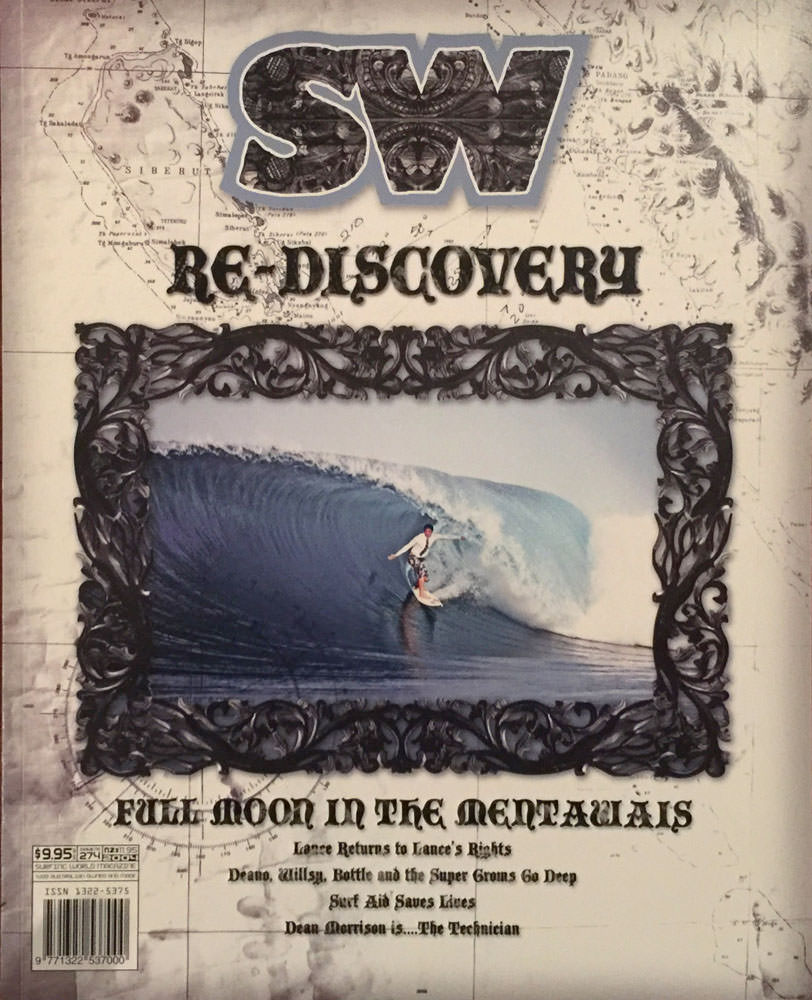 When the magazine came back, everyone was very complimentary about the digital files and how well they had reproduced. I was happy too because I'd made the cover, although the art director had reduced the size of the image to about half a page. Paranoia I'd call it!
Interestingly, a few weeks later Tim touched base with me and asked if The Surfers Journal in the USA could use some of my photographs. I thought they would take much the same approach as we had and just use them down small, so I bundled up the same photos I supplied for Surfing World and sent them off.
To my great surprise, The Surfers Journal used several of my photographs up big as double page spreads in a 14-page feature (but not for the cover)! Even better, they paid me for the photographs!
NEW TRADITION: It took many years for pre-press operators and publishers alike to come to grips with the benefits of a digital workflow.
Need a good read? Like to learn something more about photography? Interested in new ideas? Why not purchase a copy of my book, The New Tradition, which is full of great tales and ideas. It has 100 photographs and accompanying stories guaranteed to enthrall you - and you can save $30 on the purchase price right now - use coupon code TNT30. Check out more on the www.betterphotography.com website.
STOP PRESS: There's a special Better Photography Magazine subscription deal - buy The New Tradition before Christmas as outlined above and we'll add in some 'festive cheer' with a year's online subscription to Better Photography magazine and its archive of over 50 magazines. What a great Chrissy present for yourself!