Wangdue, Bhutan
Phase One XF, 100MP Trichromatic back, 35mm wide-angle lens
The world is changing so quickly, you wonder whether photos like these will be around in a decade, even less. Modernisation and mechanisation are reaching small communities and one wonders if small children will be wandering around the rice paddies while their parents work, or if they will be inside looking at a computer screen?
Bhutan is a photography paradise with something to photograph wherever you look. And if you can't see anything, just wait a little because around the corner, the weather will change or a new village will emerge. This location was an idyllic little farming community of a dozen houses below our eco-hotel. After breakfast out on the patio, looking over the river and the distant Dzong, we wandered down to take a look. Everyone was friendly, as you'd expect, and after an exchange of pleasantries, we managed to capture a few photos of this young girl.
I love the fact that she looks so awkward, so self-conscious about having her photo taken. Her parents were encouraging her to be good and I had no sense of guilt, knowing that in a few years she'd be using her mobile phone to photograph all her friends and, just maybe, some tourists as well!
I had time to shoot one portrait with a wide-angle lens, including the rice fields and the distant dzong. I took a higher viewpoint so that she was framed by the rice field, leaving the dzong up above. It places her in the environment.
I then switched to a mid-telephoto and took a closer portrait, using a wide aperture to throw the background out of focus. By taking a lower viewpoint, I have still managed to keep the dzong and rice fields in the background, although they are less recognisable.
So, which is best? You may have a preference based on the subject's pose and expression, but from a photographic viewpoint, which best tells the story?
I'm not sure there is a single answer – and that's why I took both. However, now that I have both, I feel there's only room for one in the next book or audio visual. I think I'm swaying towards the mid-tele view…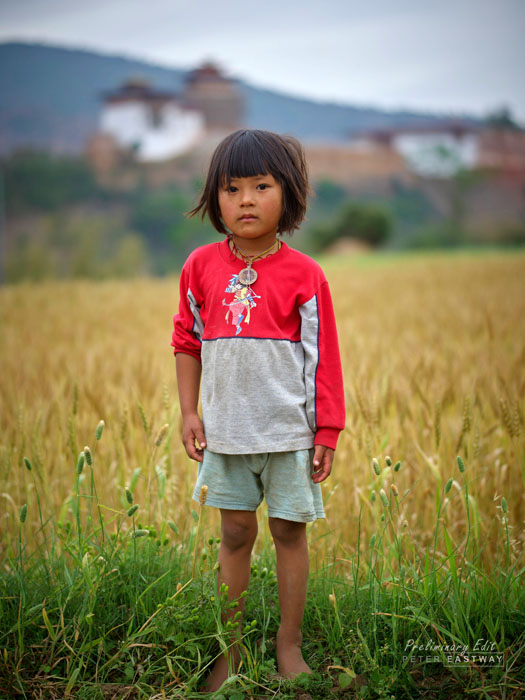 Phase One XF, 100MP Trichromatic back, 110mm Schneider-Kreuznach mid-telephoto lens.