Details

Category: Photo Feedback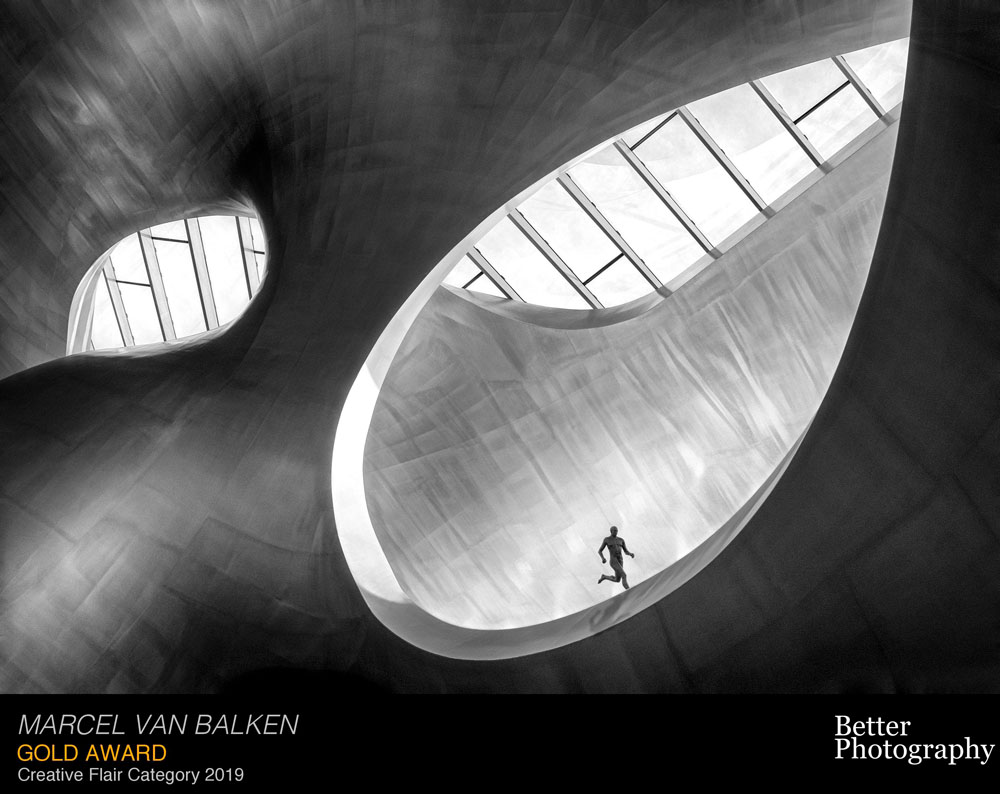 Marcel van Balken, 2019 Creative Flair Category Winner
The Better Photography Magazine Photo of the Year awards have been updated this year to reflect our four most popular categories and cash-only prizes. With an international audience and many of the product prizes being shipped overseas, we've decided to avoid the hassles of postage delays, customs duty and packaging everything safely!
Instead the four categories - Classic Landscapes, Emotive Portraits, Exotic Travel and Revealing Nature - each offer a $750 first prize, and then the overall winner (chosen from the category winners) will receive a further $2000, taking the total cash pool to $5000.
So while we don't have the sport and creative categories this year, we still expect to see a high level of creativity. Last year's Creative Flair category winner by Marcel van Balken could easily have taken out another category - such as Travel. Self-taught, Marcel van Balken is no stranger to photography awards and is an avid participant in competitions around the world.
"As a photographer, I am interested in specific themes and conceptual photography. I believe in working thematically with an absolute preference for surrealistic and creative photography. I move ideally in the field of surrealism and magic realism. I prefer to create photographic images inspired by everyday reality, combined with my own imagination. I strive to carefully compose photographic compositions of realistic looking scenes in unreal and sometimes magical spheres."
His winning image, titled The Runner, is located in the Central Station in Arnhem, Netherlands. Added Marcel, "I was inspired by the architectural design of this station: an architectural space in a play of light and shadow which forms an almost surrealistic decor."
Marcel used a Nikon D750 with an AF-S FX Nikkor 28-300mm lens. "In post-production, I created a fine art black-and-white image in which the photography of architecture begins to take on abstract forms, reinforced by the apparently disproportionate addition of a man. It's all about constructions and shapes, lines and surfaces, photographed in sharp contrast to the insignificance of man."
Creativity as a category may be missed by some entrants this year, but we're hoping there will be plenty of creative opportunities in the genres of landscape, portraiture, travel and nature.
Details

Category: Photo Feedback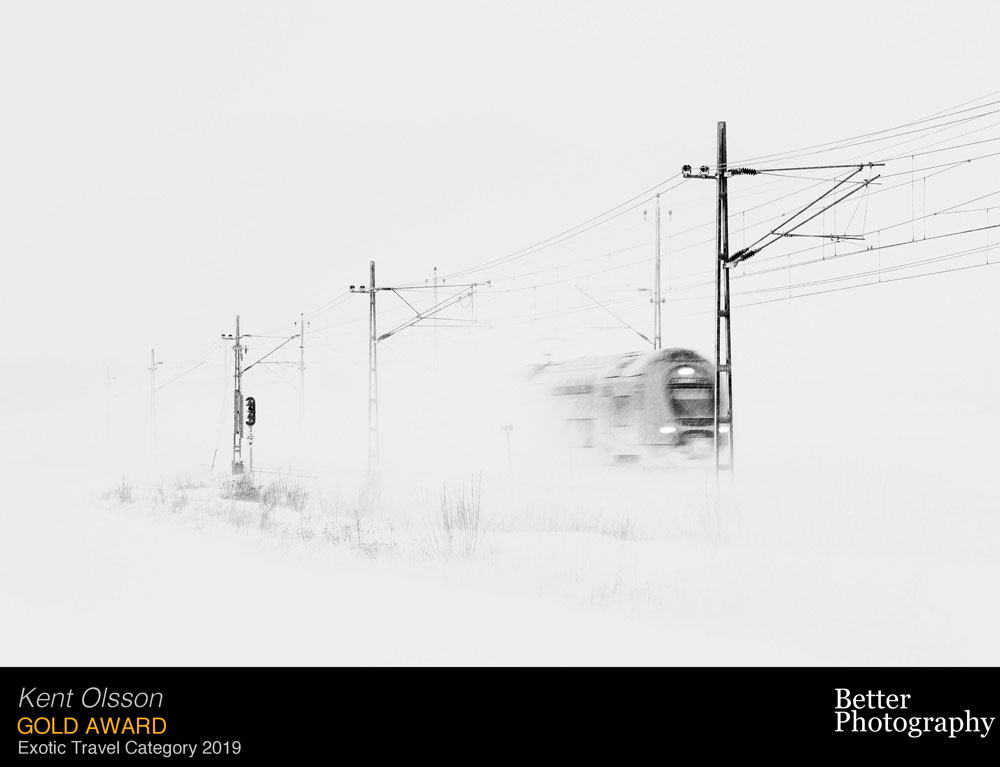 Kent Olsson, 2019 Exotic Travel Category Winner
Do you take a photograph specifically to enter a competition, or just enter something you have in your files? The answer is a little bit of both. Certainly when I'm shooting, I have an eye out for a 'competition winner', so I may choose to shoot with the judges in mind. 
Do judges see things differently? Again, yes and no. However, judges assess a lot of photographs all in a row, so to be a competition winner you probably need to do something a little different. On the other hand, winning isn't the only reason to enter a photo competition like ours. For instance, if your objective is to get a Silver Award, to meet that standard, then you don't need to shoot for the judges. In fact, I'd suggest just shooting for yourself because then, if you do earn a Silver Award, it was because you were being true to yourself!
So back to shooting specifically for a competition. I'm pretty sure Kent didn't think his photo would be a competition winner before he took it, but notice how a degree of planning really helps. This is the key point I took away from his story - that planning can certainly help when it comes to taking strong images.
"I woke up one morning in January to a full blizzard and got the idea for the picture when I went out onto the wheat field next to the railroad. There was snow all the way up to my waist and I knew the train would be coming soon - if it managed to keep to the timetable."
Swedish photographer Kent Olsson photographed this train using a Hasselblad X1D-50C with an XCD 120mm lens on a Gitzo Mountaineer tripod.
"I wanted to convey the speed the train had, despite the snowstorm and after the train passed, I was completely covered by all the snow from the train. I was pretty close to the railway track!"
Kent works as a management consultant and says photography is a way to refresh his brain. "My interests in photography are mainly landscape photography, but I always try to broaden and deepen myself.
"I am a member of SINWP (Society of International Nature and Wildlife Photographers) and I have succeeded in qualifying. These photo buddies are always challenging me with their fantastic pictures. Sometimes I succeed and sometimes I do not!"
In post-production, Kent used Hasselblad's Phocus software as the raw file converter and exported it as a TIFF file into Photoshop. He said he desaturated the file, not that there was much colour anyway and, after a bit of sharpening it came out looking like this!
"The funny thing is", laughed Kent, "that this is a 15 minutes edit. I'm used to spending hours and days in Photoshop editing just one shot."
Details

Category: Photo Feedback
Polly Fenton, Emotive Portrait Category Winner and Overall Photo of the Year Winner
It's refreshing to learn how simply this photograph was captured. Some photographers lament that to win a photo competition you need to be a Photoshop expert, but my observations don't support this. Take our last year's overall winner of the Better Photography Magazine Photo of the Year as an example.
Photographer Polly Fenton says she recently retired from a 44-year nursing career and is now actively pursuing her love of photography through study, participating in photographic clubs, travelling with mentors and a lot of practice. "I find I am shooting a variety of topics and styles at present in an attempt to find my niche."
The winning photo was taken on a trip with Inger Vandyke of Wild Image Photo Tours in February 2019. "We were visiting the tribes of the Omo Valley in southern Ethiopia."
The portrait of Nagudo, of the 'Suri' or Surmi tribe, was photographed by Polly in a remote village near Kibish. Explained Polly, "Nagudo used decorative scarification, piercing and copper adornments to emphasise her individualism and confidence within her society.
"During our stay of several days, I found the Suri exuded a beautiful inner personal warmth and mystic. This is what I was attempting to capture in this photograph. They were an absolute delight to engage with and it was a truly inspiring and humbling experience that I will never forget."
Polly used a Fujifilm X-T2 with an XF 18-55mm f2.8-4 R LM OIS lens. As she was shooting in a darkish hut, the settings were 1/80 second at f4, ISO 3200.
"In post-production, I darkened the background with the adjustment brush and also used this to enhance her eyes and soften her skin. Overall, I slightly increased exposure, contrast and whites with a touch of dehaze. Using the HSL sliders, I gently adjusted the green, blue and aqua to lift the colour of her shawl. I felt that nothing else was required."
And we think Polly was exactly right - nothing else was required!