Details

Category: Photo Feedback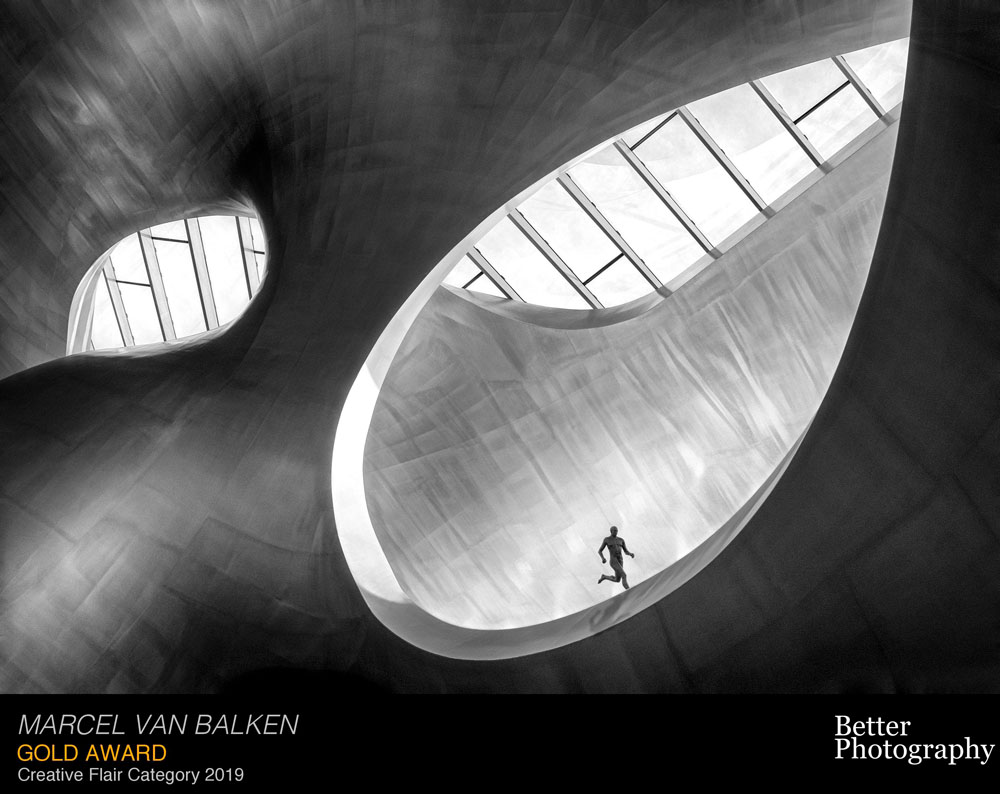 Marcel van Balken, Creative Flair Category Winner
2019 Better Photography Magazine Photo of the Year Awards
When the judges saw Marcel van Balken's photo in our competition, we wondered if someone was 'stirring the pot'. Last year in Australia, a photographer had entered a very similar image into a professional competition, only to be called-out by the www.stopstealingphotos.com website - the professional photographer's colour photo is identical in many ways to Marcel's black and white, which you see here. After investigation, the Australian photographer was disqualified.
In photography competitions, if judges are impressed by the imagination, the concept and the idea behind an entry, they'll reward it with high marks, so it can be incredibly disappointing to learn later on that images you rewarded were actually inspired by the work of someone else. Of course, we're all inspired to some extent by everything we see and experience, but there is a difference between inspiration and direct copying. We're not sure where Marcel gained his inspiration from, but we're convinced it's all his work, a simply brilliant photograph and we applaud his imagination.
Self-taught, Marcel van Balken from the Netherlands is no stranger to photography awards and is an avid participant in competitions around the world. "As a photographer, I am interested in specific themes and conceptual photography. I believe in working thematically with an absolute preference for surrealistic and creative photography. I move ideally in the field of surrealism and magic realism. I prefer to create photographic images inspired by everyday reality, combined with my own imagination. I strive to carefully compose photographic compositions of realistic looking scenes in unreal and sometimes magical spheres."
The winning image, titled The Runner, is located in the Central Station in Arnhem, Netherlands. Added Marcel, "I was inspired by the architectural design of this station: an architectural space in a play of light and shadow which forms an almost surrealistic decor. In post-production, I created a fine art black-and-white image in which the photography of architecture begins to take on abstract forms, reinforced by the apparently disproportionate addition of a man. It's all about constructions and shapes, lines and surfaces, photographed in sharp contrast to the insignificance of man."
Notice how simple and elegant the composition and framing are - there aren't any extra objects or distractions to be found. And note that when placing the running man, a near silhouette has been placed in front of a light part of the background - so the figure stands out. When compositing images together, it's decisions like this that make an image successful.
Details

Category: Photo Feedback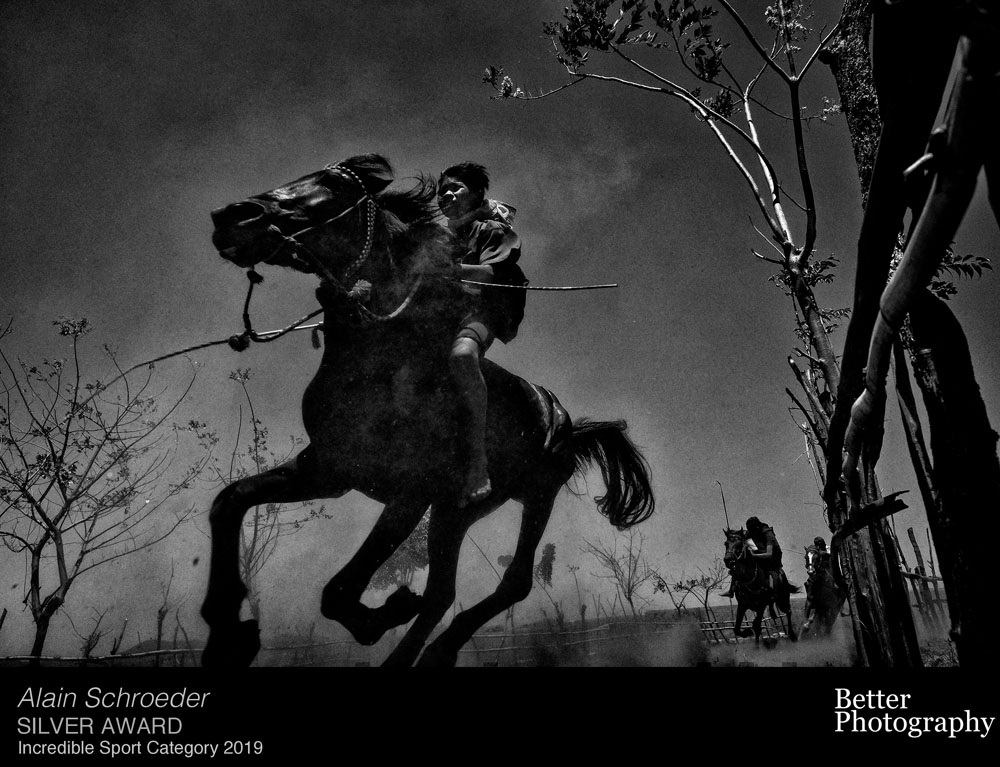 Alain Schroeder, Incredible Sport Category Winner
2019 Better Photography Magazine Photo of the Year Awards
Alain Schroeder is no stranger to the winners' circle, winning the Incredible Sport category last year and now his travels see him shooting a series on 'Kid Jockeys' in Sumbawa, Indonesia. And like a number of our category winners, Alain entered quite a few images, from upside-down portraits to action shots like this. The trick, as always, is trying to second guess which photos will appeal to the judges the best and while most of his other images scored well, it was this one that scored the highest in the Incredible Sport category.
What all the judges loved is the sense of action and movement in the frame. You really feel as though you're crouching next to the race track, the horses thundering by, only centimetres away from your camera. The wide-angle lens emphasises the rider and his steed in the foreground, yet you can see the following horses much smaller in the background. It's a wonderful story, creatively told with a rich black-and-white palette - and the high contrast works incredibly well, giving strength to the main horse, yet revealing a concentrated expression on the young boy. Once again, our winner has used the light beautifully to craft the image.
However, when choosing the overall winner, we start comparing one photo to another and what is worthy of high marks from one judge might be a cause for complaint by another. From my perspective, I liked the fact the legs of the horse were slightly cut-off as this gave me a sense of immediacy, of speed and time. However, David and Tony didn't feel the same way, feeling they wanted to see some space below the hooves. They also had an issue with the tree on the right, especially the light branches and wondered if they had been toned down, would our attention be better focused on the rider. My counter is that the tree becomes one of several 'centres of interest' they guide the eye around the photographs composition, but I agree they could be toned down a little.
So, what does this tell you? It says that judging is subjective and that the most important person to make happy is yourself! Like politics and religion, there will always be different opinions - and understanding these opinions may lead you to better outcomes as you learn how people view your work. Sometimes comments like these can be incredibly helpful, revealing aspects of your work you hadn't noticed before (or chose to ignore).
Said Alain, "I wanted to show the unique features of Sumbawa racing, which are the notoriously small horses and fearless child jockeys, aged 5-10, who mount bareback, barefoot and with little protective gear. Racing at speeds of up to 80 kph, their only protection is the 'Sandro', a spiritual healer who protects young jockeys by performing elaborate rituals and guiding them in training."
Alain used a Fujifilm X-Pro2, shot at ISO 1600 which when converted to black and white in post-production, gave him the grainy feeling he wanted.
Details

Category: Photo Feedback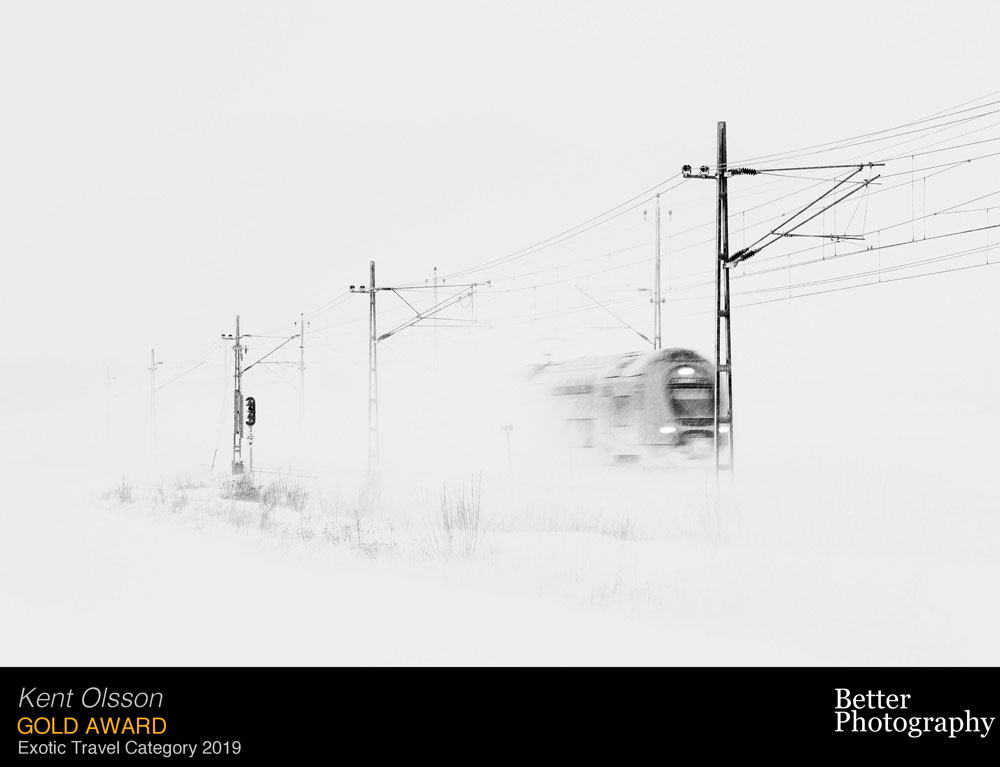 Kent Olsson, Exotic Travel Category Winner
2019 Better Photography Magazine Photo of the Year Awards
The travel category can be interpreted many different ways. Most photographers depict a far-away country that says 'travel', although with an international audience, all locations are someone's backyard. In Swedish photographer Kent Olsson's case, he interpreted travel more literally, but found an unusual location.
"I woke up one morning in January to a full blizzard and got the idea for the picture when I went out onto the wheat field next to the railroad. There was snow all the way up to my waist and I knew the train would be coming soon - if it managed to keep to the timetable. I wanted to convey the speed the train had, despite the snowstorm and after the train passed, I was completely covered by all the snow from the train. I was pretty close to the railway track!"
Now, if you live in Sweden next to a railroad, perhaps this scene happens all the time, but for three Australian judges, the train in so much snow was a point of difference. And photographing something different will help you cut through all the clutter. I would suggest that out of every 1000 photos I judge, 25 would be of the Sydney Opera House. These days, 100 would be aerials. And 900 would be of subjects I have seen entered into photo competitions many times before. So the message is, look for subjects that are different if you want to attract the judges' attention.
Of course, if you do have a different subject, you have to photograph it well. As Australian legendary artist John Olsen said on a television documentary, just because something is new and different doesn't make it good. Enough said!