Details

Category: Photo Feedback
Photo by the 2019 Better Photography Magazine Photo of the Year 2019, Polly Fenton
It's great to win a photo competition, but what about everyone else? Better Photography Magazine's Photo of the Year 2020 is a competition with a difference because every entrant gets a score and a judge's comment.
This makes the Photo of the Year competition great value for everyone who enters.
"It can be hard to know how good your photos really are", explained Better Photography's editor and chief judge, Peter Eastway. "Social media is great for getting likes and hearts, but what do the experts think? It's only when you enter a competition and your photos are judged anonymously that you get honest feedback from judges with experience.
"The problem is, many competitions don't even give you a score, let alone feedback to help you improve your photography."
Peter has years of experience as both an entrant and a judge, having won the AIPP Australian Professional Photographer of the Year twice, and later being the chairman of the Australian Professional Photography Awards.
"My own photography developed by entering photography competitions and then attending the public judging sessions and listening to what the judges had to say. It was this feedback that helped me improve, no matter the results. In fact, the single biggest influence in my work as a photographer has been entering photo competitions every year."
To give enthusiast photographers the same type of experience, Peter has engaged David Oliver and Tony Hewitt as co-judges. All three are Grand Masters of Photography.
"While we don't have a public judging, we can provide a score, an award (Bronze, Silver or Gold for scores over 75%), and an expert comment to give the entrant some guidance on how his or her photo could be improved."
The Photo of the Year offers four category prizes of AUS $750 (landscape, portraiture, travel and nature) and one overall prize of AUS $2000, making a total prize pool of AUS $5000. Entry is just AUS $20 (less than US $15) per photograph, with every fifth entry free.
Entries close on 15 August 2020, with late entries up until 22 August 2020 and the results will be announced on 30 September 2020. The winning images will also be published in Better Photography Magazine.
The competition is now open for enthusiast photographers worldwide. For more information and to enter, visit www.betterphotographyphotocomp.com
Details

Category: Photo Feedback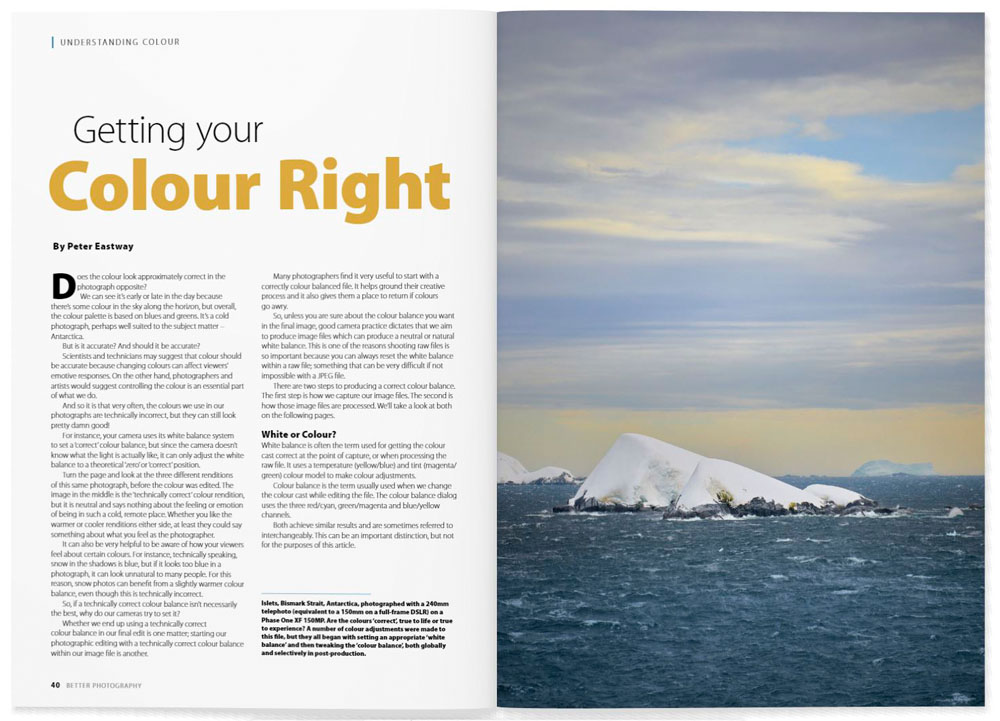 Whether we end up using a technically correct colour balance in our final edit is one matter; starting our photographic editing with a technically correct colour balance within our image file is another.
Many photographers find it very useful to start with a correctly colour balanced file. It helps ground their creative process and it also gives them a place to return if colours go awry.
In the current issue of Better Photography, we explain several ways you can ensure you obtain correct colour. 
For instance, what happens if you can't find a neutral subject in your scene or nearby with which to set the correct colour balance? To solve this problem, many professionals use a grey card or a colour chart which they place into the scene. They take a test shot, and then remove it for the rest of the shoot (or the rest of the shoot under the same lighting conditions).
Next, when processing the raw files, they have a neutral subject in the frame which can be used to determine a neutral white balance setting, using the white balance picker in their raw software.
This approach works very well in a controlled situation where you can take multiple images of the one subject, but it might not work for street or travel photography when your first shot might be your only shot. It can also be problematic if you're standing on the edge of a cliff and you can't place a grey card into the scene!
Fortunately, there are three more approaches you can take when out in the field, plus we explain how to set the correct colour balance using the white balance tool in post-production. 
This is just one of several articles in the current issue discussing colour. This one covers the technical side, the others look at their application in a more creative vein. Why not subscribe now and read them all?
Details

Category: Photo Feedback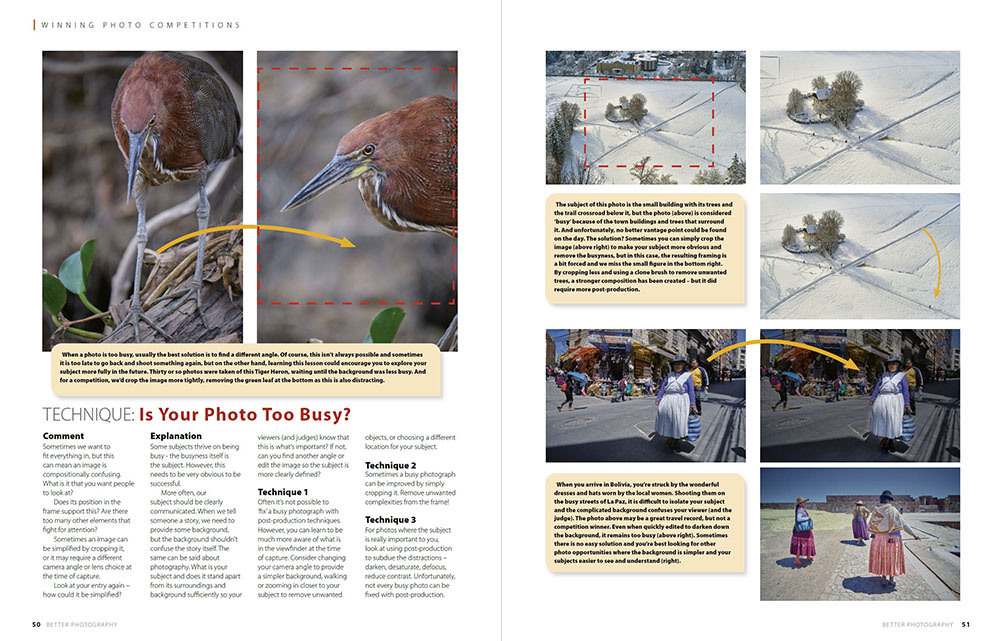 I judge a lot of photographs every year and for some competitions, I also provide a short suggestion or hint that might help each entrant improve his or her work. And one of the most common suggestions is to simplify the photo so it's not so busy.
When a photo is too busy, usually the best solution is to find a different angle. Of course, this isn't always possible and sometimes it is too late to go back and shoot something again, but on the other hand, learning this lesson could encourage you to explore your subject more fully in the future.
Some subjects thrive on being busy - the busyness itself is the subject. However, this needs to be very obvious to be successful. More often, our subject should be clearly communicated. When we tell someone a story, we need to provide some background, but the background shouldn't confuse the story itself. The same can be said about photography. What is your subject and does it stand apart from its surroundings and background sufficiently so your viewers (and judges) know that this is what's important? If not, can you find another angle or edit the image so the subject is more clearly defined?
On the left page above, there are two photos of a Tiger Heron. Thirty or so photos were taken of this bird, waiting until the background was less busy. And for a competition, we'd crop the image more tightly, removing the green leaf at the bottom as this is also distracting. What we're really doing is making the photo less busy.
There are three techniques we can apply to make a photo less busy.
Technique 1
Often it's not possible to 'fix' a busy photograph with post-production techniques. However, you can learn to be much more aware of what is in the viewfinder at the time of capture. Consider changing your camera angle to provide a simpler background, walking or zooming in closer to your subject to remove unwanted objects, or choosing a different location for your subject.
Technique 2
Sometimes a busy photograph can be improved by simply cropping it. Remove unwanted complexities from the frame! 
Technique 3
For photos where the subject is really important to you, look at using post-production to subdue the distractions – darken, desaturate, defocus, reduce contrast. Unfortunately, not every busy photo can be fixed with post-production.
This is our third installment in a series of articles titled How To Win Photo Competitions. Each instalment has half a dozen helpful tips that are not only great for competitions, but for your photography in general. To read more, subscribe to Better Photography magazine online. You'll find details on the www.betterphotographyeducation.com website.