Details

Category: Photo Feedback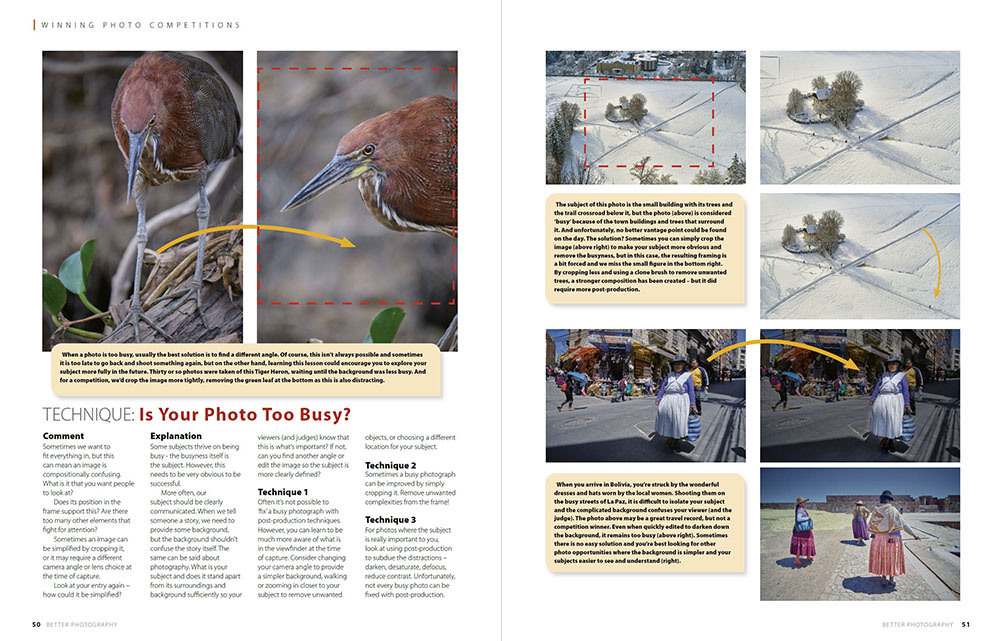 I judge a lot of photographs every year and for some competitions, I also provide a short suggestion or hint that might help each entrant improve his or her work. And one of the most common suggestions is to simplify the photo so it's not so busy.
When a photo is too busy, usually the best solution is to find a different angle. Of course, this isn't always possible and sometimes it is too late to go back and shoot something again, but on the other hand, learning this lesson could encourage you to explore your subject more fully in the future.
Some subjects thrive on being busy - the busyness itself is the subject. However, this needs to be very obvious to be successful. More often, our subject should be clearly communicated. When we tell someone a story, we need to provide some background, but the background shouldn't confuse the story itself. The same can be said about photography. What is your subject and does it stand apart from its surroundings and background sufficiently so your viewers (and judges) know that this is what's important? If not, can you find another angle or edit the image so the subject is more clearly defined?
On the left page above, there are two photos of a Tiger Heron. Thirty or so photos were taken of this bird, waiting until the background was less busy. And for a competition, we'd crop the image more tightly, removing the green leaf at the bottom as this is also distracting. What we're really doing is making the photo less busy.
There are three techniques we can apply to make a photo less busy.
Technique 1
Often it's not possible to 'fix' a busy photograph with post-production techniques. However, you can learn to be much more aware of what is in the viewfinder at the time of capture. Consider changing your camera angle to provide a simpler background, walking or zooming in closer to your subject to remove unwanted objects, or choosing a different location for your subject.
Technique 2
Sometimes a busy photograph can be improved by simply cropping it. Remove unwanted complexities from the frame! 
Technique 3
For photos where the subject is really important to you, look at using post-production to subdue the distractions – darken, desaturate, defocus, reduce contrast. Unfortunately, not every busy photo can be fixed with post-production.
This is our third installment in a series of articles titled How To Win Photo Competitions. Each instalment has half a dozen helpful tips that are not only great for competitions, but for your photography in general. To read more, subscribe to Better Photography magazine online. You'll find details on the www.betterphotographyeducation.com website.
Details

Category: Photo Feedback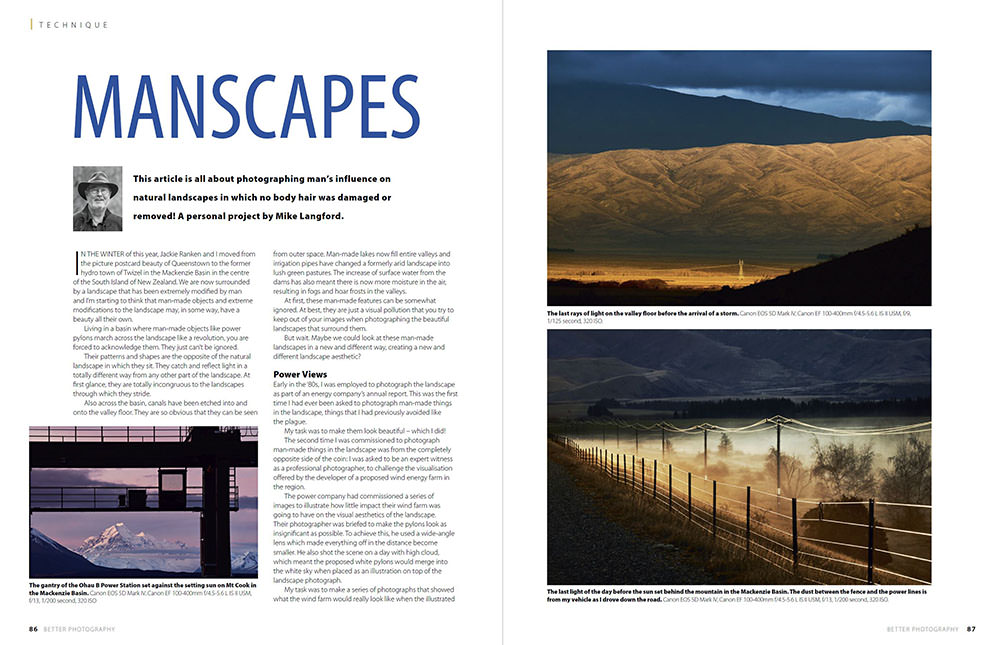 Has regular Better Photography contributor Mike Langford lost his marbles? Why is he suddenly photographing urban landscapes, instead of the pristine wilderness of New Zealand's South Island?
Mike explains his new passion in the current issue of Better Photography (Issue 98):
"IN THE WINTER of this year, Jackie Ranken and I moved from the picture postcard beauty of Queenstown to the former hydro town of Twizel in the Mackenzie Basin in the centre of the South Island of New Zealand. We are now surrounded by a landscape that has been extremely modified by man and I'm starting to think that man-made objects and extreme modifications to the landscape may, in some way, have a beauty all their own.
"Living in a basin where man-made objects like power pylons march across the landscape like a revolution, you are forced to acknowledge them. They just can't be ignored. Their patterns and shapes are the opposite of the natural landscape in which they sit. They catch and reflect light in a totally different way from any other part of the landscape. At first glance, they are totally incongruous to the landscapes through which they stride.
"Also across the basin, canals have been etched into and onto the valley floor. They are so obvious that they can be seen from outer space. Man-made lakes now fill entire valleys and irrigation pipes have changed a formerly arid landscape into lush green pastures. The increase of surface water from the dams has also meant there is now more moisture in the air, resulting in fogs and hoar frosts in the valleys. 
"At first, these man-made features can be somewhat ignored. At best, they are just a visual pollution that you try to keep out of your images when photographing the beautiful landscapes that surround them. But wait. Maybe we could look at these man-made landscapes in a new and different way, creating a new and different landscape aesthetic?"
You can read more of Mike's thoughts and see more of his photographs in Better Photography - is this something you'd like to pursue as a new direction? To read more, subscribe to Better Photography magazine online. You'll find details on the www.betterphotographyeducation.com website.
Details

Category: Photo Feedback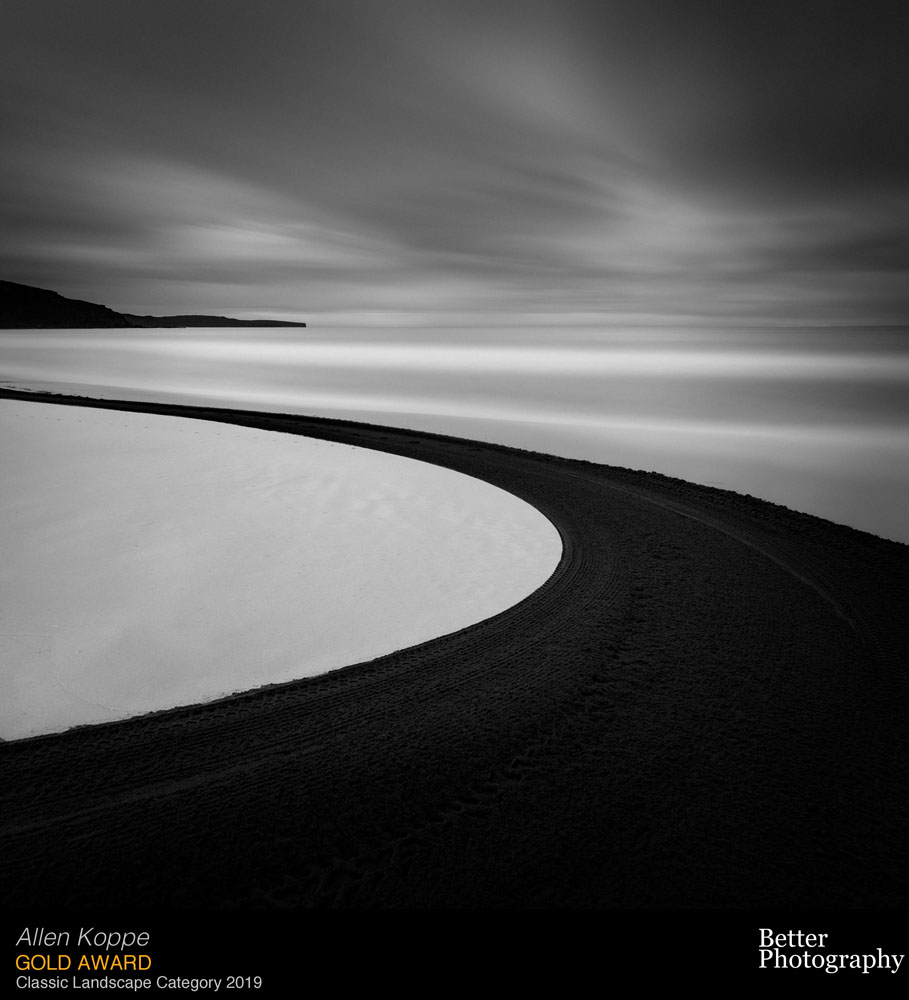 Allen Koppe, Classic Landscape Category Winner
2019 Better Photography Magazine Photo of the Year Awards
Allen Koppe used a Fujifilm GFX 50S with a 23mm lens and a 10-stop Breakthrough Photography ND filter to capture his remarkable landscape. In the competition, he also entered a number of photographs taken with a similar style: simple compositions, blurred water and clouds, black and white, dramatic light and strong contrast. If you visit his website, you'll see a remarkable portfolio of images. https://www.allenkoppe.com/stills/
Two observations. First, Allen entered a lot of photos. In fact, I have found that many of the winning photographers have entered more entries than most. Sure, part of the approach to winning an award is producing amazing images, but how do you know what the judges will think is 'amazing'? I know after 40 years of entering photography awards, I still can't get it right. At the AIPP NSW Epson Professional Photography Awards this year, I was awarded the highest scoring print for one of my entries, while another entry received the lowest score of the awards! And I'm still mad! :>)
So, rather than trying to second guess a panel of judges with one or two images, some photographers enter a lot of photographs and hope that one of them floats to the surface.
The second observation is that all of Allen's photos are 'simple'. Another adjective could be elegant. His choice of subject matter, lens and camera angle allow him to isolate his subject. Many entries into our competition have wonderful subjects surrounded by busy backgrounds. A different camera angle is often all that's required to strengthen a photograph, so next time you have your camera in hand, spend a little time walking around your subject and take lots of different angles. Then in post-production, you can work out which is the best.
Wrote Allen of his winning landscape, "The selected image capture was not a planned process. I live in Newport on Sydney's northern beaches and had been stuck at home for a few days. Suffering cabin fever, I decided to shoot off to Palm Beach one afternoon. The clouds were starting to break after some solid bad weather and I thought I'd take advantage of a great sky and see what I could find.
"I was watching the beach and noticed one of the council's tractors was grading the sand. The driver would make a big sweeping manoeuvre to turn around and head back the other way, leaving these beautiful markings in the sand. "There were only a few people about, which helped, so I was able to find a section of graded sand with a nice curve and no footprints running through it. I grabbed several exposures before the inevitable jogger, walker and holiday maker left their marks in the sand."
Allen says he is an amateur photographic enthusiast who, since his teenage years has had a passion for photography, particularly black and white. "From an early age, I used a 35mm Pentax K 1000 camera and would print my own pictures in a homemade darkroom in a shed at the back of my parent's house. I think today I am even more keen on black and white photography than I was back then and seldom shoot in colour. Still photography offers me a creative outlet from my professional career as a cinematographer, where I work as part of a team. The process is quite different and I enjoy the creative freedom and independence that still photography allows me."
Allen processed the image in Lightroom and finished it off in Photoshop, giving the image a little more contrast.