The [Almost] Weekly Newsletter
Paper Surfaces for Inkjet Printing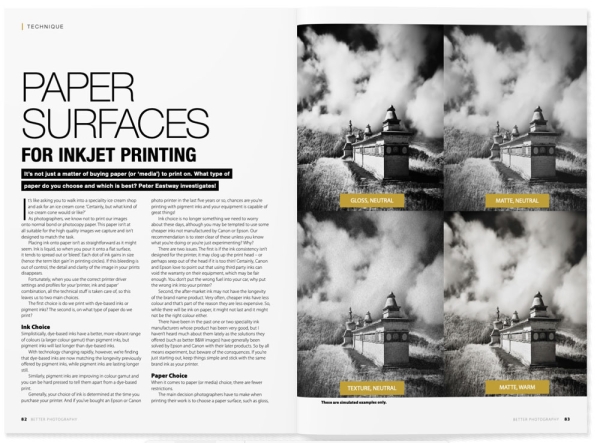 What inkjet paper are you going to print on? What's best? It's like asking you to walk into a speciality ice cream shop and ask for an ice cream cone. 'Certainly, but what kind of ice cream cone would sir like?'
As photographers, we know not to print our images onto normal bond or photocopy paper. This paper isn't at all suitable for the high quality images we capture and isn't designed to match the task.
Placing ink onto paper isn't as straightforward as it might seem. Ink is liquid, so when you pour it onto a flat surface, it tends to spread out or 'bleed'. Each dot of ink gains in size (hence the term 'dot gain' in printing circles). If this bleeding is out of control, the detail and clarity of the image in your prints disappears.
Fortunately, when you use the correct printer driver settings and profiles for your 'printer, ink and paper' combination, all the technical stuff is taken care of, so this leaves us to two main choices.
The first choice is do we print with dye-based inks or pigment inks? The second is, on what type of paper do we print?
Read our suggestions in issue 111 of Better Photography magazine! Current subscribers just have to login to read online or download to their device. Not a subscriber? I'd love you to join and help support our small community. For just AUS $29.88 (it's 40% off, but you must use the coupon code BP40) you can subscribe for one year and have access to over 50 back issues as well. Subscribe now - visit our website here - https://www.betterphotographyeducation.com/better-photography-online/about-the-magazine
Fujifilm's New X-S20 - Small and Powerful!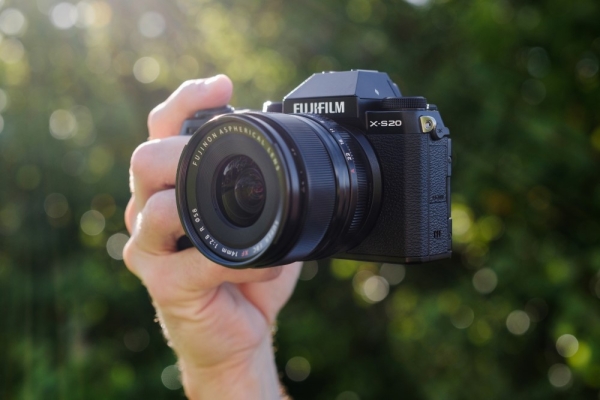 Earlier this week, I attended the launch of Fujifilm's latest X-series camera, the X-S20. I confess that there weren't too many people my age there, but as I get older, this is becoming more common. Of equal interest, there weren't many photo magazine writers there either, but a lot of bloggers and influencers! Yes, it's the new world order and the good news for us is that as Fujifilm and other manufacturers invent and modify their gear, we get the benefits, even if we're still using the camera predominantly for stills.
On the other hand, if like me you're doing a little video as well (because I confess it's a lot of fun), then a small camera is what's required if you're going to take something instead of your mobile phone. Let's face it, most of the stuff we see on social media is shot with a tiny phone sensor (referring to the physical size of the sensor, not the pixel count) and a wide-angle lens. Then when we suddenly see some footage shot with a real camera and a proper lens, the differences are obvious - at least to me. And this is the market the X-S20 seems to be aimed at - vloggers and influencers who want to create a better quality image.
Some of the new features are simply great for stills photography as well, beginning with the small size body (weighing 491 g) and the deeper handgrip, so you get that small camera, but it's not such a struggle to hold it! It makes me think of travel photography and shooting from the hip.
Officially, the X-S20 is a mirrorless digital camera equipped with the back-illuminated 26.1-megapixel, X-Trans CMOS 4 sensor and the high-speed image processing engine X-Processor 5. The use of the new high-capacity battery has more than doubled the number of frames it can capture on a single charge, now around 800, compared to that of the previous model, Fujifilm X-S10. The camera also features a five-axis in-body image stabilisation (IBIS) mechanism that offers up to a 7-stop advantage, plus AI-based subject-detection AF, capable of detecting, for example, animals and cars.
The X-S20 supports recording 6.2K/30P 4:2:2 10-bit video internally and features a 3.5mm microphone / earphone jack for connecting external accessories to conduct fully-fledged video recording. And a new Vlog Mode makes it easy to produce a range of content, letting the camera set the most appropriate settings.
We'll grab a review unit from Fujifilm and let you know how it goes in the field!
PHOTO TOURS AND WORKSHOPS
WITH PETER EASTWAY & FRIENDS
SPIRIT OF ANTARCTICA - 9-20 JANUARY 2024
ANTARCTICA, SOUTH GEORGIA, SANDWICH IS 19 JAN - 10 FEB 2024
BHUTAN & LADAKH 8 - 25 APRIL 2024
NAROOMA, NSW - 6-10 MAY 2024
SHARK BAY, WA - 28 MAY-1 JUNE 2024
KENYA WILDLIFE TOUR - 18 JUNE - 1 JULY 2024
UGANDA PHOTO TOUR - 2-13 JULY 2024
MIDDLEHURST - 5-11 AUGUST 2024
MIDDLEHURST - PHASE ONE - 14-20 AUGUST 2024
ARKAROOLA - 13-21 SEPTEMBER 2024
ANTARCTICA, SOUTH GEORGIA - 16 MARCH - 4 APRIL 2025
Details at www.betterphotography.com/workshop-seminars
Peter Eastway FAIPP HonFAIPP HonFNZIPP APPL GMPhotogII MNZIPP
Editor and Publisher
Why did you receive this email? You are registered on the Better Photography website.
Unsubscribe: If you'd like to unsubscribe, click the link here to visit our unsubscribe page: Unsubscribe me, please!