The [Almost] Weekly Newsletter
How To Exhibit Your Photography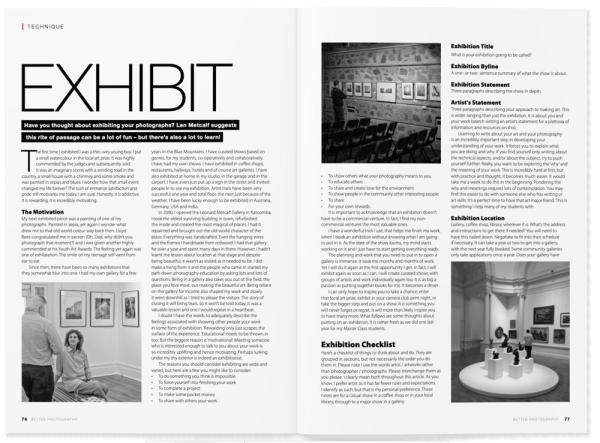 Have you thought about exhibiting your photographs? Len Metcalf suggests  this rite of passage can be a lot of fun – but there's also a lot to learn!
"The first time I exhibited I was a thin, wiry young boy. I put a small watercolour in the local art prize. It was highly commended by the judges and subsequently sold. It was an imaginary scene with a winding road in the country, a small house with a chimney and some smoke and was painted in sepias and blues. I wonder how that small event changed my life forever? The rush of immense satisfaction and pride still motivates me today, I am sure. Honestly, it is addictive. It is rewarding. It is incredibly motivating."
If you're thinking of putting on any kind of a photography exhibition, you must read the rest of Len's article in issue 111 of Better Photography magazine! Current subscribers just have to login to read online or download to their device. Not a subscriber? I'd love you to join and help support our small community. For just AUS $29.88 (it's 40% off, but you must use the coupon code BP40) you can subscribe for one year and have access to over 50 back issues as well. Subscribe now - visit our website here - https://www.betterphotographyeducation.com/better-photography-online/about-the-magazine
PHOTO TOURS AND WORKSHOPS
WITH PETER EASTWAY & FRIENDS
MIDDLEHURST 26 JUNE - 2 JULY 2023 - ONE SPOT LEFT
MIDDLEHURST - 5-11 JULY 2023 - ONE SPOT LEFT
SILK ROAD - TOUR 1 - 19 SEPTEMBER - 1 OCTOBER 2023 - 2 SPOTS LEFT
SILK ROAD - TOUR 2 - 1-10 OCTOBER 2023 - 2 SPOTS LEFT
SPIRIT OF ANTARCTICA - 9-20 JANUARY 2024
ANTARCTICA, SOUTH GEORGIA, SANDWICH IS 19 JAN - 10 FEB 2024
BHUTAN - APRIL 2024 (DETAILS TO COME)
NAROOMA, NSW - 6-10 MAY 2024
KENYA WILDLIFE TOUR - 18 JUNE - 1 JULY 2024
UGANDA PHOTO TOUR - 2-13 JULY 2024
ARKAROOLA - 13-21 SEPTEMBER 2024
ANTARCTICA, SOUTH GEORGIA - 16 MARCH - 4 APRIL 2025
Details at www.betterphotography.com/workshop-seminars
Peter Eastway FAIPP HonFAIPP HonFNZIPP APPL GMPhotogII MNZIPP
Editor and Publisher
Why did you receive this email? You are registered on the Better Photography website.
Unsubscribe: If you'd like to unsubscribe, click the link here to visit our unsubscribe page: Unsubscribe me, please!