The [Almost] Weekly Newsletter
Lost And Found In Venice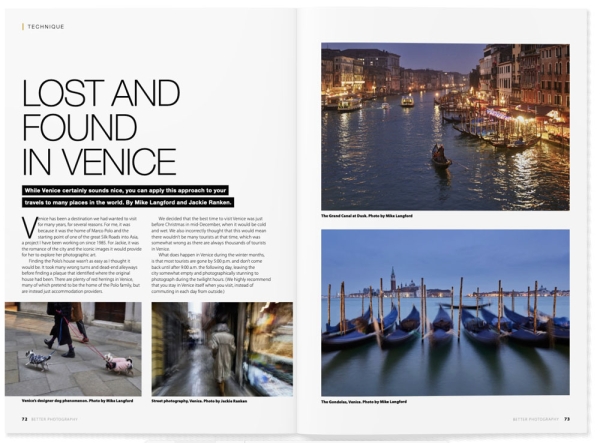 While Venice certainly sounds nice, you can apply this approach to your travels to many places in the world.
Writes Mike Langford and Jackie Ranken, "Venice has been a destination we had wanted to visit for many years, for several reasons. For me, it was because it was the home of Marco Polo and the starting point of one of the great Silk Roads into Asia, a project I have been working on since 1985. For Jackie, it was the romance of the city and the iconic images it would provide for her to explore her photographic art.
"Finding the Polo's house wasn't as easy as I thought it would be. It took many wrong turns and dead-end alleyways before finding a plaque that identified where the original house had been. There are plenty of red herrings in Venice, many of which pretend to be the home of the Polo family, but are instead just accommodation providers.
"We decided that the best time to visit Venice was just before Christmas in mid-December, when it would be cold and wet. We also incorrectly thought that this would mean there wouldn't be many tourists at that time, which was somewhat wrong as there are always thousands of tourists in Venice.
"What does happen in Venice during the winter months, is that most tourists are gone by 5:00 p.m. and don't come back until after 9:00 a.m. the following day, leaving the city somewhat empty and photographically stunning to photograph during the twilight hours. (We highly recommend that you stay in Venice itself when you visit, instead of commuting in each day from outside.)"
Read more suggestions for photographing Venice and other locations in the current issue of Better Photography magazine! Current subscribers just have to login to read online or download to their device. Not a subscriber? I'd love you to join and help support our small community. For just AUS $29.88 (it's 40% off, but you must use the coupon code BP40) you can subscribe for one year and have access to over 50 back issues as well. Subscribe now - visit our website here - https://www.betterphotographyeducation.com/better-photography-online/about-the-magazine
PHOTO TOURS AND WORKSHOPS
WITH PETER EASTWAY & FRIENDS
MIDDLEHURST 26 JUNE - 2 JULY 2023 - ONE SPOT LEFT
MIDDLEHURST - 5-11 JULY 2023 - ONE SPOT LEFT
SILK ROAD - TOUR 1 - 19 SEPTEMBER - 1 OCTOBER 2023 - 2 SPOTS LEFT
SILK ROAD - TOUR 2 - 1-10 OCTOBER 2023 - 2 SPOTS LEFT
SPIRIT OF ANTARCTICA - 9-20 JANUARY 2024
ANTARCTICA, SOUTH GEORGIA, SANDWICH IS 19 JAN - 10 FEB 2024
BHUTAN - APRIL 2024 (DETAILS TO COME)
NAROOMA, NSW - 6-10 MAY 2024
KENYA WILDLIFE TOUR - 18 JUNE - 1 JULY 2024
UGANDA PHOTO TOUR - 2-13 JULY 2024
ARKAROOLA - 13-21 SEPTEMBER 2024
ANTARCTICA, SOUTH GEORGIA - 16 MARCH - 4 APRIL 2025
Details at www.betterphotography.com/workshop-seminars
Peter Eastway FAIPP HonFAIPP HonFNZIPP APPL GMPhotogII MNZIPP
Editor and Publisher
Why did you receive this email? You are registered on the Better Photography website.
Unsubscribe: If you'd like to unsubscribe, click the link here to visit our unsubscribe page: Unsubscribe me, please!