The [Almost] Weekly Newsletter
Pressing the Shutter at the Right Time Is Orgasmic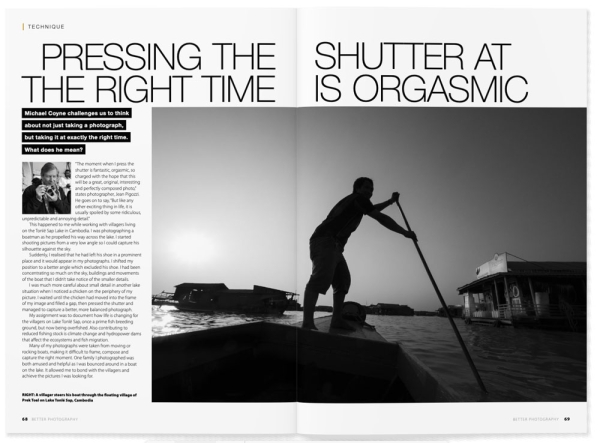 When Michael Coyne wrote the title for this article, I'm sure he thought the editor would change it. Perhaps a good editor would have!
Quotes Michael, "The moment when I press the shutter is fantastic, orgasmic, so charged with the hope that this will be a great, original, interesting and perfectly composed photo," states photographer, Jean Pigozzi. He goes on to say, "But like any other exciting thing in life, it is usually spoiled by some ridiculous, unpredictable and annoying detail." 
Continues Micheal, "This happened to me while working with villagers living on the Tonlé Sap Lake in Cambodia. I was photographing a boatman as he propelled his way across the lake. I started shooting pictures from a very low angle so I could capture his silhouette against the sky.  
"Suddenly, I realised that he had left his shoe in a prominent place and it would appear in my photographs. I shifted my position to a better angle which excluded his shoe. I had been concentrating so much on the sky, buildings and movements of the boat that I didn't take notice of the smaller details."
Is this the sort of thing you do? Read more from Michael in the current issue of Better Photography magazine! Current subscribers just have to login to read online or download to their device. Not a subscriber? I'd love you to join and help support our small community. For just AUS $29.88 (it's 40% off, but you must use the coupon code BP40) you can subscribe for one year and have access to over 50 back issues as well. Subscribe now - visit our website here - https://www.betterphotographyeducation.com/better-photography-online/about-the-magazine
Light Years an exhibition by Camberwell Camera Club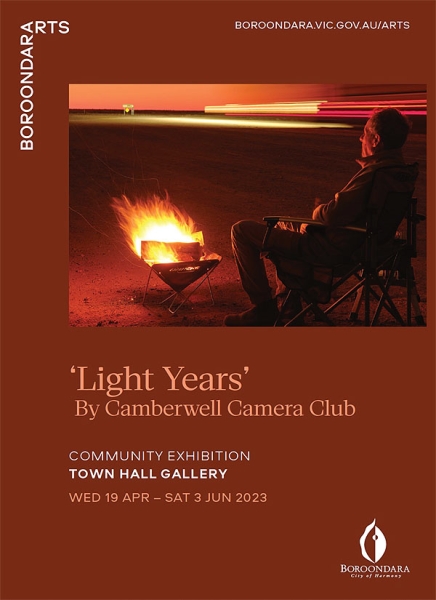 Town Hall Gallery - Hawthorn Arts Centre
19 April 2023 - 3 June 2023
To celebrate its 70th anniversary the Camberwell Camera Club is showcasing an exhibition of photographic essays by more than 30 of its members.
Each essay reflects the photographer's personal expression of a topic through a series of images. Topics range across a variety of subjects including family, community, urban change, social issues and the environment.
Town Hall Gallery, 360 Burwood Road, Hawthorn, Victoria
Gallery Hours: Monday to Friday 10am - 5pm, Saturday 12 noon - 4pm
https://www.boroondara.vic.gov.au/events/light-years-camberwell-camera-club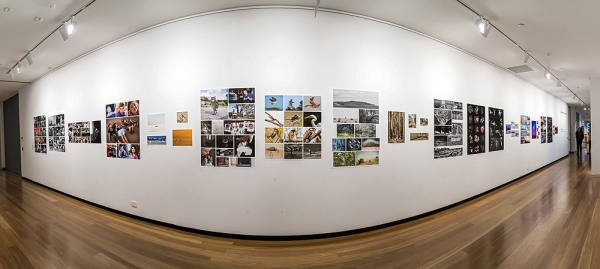 Camberwell Camera Club
https://www.camberwellcameraclub.org.au/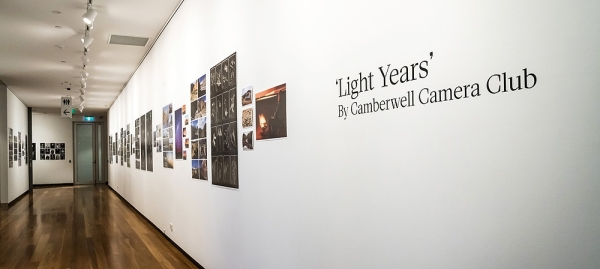 PHOTO TOURS AND WORKSHOPS
WITH PETER EASTWAY & FRIENDS
MIDDLEHURST 26 JUNE - 2 JULY 2023 - ONE SPOT LEFT
MIDDLEHURST - 5-11 JULY 2023 - ONE SPOT LEFT
SILK ROAD - TOUR 1 - 19 SEPTEMBER - 1 OCTOBER 2023 - 2 SPOTS LEFT
SILK ROAD - TOUR 2 - 1-10 OCTOBER 2023 - 2 SPOTS LEFT
SPIRIT OF ANTARCTICA - 9-20 JANUARY 2024
ANTARCTICA, SOUTH GEORGIA, SANDWICH IS 19 JAN - 10 FEB 2024
BHUTAN - APRIL 2024 (DETAILS TO COME)
NAROOMA, NSW - 6-10 MAY 2024
KENYA WILDLIFE TOUR - 18 JUNE - 1 JULY 2024
UGANDA PHOTO TOUR - 2-13 JULY 2024
ARKAROOLA - 13-21 SEPTEMBER 2024
ANTARCTICA, SOUTH GEORGIA - 16 MARCH - 4 APRIL 2025
Details at www.betterphotography.com/workshop-seminars
Peter Eastway FAIPP HonFAIPP HonFNZIPP APPL GMPhotogII MNZIPP
Editor and Publisher
Why did you receive this email? You are registered on the Better Photography website.
Unsubscribe: If you'd like to unsubscribe, click the link here to visit our unsubscribe page: Unsubscribe me, please!