The [Almost] Weekly Newsletter
Is AI Skin Smoothing For Real?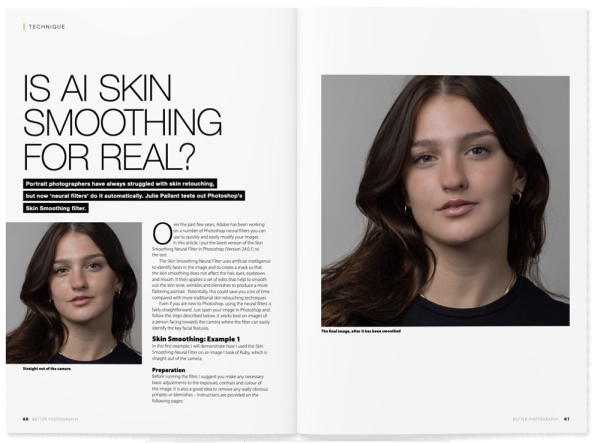 Portrait photographers have always struggled with skin retouching, but now 'neural filters' do it automatically. Julie Pallant tests out Photoshop's
Skin Smoothing filter.
"Over the past few years, Adobe has been working on a number of Photoshop neural filters you can use to quickly and easily modify your images. In this article, I put the latest version of the Skin Smoothing Neural Filter in Photoshop (Version 24.0.1) to the test.
"The Skin Smoothing Neural Filter uses artificial intelligence to identify faces in the image and to create a mask so that the skin smoothing does not affect the hair, eyes, eyebrows and mouth. It then applies a set of edits that help to smooth out the skin tone, wrinkles and blemishes to produce a more flattering portrait.  Potentially, this could save you a lot of time compared with more traditional skin retouching techniques.
"Even if you are new to Photoshop, using the neural filters is fairly straightforward. Just open your image in Photoshop and follow the steps described below. It works best on images of a person facing towards the camera where the filter can easily identify the key facial features."
Julie will take you step-by-step through the process in the current issue of Better Photography magazine! Current subscribers just have to login to read online or download to their device. Not a subscriber? I'd love you to join and help support our small community. For just AUS $29.88 (it's 40% off, but you must use the coupon code BP40) you can subscribe for one year and have access to over 50 back issues as well. Subscribe now - visit our website here - https://www.betterphotographyeducation.com/better-photography-online/about-the-magazine
Warragul National Photographic Competition and Exhibition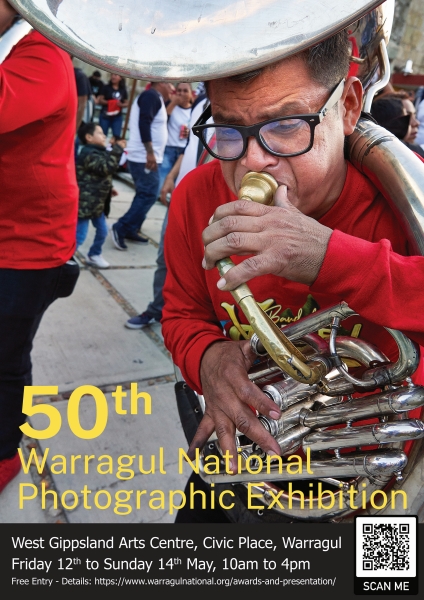 2023 is the 50th year the Warragul National Photographic Competition and Exhibition has been held, attracting entries from all over Australia with a record number of 1732 images from 141 entrants, this year.
The competition comprises both print and digital sections and is sanctioned by the Australian Photographic Society.
The Exhibition will be held at the West Gippsland Arts Centre, Warragul, Victoria, Australia.
Date:
Friday 12th to Sunday 14th May 2023
Time:
10am to 4pm daily
Venue:
Fountain Room, West Gippsland Arts Centre, Civic Place, Warragul
Entry:
Free
Website for full details:
PHOTO TOURS AND WORKSHOPS
WITH PETER EASTWAY & FRIENDS
MIDDLEHURST 26 JUNE - 2 JULY 2023 - ONE SPOT LEFT
MIDDLEHURST - 5-11 JULY 2023 - ONE SPOT LEFT
SILK ROAD - TOUR 1 - 19 SEPTEMBER - 1 OCTOBER 2023 - 2 SPOTS LEFT
SILK ROAD - TOUR 2 - 1-10 OCTOBER 2023 - 2 SPOTS LEFT
SPIRIT OF ANTARCTICA - 9-20 JANUARY 2024
ANTARCTICA, SOUTH GEORGIA, SANDWICH IS 19 JAN - 10 FEB 2024
BHUTAN - APRIL 2024 (DETAILS TO COME)
NAROOMA, NSW - 6-10 MAY 2024
KENYA WILDLIFE TOUR - 18 JUNE - 1 JULY 2024
UGANDA PHOTO TOUR - 2-13 JULY 2024
ARKAROOLA - 13-21 SEPTEMBER 2024
ANTARCTICA, SOUTH GEORGIA - 16 MARCH - 4 APRIL 2025
Details at www.betterphotography.com/workshop-seminars
Peter Eastway FAIPP HonFAIPP HonFNZIPP APPL GMPhotogII MNZIPP
Editor and Publisher
Why did you receive this email? You are registered on the Better Photography website.
Unsubscribe: If you'd like to unsubscribe, click the link here to visit our unsubscribe page: Unsubscribe me, please!