The [Almost] Weekly Newsletter
Every Photo Tells A Story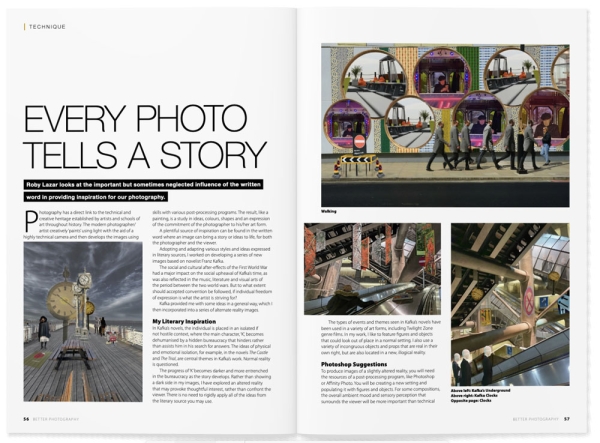 Explains Roby Lazar, "Photography has a direct link to the technical and creative heritage established by artists and schools of art throughout history. The modern photographer/artist creatively 'paints' using light with the aid of a highly technical camera and then develops the images using skills with various post-processing programs. The result, like a painting, is a study in ideas, colours, shapes and an expression of the commitment of the photographer to his/her art form.
"A plentiful source of inspiration can be found in the written word where an image can bring a story or ideas to life, for both the photographer and the viewer.
"Adopting and adapting various styles and ideas expressed in literary sources, I worked on developing a series of new images based on novelist Franz Kafka.
"The social and cultural after-effects of the First World War had a major impact on the social upheaval of Kafka's time, as was also reflected in the music, literature and visual arts of the period between the two world wars. But to what extent should accepted convention be followed, if individual freedom of expression is what the artist is striving for?
"Kafka provided me with some ideas in a general way, which I then incorporated into a series of alternate reality images."
Read all about it in the current issue of Better Photography magazine! Current subscribers just have to login to read online or download to their device. Not a subscriber? I'd love you to join and help support our small community. For just AUS $29.88 (it's 40% off, but you must use the coupon code BP40) you can subscribe for one year and have access to over 50 back issues as well. Subscribe now - visit our website here - https://www.betterphotographyeducation.com/better-photography-online/about-the-magazine
PHOTO TOURS AND WORKSHOPS
WITH PETER EASTWAY & FRIENDS
MIDDLEHURST 26 JUNE - 2 JULY 2023 - ONE SPOT LEFT
MIDDLEHURST - 5-11 JULY 2023 - ONE SPOT LEFT
SILK ROAD - TOUR 1 - 19 SEPTEMBER - 1 OCTOBER 2023 - 2 SPOTS LEFT
SILK ROAD - TOUR 2 - 1-10 OCTOBER 2023 - 2 SPOTS LEFT
SPIRIT OF ANTARCTICA - 9-20 JANUARY 2024
ANTARCTICA, SOUTH GEORGIA, SANDWICH IS 19 JAN - 10 FEB 2024
BHUTAN - APRIL 2024 (DETAILS TO COME)
NAROOMA, NSW - 6-10 MAY 2024
KENYA WILDLIFE TOUR - 18 JUNE - 1 JULY 2024
UGANDA PHOTO TOUR - 2-13 JULY 2024
ARKAROOLA - 13-21 SEPTEMBER 2024
ANTARCTICA, SOUTH GEORGIA - 16 MARCH - 4 APRIL 2025
Details at www.betterphotography.com/workshop-seminars
Peter Eastway FAIPP HonFAIPP HonFNZIPP APPL GMPhotogII MNZIPP
Editor and Publisher
Why did you receive this email? You are registered on the Better Photography website.
Unsubscribe: If you'd like to unsubscribe, click the link here to visit our unsubscribe page: Unsubscribe me, please!