The [Almost] Weekly Newsletter
Do you need a Laptop or iPad for Travel Photography?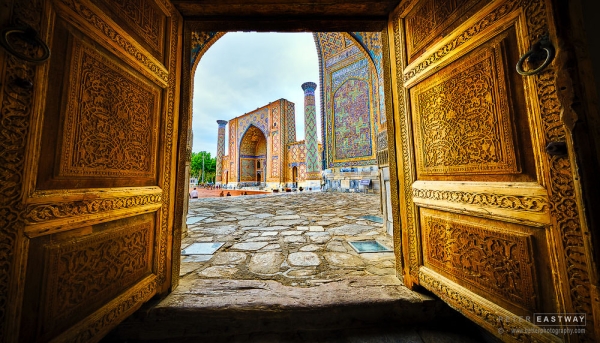 Doorway, Registan Square, Samarkand, Uzbekistan
Fujifilm X-T3, Fujinon XF8-16mm f2.8 R LM WR, f7.1 @ 1/125 second, ISO 160
A laptop, iPad or even a smart phone is a great tool for travel photography. Invariably when travelling, there are down times in the hotel or at the airport that can be fruitfully spent reviewing and quickly editing your photographs. And let's face it, your camera can probably transfer your photos directly to your device – automatically using a wi-fi connection.
Now there are caveats, of course. Sometimes we need to travel lightly and even packing two lenses is pushing things, so taking a laptop is out of the question. Or you might be trekking in the wilds for a couple of weeks without power – will a solar charging station do the trick? So, there are travel itineraries that will preclude us from taking a laptop or even an iPad.
However, for many trips, we spend the evenings in a hotel room with a desk, a power point and probably internet. It makes sense to download your photos and make a back-up. I use cards with large capacities, so I end up with three copies – one on the card which often lasts several days, one on the laptop and a second on a back-up drive. If I leave my cameras and computer in the hotel room at night (this depends on where I am), I take the back-up drive with me, just in case!
But it's not safety that drives me to look at my photos in the evening. First and foremost, I'm curious! Did I get the shots I had been hoping to? Is my equipment working as expected – better to find a problem now than when the trip is over? And if I've missed a shot, is there an opportunity to reshoot on the following day?
Whether using a laptop or an iPad (or similar), programs like Lightroom, Capture One and ACDSee allow you to quickly rate the best images. I don't bother selecting and deleting bad shots, rather I give a star to the photos that have potential. If there are a lot of good shots, maybe I have to start applying two stars on a second round.
And then if there's time, I might quickly process one or two of the most interesting shots. Often when we're out on location, we have lots of great ideas that can be forgotten if we don't write them down or do a quick edit directly onto the file.
So, assuming I didn't drink too much red wine, by the time my head hits the pillow, I have a good idea of what I have shot successfully – and hopefully not too many mistakes to correct the following day!
PHOTO TOURS AND WORKSHOPS
WITH PETER EASTWAY & FRIENDS
MIDDLEHURST 26 JUNE - 2 JULY 2023 - ONE SPOT LEFT
MIDDLEHURST - 5-11 JULY 2023 - ONE SPOT LEFT
SILK ROAD - TOUR 1 - 19 SEPTEMBER - 1 OCTOBER 2023 - 2 SPOTS LEFT
SILK ROAD - TOUR 2 - 1-10 OCTOBER 2023 - 2 SPOTS LEFT
SPIRIT OF ANTARCTICA - 9-20 JANUARY 2024
ANTARCTICA, SOUTH GEORGIA, SANDWICH IS 19 JAN - 10 FEB 2024
BHUTAN - APRIL 2024 (DETAILS TO COME)
NAROOMA, NSW - 6-10 MAY 2024
KENYA WILDLIFE TOUR - 18 JUNE - 1 JULY 2024
UGANDA PHOTO TOUR - 2-13 JULY 2024
ARKAROOLA - 13-21 SEPTEMBER 2024
ANTARCTICA, SOUTH GEORGIA - 16 MARCH - 4 APRIL 2025
Details at www.betterphotography.com/workshop-seminars
Peter Eastway FAIPP HonFAIPP HonFNZIPP APPL GMPhotogII MNZIPP
Editor and Publisher
Why did you receive this email? You are registered on the Better Photography website.
Unsubscribe: If you'd like to unsubscribe, click the link here to visit our unsubscribe page: Unsubscribe me, please!