The [Almost] Weekly Newsletter
Registan Square in Samarkand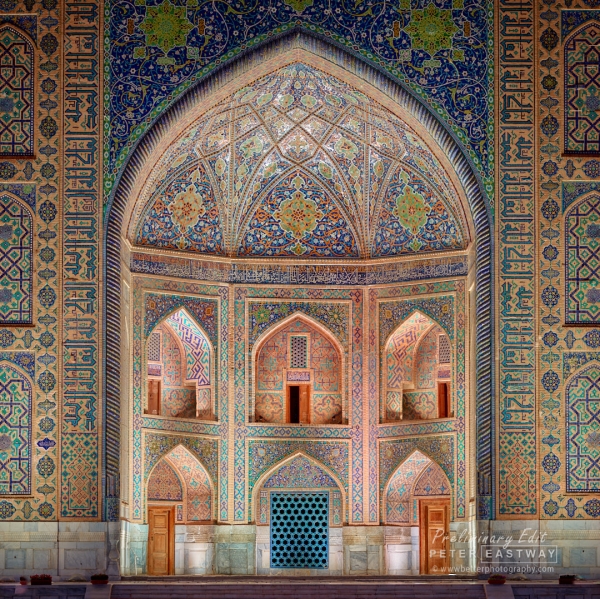 Registan Square, Samarkand, Uzbekistan
Phase One IQ3 100MP A-Series, 180mm Rodenstock, f11 @ 1/4 second, ISO 50
The architecture of the Silk Road is incredibly detailed and ornate. Registan Square would be immediately recognisable to most readers if a wider view were presented. In fact, the view is so famous, the local council has built a large, stepped platform from where bus loads of tourists can take in the vista.
Fortunately, the crowded tourist buses generally turn up during the middle of the day, in between breakfast and dinner! We made a couple of visits, one after heavy rain which was great for reflections and deserted of tourists, and another later in the evening, also without other tourists.
While you can shoot at night all night, most photographers aim to shoot a little while after sunset or before sunrise when the sky is practically black to the eye, but renders a rich blue. Not that it matters for this photo which has been intentionally cropped very tightly without any sky. A little post-production was needed to remove some bright flood lights, but the structure really is the essence of the buildings surrounding the three sides of the square.
These days, you can almost shoot at night or late in the evening without a tripod. Simply push up your ISO and hold your breath. Image stabilisation also helps, but if you look at the exposure for this shot (1/4 second at f11 and ISO 50), there was plenty of light to shoot with. Yes, a tripod was used, but it certainly wasn't necessary. David Oliver would have been proud of me - if only I hadn't used one!
PHOTO TOURS AND WORKSHOPS
WITH PETER EASTWAY & FRIENDS
ARKAROOLA  21 - 29 APRIL 2023 - SOLD OUT
SHARK BAY PHOTO EXPERIENCE 30 MAY - 3 JUNE 2023 - 1 SPOT LEFT
KUNUNURRA & BROOME PHOTO EXPERIENCE 6-14 JUNE 2023 - SOLD OUT
MIDDLEHURST 26 JUNE - 2 JULY 2023
MIDDLEHURST - 5-11 JULY 2023
SILK ROAD - TOUR 1 - 19 SEPTEMBER - 1 OCTOBER 2023
SILK ROAD - TOUR 2 - 1-10 OCTOBER 2023
SPIRIT OF ANTARCTICA - 9-20 JANUARY 2024
ANTARCTICA, SOUTH GEORGIA, SANDWICH IS 19 JAN - 10 FEB 2024
NAROOMA, NSW - 6-10 MAY 2024
KENYA WILDLIFE TOUR - 18 JUNE - 1 JULY 2024
UGANDA PHOTO TOUR - 2-13 JULY 2024
Details at www.betterphotography.com/workshop-seminars
Peter Eastway FAIPP HonFAIPP HonFNZIPP APPL GMPhotogII MNZIPP
Editor and Publisher
Why did you receive this email? You are registered on the Better Photography website.
Unsubscribe: If you'd like to unsubscribe, click the link here to visit our unsubscribe page: Unsubscribe me, please!