The [Almost] Weekly Newsletter
Why Are Volcanoes So Evocative?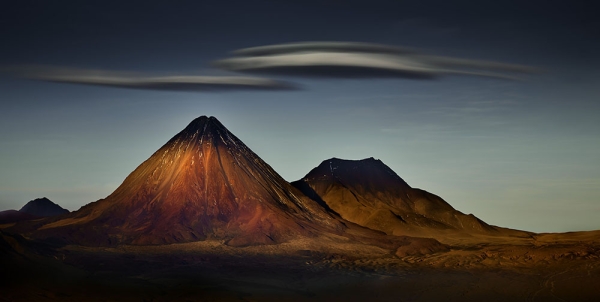 Licancabur Volcano from Chile
Phase One A-Series, IQ4 150MP, 180mm Rodenstock, f8 @ 2 minutes, ISO 50, exposure averaging
This image features in the updated Landscape Photography Masterclass, so if you're already a subscriber, log on and have a look (MasterClass 3). If you're not yet a subscriber, we have new pricing which should appeal to you! 
The reason for running the image above, apart from the obvious marketing twist, is to outline how things don't always go quite as planned, but they can still work out. I was using an Alpa camera, re-branded as a Phase One A-Series (and which has now been superseded by the Phase One XT). It's a nice little camera, no more than a piece of metal to which you attach the lens on the front and the digital sensor on the back. It has a wooden hand grip which for the entire trip, had been a little loose. After two weeks on the road, I had finally found my Allen keys and tightened it up, wondering why I hadn't done it ages ago.
We then went out for an afternoon shot. My 180mm lens was attached, but I wanted to shoot wide, so I went to change the lenses. Problem. I couldn't release the lens from the camera. I looked at the situation from 27 different angles, but there was no solution - the lens was locked on and wasn't going to shift. Then suddenly I remembered! The reason I left the hand grip slightly loose was because when tightened, it prevented me from changing lenses. Now, everyone in the world is going to agree that this is not particularly good engineering. Maybe the good people at Alpa have a solution that I have been too dim-witted to discover. Back at the hotel that night, I found my Allen keys for the second time, admonished myself for not keeping them in my camera bag, and loosened off the hand grip. I also remember why I had left the hand grip loose because this had happened before, several years earlier!
So, no wide-angle lens for my shoot that afternoon. What to do? Well, you've all heard photography teachers suggesting you walk out with a single lens and challenge yourself to find good photographs. Given my location in Chile's Atacama Desert, it wasn't particularly onerous and this is the main image I settled on. 
And I took a lot of them. As the sun set, shadows from clouds moved across the volcanoes, although I believe the shadow you can see on the mountain is not from the clouds you see above, but from clouds behind the camera and lower to the horizon. I have six or seven versions at different times of the day, including a beautifully soft rendition taken half an hour after sunset, but it doesn't have the dramatic shadow play, which is the reason this one is my favourite. 
My thanks to my camera because without its idiosyncracy, I might have missed this photo while playing with other lenses.
PHOTO TOURS AND WORKSHOPS
WITH PETER EASTWAY & FRIENDS
ARKAROOLA  21 - 29 APRIL 2023 - SOLD OUT
SHARK BAY PHOTO EXPERIENCE 30 MAY - 3 JUNE 2023 - 1 SPOT LEFT
KUNUNURRA & BROOME PHOTO EXPERIENCE 6-14 JUNE 2023 - SOLD OUT
MIDDLEHURST 26 JUNE - 2 JULY 2023
MIDDLEHURST - 5-11 JULY 2023
SILK ROAD - TOUR 1 - 19 SEPTEMBER - 1 OCTOBER 2023
SILK ROAD - TOUR 2 - 1-10 OCTOBER 2023
SPIRIT OF ANTARCTICA - 9-20 JANUARY 2024
ANTARCTICA, SOUTH GEORGIA, SANDWICH IS 19 JAN - 10 FEB 2024
NAROOMA, NSW - 6-10 MAY 2024
KENYA WILDLIFE TOUR - 18 JUNE - 1 JULY 2024
UGANDA PHOTO TOUR - 2-13 JULY 2024
Details at www.betterphotography.com/workshop-seminars
Peter Eastway FAIPP HonFAIPP HonFNZIPP APPL GMPhotogII MNZIPP
Editor and Publisher
Why did you receive this email? You are registered on the Better Photography website.
Unsubscribe: If you'd like to unsubscribe, click the link here to visit our unsubscribe page: Unsubscribe me, please!