The [Almost] Weekly Newsletter
Don't Forget! Make an Equipment List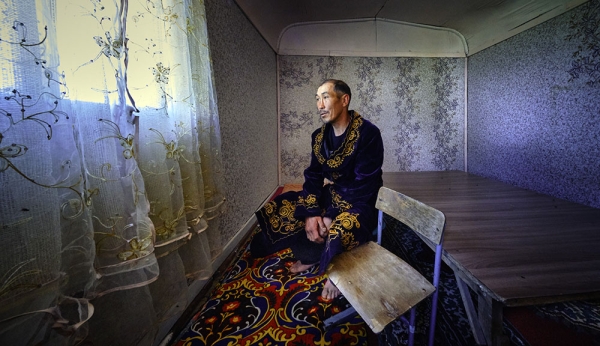 Nomadic herder in his caravan, outside Bishkek, Kyrgyzstan (The Silk Road/The Three Stans)
Fujifilm X-T3, XF8-16mmF2.8 R LM WR, f8 @ 1/50 second, ISO 6400
As travel photographers, we're reminded not to take too much with us because a heavy camera bag will literally weigh us down and a tired photographer with a sore shoulder or back is less likely to be out in the world taking photographs. However, if you're going to leave something behind, let's make sure you do it intentionally by creating a list of essential equipment.
I keep my travel list on my phone in a notepad app. It's nothing fancy, just a list of what I need to take. In fact, the list has more than what I will take on any one trip, but by listing everything I have, I can consider whether I really need it or just want it.
The list is broken into categories – medium format, mirrorless, drone, video, computer, clothing, accessories. In the mirrorless category, I will include two camera bodies and all my lenses, but when I'm packing, I might just take one body and a selection of lenses. Importantly, this list includes spare storage cards, extra batteries, battery charger, filter holders, filters, tripod, tripod head, tripod feet – everything I might need and that I can't afford to forget!
Before a trip, I put together what I think I'm going to need and then I pull out my list and double check. It's amazing how often I forget sensor cleaning equipment or extra cables for my backup drives. And each trip, I find myself adjusting the list to take into account new gear – or equipment I simply no longer need to carry around.
PHOTO TOURS AND WORKSHOPS
WITH PETER EASTWAY & FRIENDS
ARKAROOLA  21 - 29 APRIL 2023 - SOLD OUT
SHARK BAY PHOTO EXPERIENCE 30 MAY - 3 JUNE 2023 - 1 SPOT LEFT
KUNUNURRA & BROOME PHOTO EXPERIENCE 6-14 JUNE 2023 - SOLD OUT
MIDDLEHURST 26 JUNE - 2 JULY 2023
MIDDLEHURST - 5-11 JULY 2023
SILK ROAD - TOUR 1 - 19 SEPTEMBER - 1 OCTOBER 2023
SILK ROAD - TOUR 2 - 1-10 OCTOBER 2023
SPIRIT OF ANTARCTICA - 9-20 JANUARY 2024
ANTARCTICA, SOUTH GEORGIA, SANDWICH IS 19 JAN - 10 FEB 2024
NAROOMA, NSW - 6-10 MAY 2024
KENYA WILDLIFE TOUR - 18 JUNE - 1 JULY 2024
UGANDA PHOTO TOUR - 2-13 JULY 2024
Details at www.betterphotography.com/workshop-seminars
Peter Eastway FAIPP HonFAIPP HonFNZIPP APPL GMPhotogII MNZIPP
Editor and Publisher
Why did you receive this email? You are registered on the Better Photography website.
Unsubscribe: If you'd like to unsubscribe, click the link here to visit our unsubscribe page: Unsubscribe me, please!