The [Almost] Weekly Newsletter
Lightroom's New Look For Photography?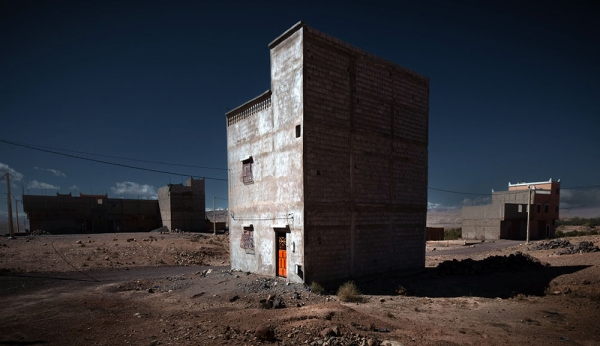 Buildings, Morocco
Fujifilm X-H2, 10-24mm lens, f11 @ 1/300 second, ISO 125
Years ago, in the days of film, I would use flash and exposure to highlight my subject. For a human subject it was relatively easy, assuming you were only a metre or so distance. Set the flash to correctly expose your subject and set the ambient exposure to underexpose everything else. It wasn't always possible in bright sunlight, unless you used an ND filter and a powerful flash. And it wasn't possible with larger subjects that were further away because the flash wasn't powerful enough - at least not during full daylight.
I liked the result, the way the subject stood out against the background. I also remember a number of professional friends using the technique brilliantly for annual reports and advertising campaigns. It wasn't everyone's cup of tea, but it was certainly effective.
Now take a look at Lightroom and the way it can quickly mask either the subject or the background. Lighten the subject, darken the background - it produces the same result. The technique is simple, as long as you accept Lightroom's masking limitations. In the photograph here, the subject is very simple and so Lightroom has done a very good job of creating a mask, but in some other subjects with slightly more complex outlines, Lightroom can struggle. No trouble if you're just outputting a 1000 pixel file as the 'errors' are practically invisible, but create a full size file for printing and you'll find you have some extra retouching ahead of you.
But now everyone has this technique at their fingertips, assuming 'everyone' has access to Lightroom or Photoshop. Will this mean we see a resurgence in this style? Sure, I've played with contrast and colour as well, but the basic technique involves lighting up the subject and leaving the background in the dark.
I remember an exhibition several decades ago where the curator focused on how technology had changed the look of photography over the years - when photography moved from black and white to colour, to automatic exposure, to more sensitive emulsions and so on. As technology made something easier (or possible), photographers adopted it and a new way of photographing followed.
Has Adobe started (or restarted) something?
PHOTO TOURS AND WORKSHOPS
WITH PETER EASTWAY & FRIENDS
ARKAROOLA  21 - 29 APRIL 2023 - SOLD OUT
SHARK BAY PHOTO EXPERIENCE 30 MAY - 3 JUNE 2023 - 1 SPOT LEFT
KUNUNURRA & BROOME PHOTO EXPERIENCE 6-14 JUNE 2023 - SOLD OUT
MIDDLEHURST 26 JUNE - 2 JULY 2023
MIDDLEHURST - 5-11 JULY 2023
SILK ROAD - TOUR 1 - 19 SEPTEMBER - 1 OCTOBER 2023
SILK ROAD - TOUR 2 - 1-10 OCTOBER 2023
SPIRIT OF ANTARCTICA - 9-20 JANUARY 2024
ANTARCTICA, SOUTH GEORGIA, SANDWICH IS 19 JAN - 10 FEB 2024
NAROOMA, NSW - 6-10 MAY 2024
KENYA WILDLIFE TOUR - 18 JUNE - 1 JULY 2024
UGANDA PHOTO TOUR - 2-13 JULY 2024
Details at www.betterphotography.com/workshop-seminars
Peter Eastway FAIPP HonFAIPP HonFNZIPP APPL GMPhotogII MNZIPP
Editor and Publisher
Why did you receive this email? You are registered on the Better Photography website.
Unsubscribe: If you'd like to unsubscribe, click the link here to visit our unsubscribe page: Unsubscribe me, please!