The [Almost] Weekly Newsletter
Cabin Baggage – Do You Feel Lucky?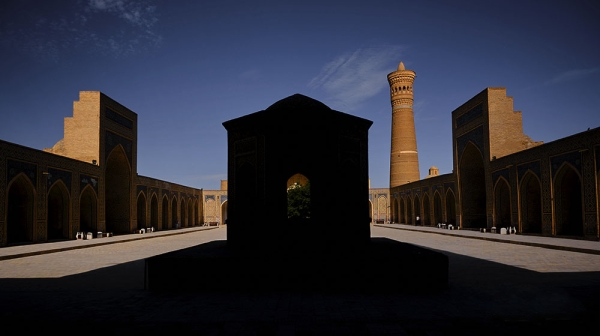 Poi Kalan religious complex, Bukhara, Uzbekistan (The Silk Road/ The Three Stans)
Fujifilm X-T3, XF8-16mmF2.8 R LM WR, f8 @ 1/680 second, ISO 160
Photographers like to carry their expensive and vulnerable cameras and lenses with them, which means cabin luggage on an airflight. We'd rather not consign anything that could break into our checked luggage because – well, you've seen how bags can be thrown around as baggage handlers struggle to keep up with a motorised conveyor belt. Sometimes bags land on the trolley with a bump.
Unfortunately, there are weight limits on cabin baggage, depending on the airline and your class of travel. For many of us, it's a 7 kg limit, or perhaps 10 kg. In smaller planes, the weight isn't as much an issue as the size because the overhead compartments are very small. Before you fly, find out what the limitations are so you can pack accordingly.
Can you get your cabin bag under 7 kg? Or maybe it's 10 kg? Some photographers take much more than this and hope the check-in staff don't weigh them, but if they do, what's going to happen? And if your checked luggage has already gone, what will happen to your heavy cabin bag? In my experience, the camera bag is taken away and carefully (I'm told) put elsewhere on the plane. I haven't had any issues, but I have been very concerned at the time.
These days, I try to keep within the limits. I take a backpack which is smaller than it needs to be so as not to promote interest. For extra gear, I use bubble wrap and clothing and put it in a second backpack which goes into my checked luggage. So far, everything has survived, but it's a risk.
Another option is a hard case with lots of foam padding, checked as a second bag (and potentially extra costs). The equipment will be safe, but when I've put these bags through, the check-in staff have cautioned me about having valuables inside – so that tells me something!
The only safe solution if you never want to risk your gear is to travel within the guidelines – unless you feel lucky!
PHOTO TOURS AND WORKSHOPS
WITH PETER EASTWAY & FRIENDS
ARKAROOLA  21 - 29 APRIL 2023 - SOLD OUT
SHARK BAY PHOTO EXPERIENCE 30 MAY - 3 JUNE 2023 - 1 SPOT LEFT
KUNUNURRA & BROOME PHOTO EXPERIENCE 6-14 JUNE 2023 - SOLD OUT
MIDDLEHURST 26 JUNE - 2 JULY 2023
MIDDLEHURST - 5-11 JULY 2023
SILK ROAD - TOUR 1 - 19 SEPTEMBER - 1 OCTOBER 2023
SILK ROAD - TOUR 2 - 1-10 OCTOBER 2023
SPIRIT OF ANTARCTICA - 9-20 JANUARY 2024
ANTARCTICA, SOUTH GEORGIA, SANDWICH IS 19 JAN - 10 FEB 2024
NAROOMA, NSW - 6-10 MAY 2024
KENYA WILDLIFE TOUR - 18 JUNE - 1 JULY 2024
UGANDA PHOTO TOUR - 2-13 JULY 2024
Details at www.betterphotography.com/workshop-seminars
Peter Eastway FAIPP HonFAIPP HonFNZIPP APPL GMPhotogII MNZIPP
Editor and Publisher
Why did you receive this email? You are registered on the Better Photography website.
Unsubscribe: If you'd like to unsubscribe, click the link here to visit our unsubscribe page: Unsubscribe me, please!