The [Almost] Weekly Newsletter
The Modern Silk Road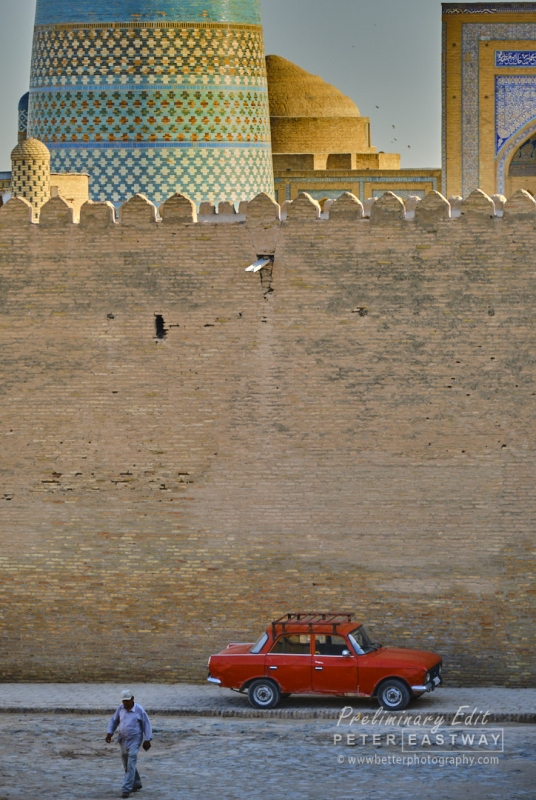 Street Scene, Khiva, Uzbekistan
Fujifilm X-T3, Fujinon XF55-200mmF3.5-4.8 R LM OIS, f5.6 @ 1/500 second, ISO 320
We were walking around the walls of an old part of Khiva, an historic town tucked away in land-locked Uzbekistan and part of, it is claimed, the ancient Silk Road. Of course, if you talk to enough people and read sufficient guide books, you'll realize the Silk Road is incredibly wide and refers to a lot of locations that may have been followed by Marco Polo.
This realisation takes nothing away from the exotic nature of Uzbekistan, Kazakhstan and Kyrgyzstan. There are parts of the Old Silk Road that will take you back 50 years, then 500 years and then 2000 years! The old car (has to be 50 years old, doesn't it), the ancient city wall, the exotic towers behind peeping out. Half the time in these locations is spent just pinching yourself and hoping the camera does its job.
What I love about the three Stans is that while there are some wonderful monuments, the day-to-day scenes are every bit as interesting to photograph. You don't set up a shot like this. You find it and shoot it quickly. A mid-telephoto zoom was useful to frame the scene, although I confess the gentleman is a little close to the bottom of the frame for my liking. Were I to take this edit further, I'd add in a little more foreground.
But that dirty red car and the hint of the exotic architecture behind the wall make this a successful travel photo for me.
PHOTO TOURS AND WORKSHOPS
WITH PETER EASTWAY & FRIENDS
SPIRIT OF ANTARCTICA - 9-20 JANUARY 2024
ANTARCTICA, SOUTH GEORGIA, SANDWICH IS 19 JAN - 10 FEB 2024
BHUTAN & LADAKH 8 - 25 APRIL 2024
NAROOMA, NSW - 6-10 MAY 2024
SHARK BAY, WA - 28 MAY-1 JUNE 2024
KENYA WILDLIFE TOUR - 18 JUNE - 1 JULY 2024
UGANDA PHOTO TOUR - 2-13 JULY 2024
MIDDLEHURST - 5-11 AUGUST 2024
MIDDLEHURST - PHASE ONE - 14-20 AUGUST 2024
ARKAROOLA - 13-21 SEPTEMBER 2024
ANTARCTICA, SOUTH GEORGIA - 16 MARCH - 4 APRIL 2025
Details at www.betterphotography.com/workshop-seminars
Peter Eastway FAIPP HonFAIPP HonFNZIPP APPL GMPhotogII MNZIPP
Editor and Publisher
Why did you receive this email? You are registered on the Better Photography website.
Unsubscribe: If you'd like to unsubscribe, click the link here to visit our unsubscribe page: Unsubscribe me, please!