The [Almost] Weekly Newsletter
Is GPS Essential for Travel Photographers?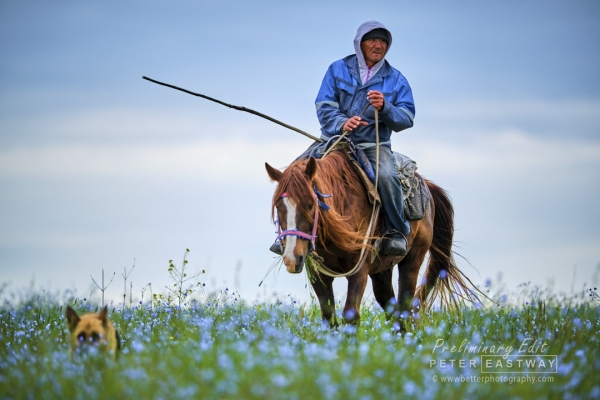 Goat herder, outside Basshi, Kazakhstan (The Silk Road/ The Three Stans)
Fujifilm X-T3, Fujifilm Fujinon XF200mmF2 R LM OIS WR, f2.0 @ 1/3500 second, ISO 160
Many cameras either have GPS built-in or you can purchase a GPS adapter, allowing the camera to record your precise position at the moment a photo was taken. While this mightn't show the location of the subject being photographed, it's certainly within viewing distance and the coordinates will allow you to determine where you were and what the subject is. GPS can be really useful for travel, landscape and wildlife photographers.
For some trips where you're at a single destination, it's not going to be too hard to remember where you are, but on other trips, you might travel several thousand kilometres and locations can blur one into another. This isn't a problem until you want to tell someone where a photo was taken or perhaps you want to write a caption in your photo book.
If you want GPS coordinates, you can certainly use your camera if it has it, or with a GPS accessory. The main criticism I've heard is these units can be thirsty on power, but this could be solved with a spare set of batteries. A second option is to take a photo with your phone at each location as invariably these photos will include location data.
However, I generally forget to take photos with my phone, so a third option is to track my progress for the duration of each trip, either day by day or when travelling a particular segment. You can use your phone or watch to do this and, as long as your camera's date and time are synchronised, it will be fairly easy to determine where you were. Even better, using an app on your phone (like WorkOutDoors or Guru Maps Pro) will let you view your journey on a map or export a map file so you can use it with other mapping applications.
GPS isn't essential for a photographer with a notepad and pencil (or who writes down locations on his or her phone), but it's a fun way to record where you've been. It certainly makes caption writing a lot more accurate!
PHOTO TOURS AND WORKSHOPS
WITH PETER EASTWAY & FRIENDS
ARKAROOLA  21 - 29 APRIL 2023 - SOLD OUT
SHARK BAY PHOTO EXPERIENCE 30 MAY - 3 JUNE 2023 - 1 SPOT LEFT
KUNUNURRA & BROOME PHOTO EXPERIENCE 6-14 JUNE 2023 - SOLD OUT
MIDDLEHURST 26 JUNE - 2 JULY 2023
MIDDLEHURST - 5-11 JULY 2023
SILK ROAD - TOUR 1 - 19 SEPTEMBER - 1 OCTOBER 2023
SILK ROAD - TOUR 2 - 1-10 OCTOBER 2023
SPIRIT OF ANTARCTICA - 9-20 JANUARY 2024
ANTARCTICA, SOUTH GEORGIA, SANDWICH IS 19 JAN - 10 FEB 2024
NAROOMA, NSW - 6-10 MAY 2024
KENYA WILDLIFE TOUR - 18 JUNE - 1 JULY 2024
UGANDA PHOTO TOUR - 2-13 JULY 2024
Details at www.betterphotography.com/workshop-seminars
Peter Eastway FAIPP HonFAIPP HonFNZIPP APPL GMPhotogII MNZIPP
Editor and Publisher
Why did you receive this email? You are registered on the Better Photography website.
Unsubscribe: If you'd like to unsubscribe, click the link here to visit our unsubscribe page: Unsubscribe me, please!