The [Almost] Weekly Newsletter
Andris Apse's Deep South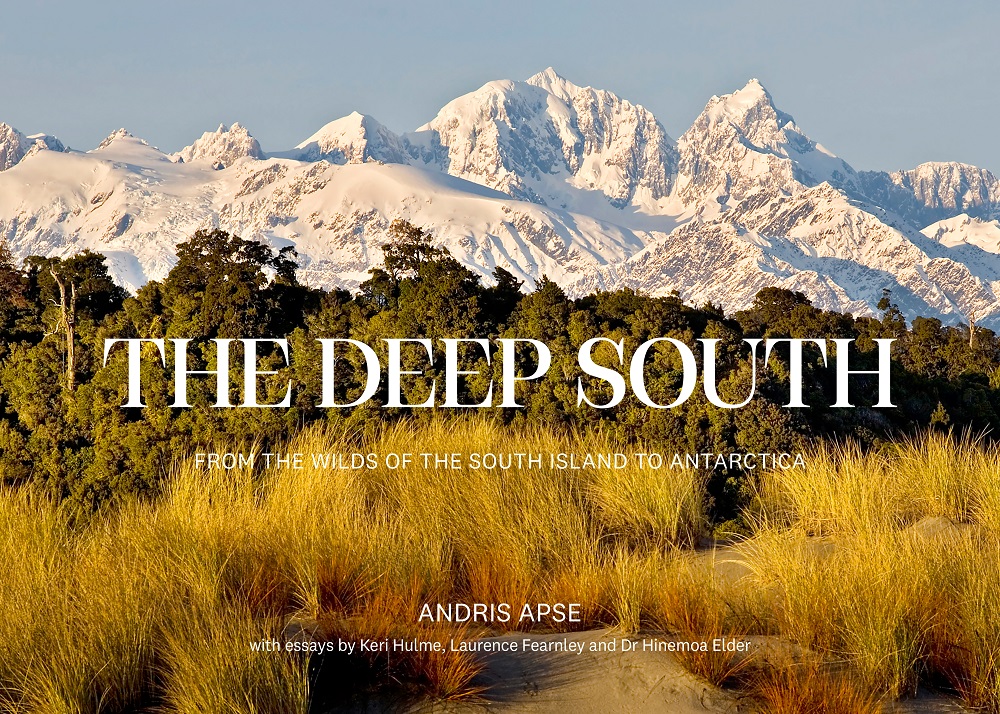 There's nothing better than getting a new book in the mail. Okay, so maybe there are a few things better, but let's not take away any of the delight I received when Andris Apse sent me a copy of his new book, The Deep South.
Andris is to New Zealand what Ansel Adams is to the USA and Peter Dombrovskis to Australia - a legend in landscape photography. And while he is older than me, retirement is not something he will ever consider and his passion for photography remains as strong as ever. I fondly remember spending a week on the west coast of New Zealand with Andris and Les Walkling, two towers of photography.
And Andris is one of the reasons I ended up at Middlehurst with Tony Hewitt. Many years ago, I interviewed Andris for Better Photography magazine and I specifically queried him about one of his most successful stock photos of a mob of sheep crossing the road in sight of Mount Cook, with steam rising off their backs in the cool morning air. The story of how he orchestrated this shoot and how he endeared himself to the stockmen has always stuck with me. Andris is the master of planning a shoot.
Middlehurst? When Tony and I were invited to speak in New Zealand a decade or so ago, we were asked if we'd also like to take a photo tour around the South Island with Will Parsons and Driftwood Eco Tours. I asked Will to organise a shoot on a sheep station as part of the deal. The experience was great, but Will suggested another station for our second tour, which was Middlehurst. And all this started by being inspired by one of Andris's photos. Hopefully Better Photography magazine provides photos and opportunities like this to all its readers.
But back to The Deep South. The book is impressive, measuring 350x250 mm with 106 photographs across 216 pages. The subject is from New Zealand's South Island all the way down to the sub-Antarctic islands and Antarctica itself. If landscape and wildlife are your thing, you won't get a better lesson in photography than this book. And great captions give you locations and useful insights.
You can find The Deep South all around, but why not buy from Andris's website - https://www.andrisapse.com/book_details.htm?book_id=51. The book is ridiculously inexpensive at NZ$75 and it's the only way you'll get a signed copy! Definitely worth it!
PHOTO TOURS AND WORKSHOPS
WITH PETER EASTWAY & FRIENDS
ARKAROOLA  21 - 29 APRIL 2023 - SOLD OUT
SHARK BAY PHOTO EXPERIENCE 30 MAY - 3 JUNE 2023 - 1 SPOT LEFT
KUNUNURRA & BROOME PHOTO EXPERIENCE 6-14 JUNE 2023 - SOLD OUT
MIDDLEHURST 26 JUNE - 2 JULY 2023
MIDDLEHURST - 5-11 JULY 2023
SILK ROAD - TOUR 1 - 19 SEPTEMBER - 1 OCTOBER 2023
SILK ROAD - TOUR 2 - 1-10 OCTOBER 2023
SPIRIT OF ANTARCTICA - 9-20 JANUARY 2024
ANTARCTICA, SOUTH GEORGIA, SANDWICH IS 19 JAN - 10 FEB 2024
NAROOMA, NSW - 6-10 MAY 2024
KENYA WILDLIFE TOUR - 18 JUNE - 1 JULY 2024
UGANDA PHOTO TOUR - 2-13 JULY 2024
Details at www.betterphotography.com/workshop-seminars
Peter Eastway FAIPP HonFAIPP HonFNZIPP APPL GMPhotogII MNZIPP
Editor and Publisher
Why did you receive this email? You are registered on the Better Photography website.
Unsubscribe: If you'd like to unsubscribe, click the link here to visit our unsubscribe page: Unsubscribe me, please!