Article Ideas & Take-Aways
Ideas to Stretch Ourselves Photographically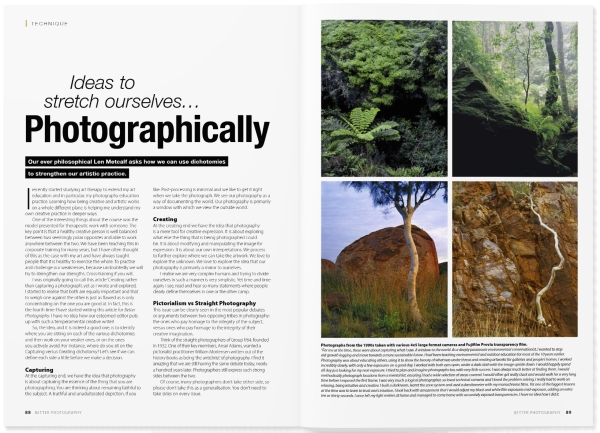 Our ever philosophical Len Metcalf asks how we can use dichotomies to strengthen our artistic practice.
"I was originally going to call this article 'Creating rather than capturing a photograph', yet as I wrote and explored, I started to realise that both are equally important and that to weigh one against the other is just as flawed as is only concentrating on the one you are good at.
"In fact, this is the fourth time I have started writing this article for Better Photography. I have no idea how our esteemed editor puts up with such a temperamental creative writer!
"So, the idea, and it is indeed a good one, is to identify where you are sitting on each of the various dichotomies and then work on your weaker ones, or on the ones you actively avoid. For instance, where do you sit on the Capturing versus Creating dichotomy? Let's see if we can define each side a little before we make a decision."
You can also see Len's checklist and his chart for determining where you sit in the spectrum - and perhaps where you should be heading!!
We'll tell you a lot more in the current issue of Better Photography magazine! Current subscribers just have to login to read online or download to their device. Not a subscriber? I'd love you to join and help support our small community. For just AUS $29.88 (it's 40% off, but you must use the coupon code BP40) you can subscribe for one year and have access to over 50 back issues as well. Subscribe now - visit our website here - https://www.betterphotographyeducation.com/better-photography-online/about-the-magazine
Peter Eastway FAIPP HonFAIPP HonFNZIPP APPL GMPhotogII MNZIPP
Editor and Publisher
‍

PHOTO TOURS AND WORKSHOPS WITH PETER EASTWAY & FRIENDS

MIDDLEHURST - 26 JUNE - 2 JULY 2023
MIDDLEHURST - 5-11 JULY 2023
JEWELS OF THE ARCTIC - 2-16 AUGUST 2023
SILK ROAD - TOUR 1 - 19 SEPTEMBER - 1 OCTOBER 2023
SILK ROAD - TOUR 2 - 1-10 OCTOBER 2023
SPIRIT OF ANTARCTICA - 9-20 JANUARY 2024
ANTARCTICA, SOUTH GEORGIA, SANDWICH ISLAND 19 JAN - 10 FEB 2024
KENYA WILDLIFE TOUR - 18 JUNE - 1 JULY 2024
UGANDA PHOTO TOUR - 2-13 JULY 2024
Why did you receive this email? You are registered on the Better Photography website.
Unsubscribe: If you'd like to unsubscribe, click the link here to visit our unsubscribe page: Unsubscribe me, please!