The [Almost] Weekly Newsletter
Processing An Edit For A Photo Book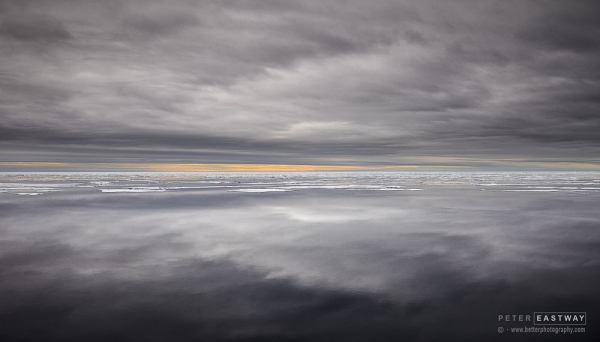 In the Ice (nearly), Svalbard, 2022.
Phase One XF 150MP, 55mm Schneider, f5.6 @ 1/2500 second, ISO 100
With nearly 30,000 photos from a trip to Svalbard in June/July this year, how am I editing my images? And when I write 'editing', I mean selecting the best ones to process (i.e. to take the raw file and turn it into an edited photograph).
I don't think there is a single method that works best for everyone or in every situation. Take this photo here. It's part of a chapter on the wonderful atmospherics one finds in the polar regions. When I chose it for the photo book I'm producing, I was enamoured with the soft light and mirror-smooth water. It was only when I started investigating the image more closely that I remembered what drew me to it in the first place - the remarkable reflections of the clouds.
The idea for my Svalbard book was 10 chapters of 8 pages. The 8 pages will include one double-page photograph as an introduction (the photo above will introduce the chapter on atmospherics), plus four to six single page photos and/or maybe another double-pager. So a total of 6 to 7 photos to process, times 10 chapters equals 65-70 photos. 
Then I extended the book to two volumes, so I have around 130 photos to process and I'm about one third of the way through. Not sure if they will be finished before I leave for Antarctica next month and a new adventure begins. This is the challenge - finding the time to do justice to the adventures I have. Each one is deserving of a book - if only I could work more efficiently!
Herein lies my current thought process. As I travel, I download and review the photos at the end of each day, whether I'm on the road or in my cabin. I have a good idea of which photos I like the best, so I mark them in some way - I lightly process them or give them a star rating. Then at the end of the trip, often on the flight back home, I will 'edit' or select the best photos for a book. For Svalbard, I did a quick design in InDesign and dropped the unprocessed photos into the layout.
Now that I'm back home, I open up the InDesign document, choose the next photo in the layout, find the raw file, process it and then drop the processed file back into the layout. I try not to spend too much time on each image. My aim is to do 6 or 7 an evening, and that usually requires an hour or two.
And the selection of photos in the book will change. As I process some of the images, I'm finding they are not quite as strong as I initially thought, so there will be some refining of the final selection. But at least I'm making a start.
And I'm very happy with my reflection! Maybe a touch stronger colour along the horizon and a slight darkening of the top left...
‍

PHOTO TOURS AND WORKSHOPS WITH PETER EASTWAY & FRIENDS

MIDDLEHURST - 26 JUNE - 2 JULY 2023
MIDDLEHURST - 5-11 JULY 2023
JEWELS OF THE ARCTIC - 2-16 AUGUST 2023
SILK ROAD - TOUR 1 - 19 SEPTEMBER - 1 OCTOBER 2023
SILK ROAD - TOUR 2 - 1-10 OCTOBER 2023
SPIRIT OF ANTARCTICA - 9-20 JANUARY 2024
ANTARCTICA, SOUTH GEORGIA, SANDWICH ISLAND 19 JAN - 10 FEB 2024
KENYA WILDLIFE TOUR - 18 JUNE - 1 JULY 2024
UGANDA PHOTO TOUR - 2-13 JULY 2024

Peter Eastway FAIPP HonFAIPP HonFNZIPP APPL GMPhotogII MNZIPP
Editor and Publisher
Why did you receive this email? You are registered on the Better Photography website.
Unsubscribe: If you'd like to unsubscribe, click the link here to visit our unsubscribe page: Unsubscribe me, please!