Article Ideas & Take-Aways
Photographing The City - Differently!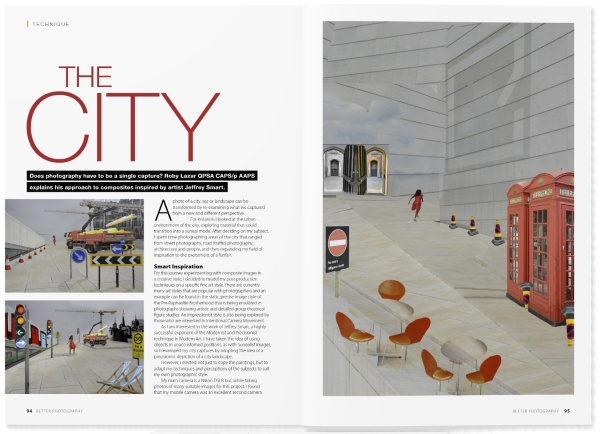 Does photography have to be a single capture? Roby Lazar explains his approach to composites inspired by artist Jeffrey Smart.
"For this journey experimenting with composite images in a creative style, I decided to model my post-production techniques on a specific fine art style.
"There are currently many art styles that are popular with photographers and an example can be found in the static, precise image style of the Pre-Raphaelite Brotherhood that is being emulated in photographs showing artistic and detailed group theatrical figure studies. An Impressionist style is also being explored by those who are interested in Intentional Camera Movement.
"I am interested in the work of Jeffrey Smart, a highly successful exponent of the Modernist and Precisionist technique in Modern Art. I have taken the idea of using objects in unaccustomed positions, as with Surrealist images, so I revamped my city captures by adopting the idea of a precisionist depiction of a city landscape. However, I elected not just to copy the paintings, but to adapt my techniques and perceptions of the subjects to suit my own photographic style."
So, what does this all mean? Roby will explain it all in the current issue of Better Photography magazine! Current subscribers just have to login to read online or download to their device. Not a subscriber? I'd love you to join and help support our small community. For just AUS $29.88 (it's 40% off, but you must use the coupon code BP40) you can subscribe for one year and have access to over 50 back issues as well. Subscribe now - visit our website here - https://www.betterphotographyeducation.com/better-photography-online/about-the-magazine
Peter Eastway FAIPP HonFAIPP HonFNZIPP APPL GMPhotogII MNZIPP
Editor and Publisher
‍

PHOTO TOURS AND WORKSHOPS WITH PETER EASTWAY & FRIENDS

SPIRIT OF ANTARCTICA 17-28 NOVEMBER 2022
ANTARTICA, SOUTH GEORGIA - 27 NOV -17 DEC 2022 - WAIT LIST ONLY
JEWELS OF THE ARCTIC - 5-19 AUGUST 2023
SILK ROAD - TOUR 1 - 19 SEPTEMBER - 1 OCTOBER 2023
SILK ROAD - TOUR 2 - 1-10 OCTOBER 2023
SPIRIT OF ANTARCTICA - 9-20 JANUARY 2024
ANTARCTICA, SOUTH GEORGIA, SANDWICH ISLAND 19 JAN - 10 FEB 2024
KENYA WILDLIFE TOUR - 18 JUNE - 1 JULY 2024
UGANDA PHOTO TOUR - 2-13 JULY 2024

Why did you receive this email? You are registered on the Better Photography website.
Unsubscribe: If you'd like to unsubscribe, click the link here to visit our unsubscribe page: Unsubscribe me, please!