The [Almost] Weekly Newsletter
The Nuance of the Polar Bear's Walk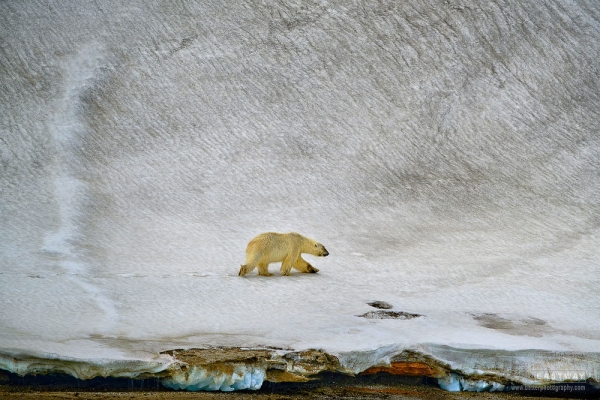 Wandering Polar bear, Torellneset, Svalbard
Fujifilm X-T4, Fujinon XF200mm F2 R LM OIS WR, f2.5 @ 1/3000 second, ISO 160.
When it comes to photographing wildlife, I think most of us are much the same. As soon as we find our target, we shoot. Doesn't matter what's behind it, what it's doing, or how it's framed, we take a photo. Then, with a safety shot (no matter how inferior) under our belt, we start to shoot a few more, looking for a better angle, a better pose or a superior background. I took hundreds of shots of this bear!
On this occasion, the polar bear was walking along a straight stretch of sandy coast, littered with icebergs and ice drifts. Polar bears are not slow. We estimated this one was ambling along at around 6 kph, which explains how easy it could be for you to find yourself face-to-face with one after a few hours on shore. He (or she) mightn't be nearby when you land, but that doesn't mean he (or she) couldn't arrive very soon! And that's why we have guides and lookouts for all Arctic landings!
Keeping our distance in the zodiac as required by the tourism regulations in Svalbard meant I was a little limited in my angle. Using a 200mm lens (equivalent to a 300mm on a full-frame sensor), the polar bear was quite small in the frame, but I liked that because it meant the surrounding landscape held equal importance. I had a 1.4x converter with me, but I found the angle was a little tight. I had plenty of time to experiment as we tracked this bear for maybe 20 minutes or more. And while he appeared to notice us from time to time, it was pretty clear he was intent on something else and we weren't worth worrying about.
So out of the hundreds I shot, why this one? I like it! I like the snow drift behind - a bit like a backdrop in a studio. I also like the foreground where the waves have washed the snow away, revealing a rocky shoreline. And I like the positioning of the polar bear's legs. Although I could have simply kept my finger pressed on the shutter button and fired away, I found it easier to watch the polar bear and press the shutter as he extended his front leg. After a kilometre or so of practice, I think I was quite good at it in the end!
Arkaroola Wilderness Retreat 2023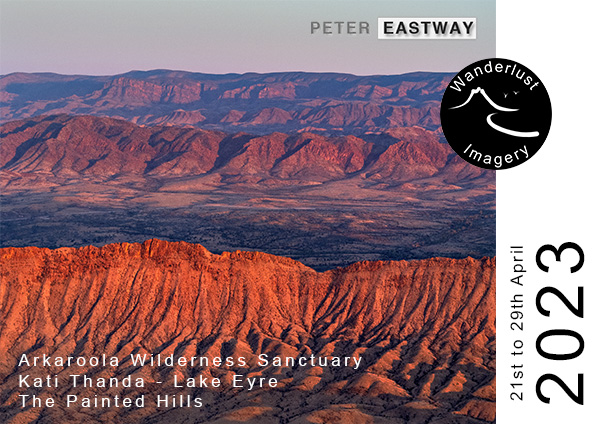 An invitation from Robin Moon + Peter Eastway...
In 2022, Peter travelled with us to this unique and captivating part of central Australia. He was so taken by the landscape (and our company) that he is returning to co-host our tour this year, and offer his insights into the capture and editing process for our participants.
My first trip to the area was in November 2020, and due to a Covid lockdown we spent time, and became friends with our hosts Doug Sprigg and Vicki. Doug's father was instrumental in establishing the Arkaroola Wilderness Sanctuary, and it is a passion that Doug now shares.
As we were guided through the canyons, and geological time zones, and then flown over the same formations, local landscapes and features, the exquisite beauty on show was plain to see.
But it's not only Arkaroola Wilderness Sanctuary we explore....
Flights over Munda - Lake Frome, overnighting in iconic William Creek viewing the beauty of the salt patterns of Kati Thanda - Lake Eyre, and leisurely wandering through the abstract forms of The Painted Hills in the early morning light
The trip is limited to 9 participants, and held over 9 days, so there is ample time to talk photography, share camera craft, and explore these captivating landscapes.
For detailed trip notes, use the following link : Arkaroola 2023
Explore, Record + Imagine 

Sun, Sea and Photography - Head On Photo Festival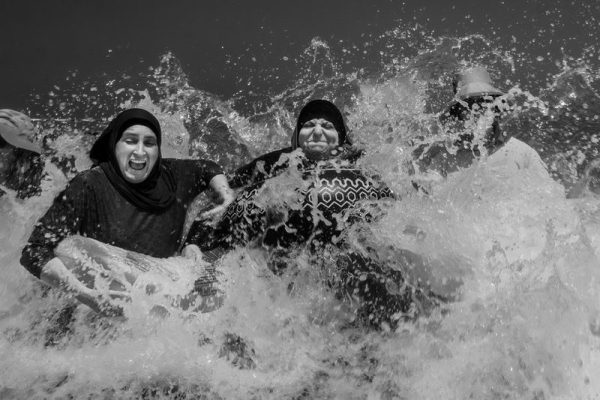 © Orna Naor, courtesy of Head On Photo Festival
World-renowned Head On Photo Festival, a highlight of Australia's arts calendar, celebrates its 13th year with an electric range of photography from around the world in unique outdoor exhibitions from 4-20 November 2022. The Festival, free and open to the public, comprises over 500 photographers across 107 exhibitions, including the Festival's major outdoor venues - the stunning Bondi Beach, the recently renovated Bondi Pavilion and Paddington Reservoir Gardens.
The Festival
Annually Head On Photo Festival presents groundbreaking photographic stories that tell stories through photography across all genres, from fine art to photojournalism. Judges select all exhibiting photographers through Head On's unique judging process, in which they judge works anonymously, ensuring a diverse range of stories and equal opportunity.
This year, exhibitions and conversations explore important global issues - the impacts of COVID-19, global conflict, refugees, feminism, motherhood, pop culture, the environment, youth homelessness and gentrification.
The program features unique insights into war, displacement and refugees from two rising stars. Sahat Zia Hero documents life from within Bangladesh's largest refugee camp where he lives and 21-year-old Syrian photojournalist Mouneb Taim, who has been capturing the reality of war-torn Syria since he was a child; see exhibition details below.
The Foundation
Head On Foundation (not-for-profit est. 2008) was created to celebrate talented national and international photographers at all career stages. "Our goal is to make photography a platform that is accessible for all. We are very excited about this year's images' global-scale and creative range. Each photograph tells a story and allows the viewer a glimpse into worlds unknown," says Moshe Rosenzveig OAM, Founder and Creative Director of Head On Foundation.
He continues, "The event is family-friendly and enjoyed by Sydneysiders, interstate and international visitors of all ages. The exhibitions' appeal merges the boundaries between everyday people, photographic enthusiasts, and artists. It's the perfect way to enjoy the sunshine, particularly after the previous two years of lockdown."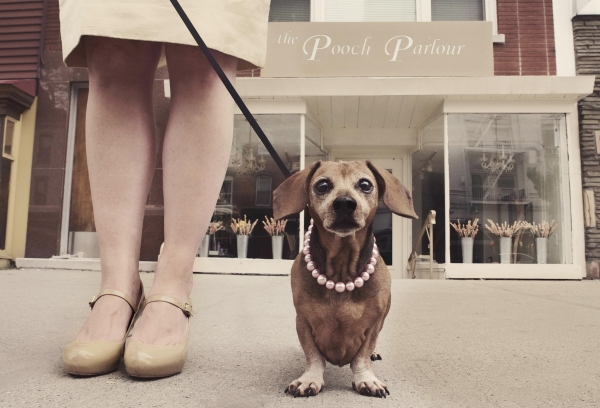 © Kristie Lee, courtesy of Head On Photo Festival
Launch party and Head On Photo Awards
To launch the Festival, Head On Foundation will celebrate with an opening night on 4th November in the newly renovated Bondi Pavilion, where the winners of the 2022 Head On Photo Awards will be announced. Visitors should expect a lively nighttime celebration filled with food, drinks, music, and amazing photographs from around the world.
The highly anticipated Head On Photo Awards are the centrepiece of the Festival and underscore Head On's philosophy of recognising and awarding photographic excellence no matter the photographer's experience or background. Boasting a prize pool of $70,000 - including $30,500 in cash - Head On Photo Awards offers Australia's most significant prize for photography. Judges include internationally renowned photographers, picture editors and curators, such as Azu Nwagbogu (Founder and Director, African Artists' Foundation) and Kaya Lee Berne (Photo Editor, National Geographic Magazine). The Awards present outstanding photography across three categories: Portrait, Landscape and Student Awards.
Head On Photo Festival 2022 major sponsors include Create NSW and Waverley Council.
For more information, please visit www.headon.org.au 
‍

PHOTO TOURS AND WORKSHOPS WITH PETER EASTWAY & FRIENDS

SPIRIT OF ANTARCTICA 17-28 NOVEMBER 2022 - WAIT LIST
ANTARTICA, SOUTH GEORGIA - 27 NOV -17 DEC 2022 - WAIT LIST
JEWELS OF THE ARCTIC - 2-16 AUGUST 2023
MIDDLEHURST - 5-11 JULY 2023 - INQUIRIES
SILK ROAD - TOUR 1 - 19 SEPTEMBER - 1 OCTOBER 2023
SILK ROAD - TOUR 2 - 1-10 OCTOBER 2023
SPIRIT OF ANTARCTICA - 9-20 JANUARY 2024
ANTARCTICA, SOUTH GEORGIA, SANDWICH ISLAND 19 JAN - 10 FEB 2024
KENYA WILDLIFE TOUR - 18 JUNE - 1 JULY 2024
UGANDA PHOTO TOUR - 2-13 JULY 2024

Peter Eastway FAIPP HonFAIPP HonFNZIPP APPL GMPhotogII MNZIPP
Editor and Publisher
Why did you receive this email? You are registered on the Better Photography website.
Unsubscribe: If you'd like to unsubscribe, click the link here to visit our unsubscribe page: Unsubscribe me, please!