Article Ideas & Take-Aways
Arkaroola! Where? Really?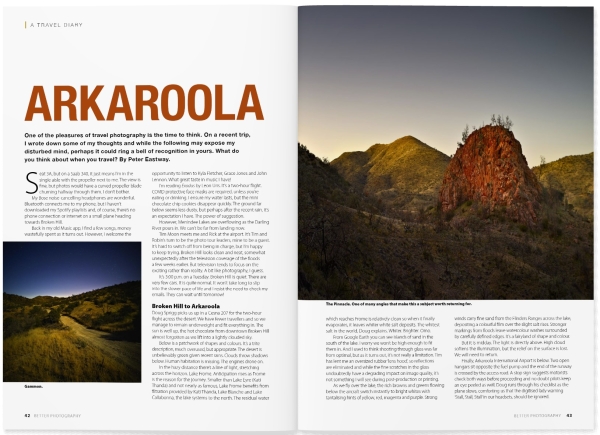 One of the pleasures of travel photography is the time to think. On a recent trip, I wrote down some of my thoughts and while the following may expose my disturbed mind, perhaps it could ring a bell of recognition in yours. What do you think about when you travel?
Doug Sprigg picks us up in a Cesna 207 for the two-hour flight across the desert. We have fewer travellers and so we manage to remain underweight and fit everything in.
The sun is well up, the hot chocolate from downtown Broken Hill almost forgotten as we lift into a lightly clouded sky. Below is a patchwork of shapes and colours. It's a trite description, much overused, but appropriate. The desert is unbelievably green given recent rains. Clouds throw shadows below. Human habitation is missing.
The engines drone on. In the hazy distance there's a line of light, stretching across the horizon. Lake Frome. Anticipation rises as Frome is the reason for the journey. Smaller than Lake Eyre (Kati Thanda) and not nearly as famous, Lake Frome benefits from filtration provided by Kati Thanda, Lake Blanche and Lake Callabonna, the lake systems to the north. The residual water which reaches Frome is relatively clean so when it finally evaporates, it leaves whiter white salt deposits. The whitest salt in the world, Doug explains. Whiter. Brighter. Omo.
From Google Earth you can see islands of sand in the south of the lake. I worry we won't be high enough to fit them in. And I used to think shooting through glass was far from optimal, but as it turns out, it's not really a limitation. Tim Moon has lent me an oversized rubber 'lens hood', so reflections are eliminated and while the fine scratches in the glass undoubtedly have a degrading impact on image quality, it's not something I will see during post-production or printing.
As we fly over the lake, the rich browns and greens flowing below the aircraft switch instantly to bright whites with tantalising hints of yellow, red, magenta and purple. Strong winds carry fine sand from the Flinders Ranges across the lake, depositing a colourful film over the slight salt rises. Stronger markings from floods leave watercolour washes surrounded by carefully defined edges. It's a fairyland of shape and colour.
But it is midday. The light is directly above. High cloud softens the illumination, but the relief on the surface is lost. We will need to return.
Finally, Arkaroola International Airport is below. Two open hangars sit opposite the fuel pump and the end of the runway is crossed by the access road. A stop sign suggests motorists check both ways before proceeding and no doubt pilots keep an eye peeled as well. Doug runs through his checklist as the plane slows, comforting us that the digitised lady warning 'Stall, Stall, Stall' in our headsets, should be ignored.
Want to read more? I promise it gets better and the photos from Arkaroola are great if I don't say so myself. You can read all about it in the current issue of Better Photography magazine! Current subscribers just have to login to read online or download to their device. Not a subscriber? I'd love you to join and help support our small community. For just AUS $29.88 (it's 40% off, but you must use the coupon code BP40) you can subscribe for one year and have access to over 50 back issues as well. Subscribe now - visit our website here - https://www.betterphotographyeducation.com/better-photography-online/about-the-magazine
Peter Eastway FAIPP HonFAIPP HonFNZIPP APPL GMPhotogII MNZIPP
Editor and Publisher
‍

PHOTO TOURS AND WORKSHOPS WITH PETER EASTWAY & FRIENDS

SPIRIT OF ANTARCTICA 17-28 NOVEMBER 2022
ANTARTICA, SOUTH GEORGIA - 27 NOV -17 DEC 2022 - WAIT LIST ONLY
JEWELS OF THE ARCTIC - 5-19 AUGUST 2023
SILK ROAD - TOUR 1 - 19 SEPTEMBER - 1 OCTOBER 2023
SILK ROAD - TOUR 2 - 1-10 OCTOBER 2023
SPIRIT OF ANTARCTICA - 9-20 JANUARY 2024
ANTARCTICA, SOUTH GEORGIA, SANDWICH ISLAND 19 JAN - 10 FEB 2024
KENYA WILDLIFE TOUR - 18 JUNE - 1 JULY 2024
UGANDA PHOTO TOUR - 2-13 JULY 2024

Why did you receive this email? You are registered on the Better Photography website.
Unsubscribe: If you'd like to unsubscribe, click the link here to visit our unsubscribe page: Unsubscribe me, please!