Sharpening - How Does It Work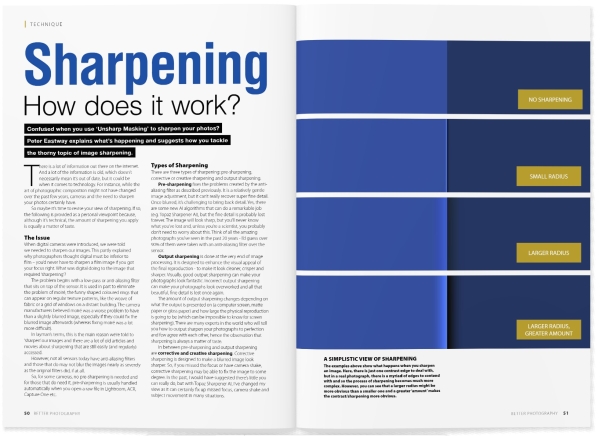 There is a lot of information out there on the internet. And a lot of the information is old, which doesn't necessarily mean it's out of date, but it could be when it comes to technology.
For instance, while the art of photographic composition might not have changed over the past few years, cameras and the need to sharpen your photos certainly have. So maybe it's time to revise your view of sharpening. If so, the following is provided as a personal viewpoint because, although it's technical, the amount of sharpening you apply is equally a matter of taste.
When digital cameras were introduced, we were told we needed to sharpen our images. This partly explained why photographers thought digital must be inferior to film – you'd never have to sharpen a film image if you got your focus right. What was digital doing to the image that required 'sharpening'?
The problem begins with a low-pass or anti-aliasing filter that sits on top of the sensor. It is used in part to eliminate the problem of moiré, the funny shaped coloured rings that can appear on regular texture patterns, like the weave of fabric or a grid of windows on a distant building. The camera manufacturers believed moiré was a worse problem to have than a slightly blurred image, especially if they could fix the blurred image afterwards (whereas fixing moiré was a lot more difficult).
In layman's terms, this is the main reason we're told to 'sharpen' our images and there are a lot of old articles and movies about sharpening that are still easily (and regularly) accessed. However, not all sensors today have anti-aliasing filters and those that do may not blur the images nearly as severely as the original filters did, if at all. So, for some cameras, no pre-sharpening is needed and for those that do need it, pre-sharpening is usually handled automatically when you open a raw file in Lightroom, ACR, Capture One etc.
Here are the sharpening approaches I use...
Want to read more? You can read all about it in the current issue of Better Photography magazine! Current subscribers just have to login to read online or download to their device. Not a subscriber? I'd love you to join and help support our small community. For just AUS $29.88 (it's 40% off, but you must use the coupon code BP40) you can subscribe for one year and have access to over 50 back issues as well. Subscribe now - visit our website here - https://www.betterphotographyeducation.com/better-photography-online/about-the-magazine
Peter Eastway FAIPP HonFAIPP HonFNZIPP APPL GMPhotogII MNZIPP
Editor and Publisher
‍

PHOTO TOURS AND WORKSHOPS WITH PETER EASTWAY & FRIENDS

MIDDLEHURST - 3-9 AUGUST 2022 - 1 SPOT LEFT
BHUTAN - 29 SEPT-12 OCTOBER 2022
SPIRIT OF ANTARCTICA 17-28 NOVEMBER 2022
ANTARTICA, SOUTH GEORGIA - 27 NOV -17 DEC 2022 - WAIT LIST ONLY
JEWELS OF THE ARCTIC - 5-19 AUGUST 2023
SILK ROAD - TOUR 1 - 19 SEPTEMBER - 1 OCTOBER 2023
SILK ROAD - TOUR 2 - 1-10 OCTOBER 2023
SPIRIT OF ANTARCTICA - 9-20 JANUARY 2024
ANTARCTICA, SOUTH GEORGIA, SANDWICH ISLAND 19 JAN - 10 FEB 2024
KENYA WILDLIFE TOUR - 18 JUNE - 1 JULY 2024
UGANDA PHOTO TOUR - 2-13 JULY 2024

Why did you receive this email? You are registered on the Better Photography website.
Unsubscribe: If you'd like to unsubscribe, click the link here to visit our unsubscribe page: Unsubscribe me, please!