Article Ideas & Take-Aways
The Print Miniature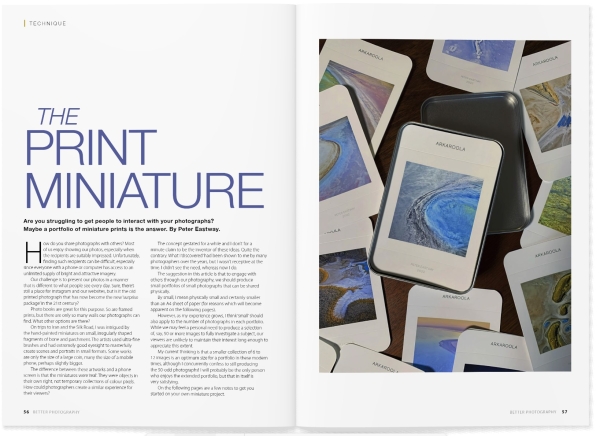 Are you struggling to get people to interact with your photographs? Maybe a portfolio of miniature prints is the answer. By Peter Eastway.
How do you share photographs with others? Most of us enjoy showing our photos, especially when the recipients are suitably impressed. Unfortunately, finding such recipients can be difficult, especially since everyone with a phone or computer has access to an unlimited supply of bright and attractive imagery.
Our challenge is to present our photos in a manner that is different to what people see every day. Sure, there's still a place for Instagram and our websites, but is it the old printed photograph that has now become the new 'surprise package' in the 21st century? Photo books are great for this purpose. So are framed prints, but there are only so many walls our photographs can find. What other options are there?
On trips to Iran and the Silk Road, I was intrigued by the hand-painted miniatures on small, irregularly shaped fragments of bone and parchment. The artists used ultra-fine brushes and had extremely good eyesight to masterfully create scenes and portraits in small formats. Some works are only the size of a large coin, many the size of a mobile phone, perhaps slightly bigger.
The difference between these artworks and a phone screen is that the miniatures were 'real'. They were objects in their own right, not temporary collections of colour pixels. How could photographers create a similar experience for their viewers?
Want to read more? You can read all about it in the current issue of Better Photography magazine! Current subscribers just have to login to read online or download to their device. Not a subscriber? I'd love you to join and help support our small community. For just AUS $29.88 (it's 40% off, but you must use the coupon code BP40) you can subscribe for one year and have access to over 50 back issues as well. Subscribe now - visit our website here - https://www.betterphotographyeducation.com/better-photography-online/about-the-magazine
Fujifilm Launches GFX Challenge Grant Program 2022
(Image above: The Great Little Life by Krittanun Tantraporn, 2021 GFX Challenge Grant Program)
Fujifilm has announced the opening of the GFX Challenge Grant Program 2022, to help discover new creative talents and foster their biggest photographic dreams with USD $100,000 worth of grants.
From 9 September to 30 November 2022, aspiring content creators in selected regions across the globe will be invited to submit their most creative project proposal to Fujifilm, with the opportunity to receive a grant and gear support to bring their creativity to fruition.
There will be five global award recipients, each receiving USD $10,000, as well as 10 regional award recipients, each receiving USD $5,000. All Fujifilm grant holders will also receive GFX gear on loan to support their projects. The completed projects will be showcased on fujifilm-x.com in September 2023.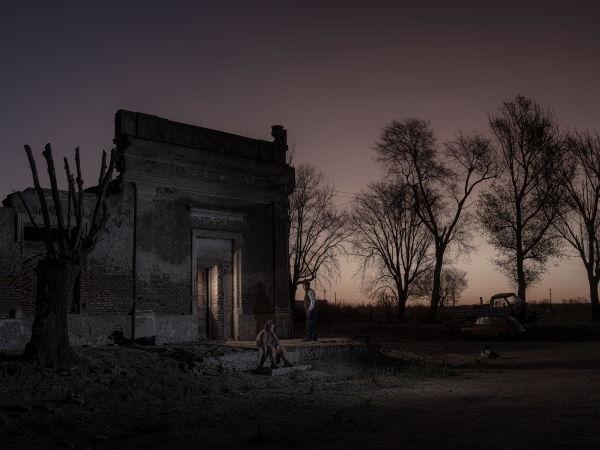 The Cathedrals of Nostalgia by Rodrigo Illescas (2021 GFX Challenge Grant Program)
Full details of the GFX Challenge Grant Program 2022 click here.
Australia and New Zealand applicants can submit their applications here:
https://www.fujifilmreviews.com/gfx-challenge-program-2022.html
Peter Eastway FAIPP HonFAIPP HonFNZIPP APPL GMPhotogII MNZIPP
Editor and Publisher
‍

PHOTO TOURS AND WORKSHOPS WITH PETER EASTWAY & FRIENDS

SPIRIT OF ANTARCTICA 17-28 NOVEMBER 2022
ANTARTICA, SOUTH GEORGIA - 27 NOV -17 DEC 2022 - WAIT LIST ONLY
JEWELS OF THE ARCTIC - 5-19 AUGUST 2023
SILK ROAD - TOUR 1 - 19 SEPTEMBER - 1 OCTOBER 2023
SILK ROAD - TOUR 2 - 1-10 OCTOBER 2023
SPIRIT OF ANTARCTICA - 9-20 JANUARY 2024
ANTARCTICA, SOUTH GEORGIA, SANDWICH ISLAND 19 JAN - 10 FEB 2024
KENYA WILDLIFE TOUR - 18 JUNE - 1 JULY 2024
UGANDA PHOTO TOUR - 2-13 JULY 2024

Why did you receive this email? You are registered on the Better Photography website.
Unsubscribe: If you'd like to unsubscribe, click the link here to visit our unsubscribe page: Unsubscribe me, please!