Article Ideas & Take-Aways
A Study in Lighting Aesthetics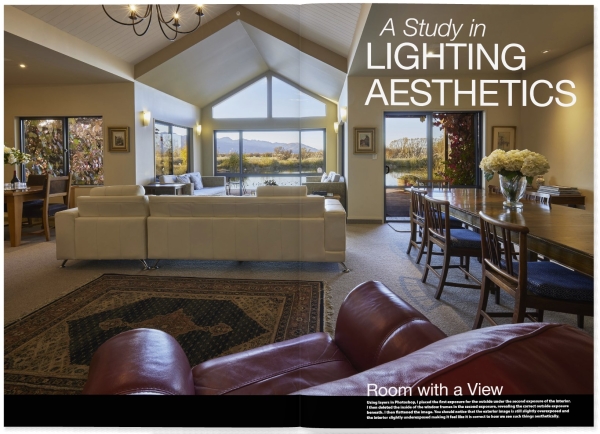 Mike Langford suggests that while technique is important, thinking through the aesthetics of what you want to communicate in your photograph is the first step.
"In the days of film when we needed to light interiors, so you could see and communicate an interior space in the best light possible, the adage was that if you could see that the space had been lit with some form of supplementary lighting, then it was probably lit badly - and most times this was obviously correct. Good technique in this case meant that you needed to visually mask the supplementary lighting so it would blend in with the available light and not look obvious.
"With digital photography, we now just take two exposures of the space - one for the natural light coming into the space through a window and another for the lighting already in the interior, then blend them together in Photoshop. This still requires an understanding of lighting aesthetics – what works and what doesn't and why.
"The aesthetics answer is that one light source needs to be dominant over the other. As to which one is rendered correctly depends on which one is the subject of the image. In the case of the photos of a room with a view included with this article:
• If it's the 'view' from the room that is the subject, then the view needs to be exposed correctly so you can see it clearly.
• If the photo is of the 'interior' that has a view, then the interior needs to be correctly exposed so you can clearly see what is in it.
Technically, it is virtually impossible to photograph the dynamic ranges of both of these exposures in one capture, which is why we need to use two separate exposures and blend them together in Photoshop. 
Want to read more? You can read all about it in the current issue of Better Photography magazine! Current subscribers just have to login to read online or download to their device. Not a subscriber? I'd love you to join and help support our small community. For just AUS $29.88 (it's 40% off, but you must use the coupon code BP40) you can subscribe for one year and have access to over 50 back issues as well. Subscribe now - visit our website here - https://www.betterphotographyeducation.com/better-photography-online/about-the-magazine
Fujifilm Launches GFX Challenge Grant Program 2022
(Image above: The Great Little Life by Krittanun Tantraporn, 2021 GFX Challenge Grant Program)
Fujifilm has announced the opening of the GFX Challenge Grant Program 2022, to help discover new creative talents and foster their biggest photographic dreams with USD $100,000 worth of grants.
From 9 September to 30 November 2022, aspiring content creators in selected regions across the globe will be invited to submit their most creative project proposal to Fujifilm, with the opportunity to receive a grant and gear support to bring their creativity to fruition.
There will be five global award recipients, each receiving USD $10,000, as well as 10 regional award recipients, each receiving USD $5,000. All Fujifilm grant holders will also receive GFX gear on loan to support their projects. The completed projects will be showcased on fujifilm-x.com in September 2023.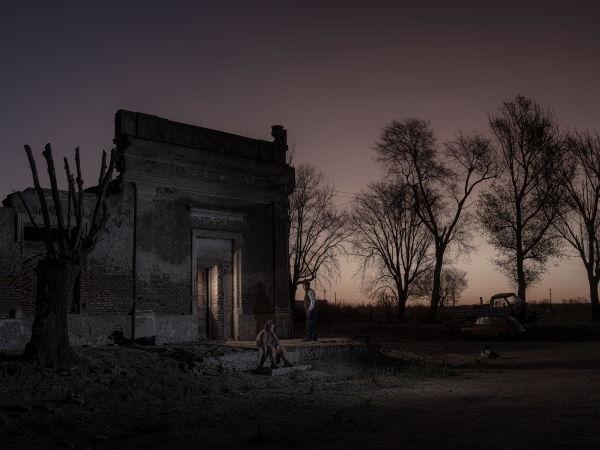 The Cathedrals of Nostalgia by Rodrigo Illescas (2021 GFX Challenge Grant Program)
Full details of the GFX Challenge Grant Program 2022 click here.
Australia and New Zealand applicants can submit their applications here:
https://www.fujifilmreviews.com/gfx-challenge-program-2022.html
Peter Eastway FAIPP HonFAIPP HonFNZIPP APPL GMPhotogII MNZIPP
Editor and Publisher
‍

PHOTO TOURS AND WORKSHOPS WITH PETER EASTWAY & FRIENDS

MIDDLEHURST - 3-9 AUGUST 2022 - 1 SPOT LEFT
BHUTAN - 29 SEPT-12 OCTOBER 2022
SPIRIT OF ANTARCTICA 17-28 NOVEMBER 2022
ANTARTICA, SOUTH GEORGIA - 27 NOV -17 DEC 2022 - WAIT LIST ONLY
JEWELS OF THE ARCTIC - 5-19 AUGUST 2023
SILK ROAD - TOUR 1 - 19 SEPTEMBER - 1 OCTOBER 2023
SILK ROAD - TOUR 2 - 1-10 OCTOBER 2023
SPIRIT OF ANTARCTICA - 9-20 JANUARY 2024
ANTARCTICA, SOUTH GEORGIA, SANDWICH ISLAND 19 JAN - 10 FEB 2024
KENYA WILDLIFE TOUR - 18 JUNE - 1 JULY 2024
UGANDA PHOTO TOUR - 2-13 JULY 2024

Why did you receive this email? You are registered on the Better Photography website.
Unsubscribe: If you'd like to unsubscribe, click the link here to visit our unsubscribe page: Unsubscribe me, please!