Gadgets, Gizmos & Other Stuff
More Resolution, Same Compact Camera - Fujifilm X-H2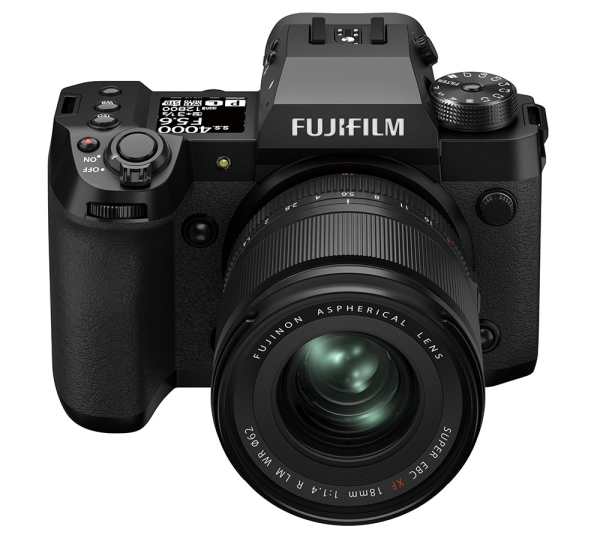 If you own a Fujifilm X-T4 or X-H2S, there's always a part of you that wonders what it would be like to shoot with the Fujifilm GFX100S or GFX50S. And if you own the GFX100S or GFX50S, as small as they are, wouldn't it be great to have all that image quality tucked away in a camera the size of the X-T4 or X-H2S?
Perhaps this is the answer: the 40-megapixel Fujifilm X-H2. In most situations, a 26-megapixlel sensor (or thereabouts) is all we need most of the time, but wouldn't it be great to have just a few more pixels, just in case? On my recent voyages around Svalbard with the 26-megapixel X-T4 and the Fujinon 200mm f2 lens, I have some wonderful captures of polar bears that could have been framed a little closer. So I crop and while the results look really great, in the back of my mind I'm thinking a few more pixels would really solve the problem
And hence the reason I've been waiting for the X-H2 to arrive with its larger 40.2-megapixel X-Trans CMOS 5 HR sensor. Fujifilm claims the new sensor has an improved image-processing algorithm that enhances image resolution without compromising the S/N ratio, producing astonishing image quality. It also has an improved pixel structure to efficiently bring in a greater amount of light, enabling ISO 125 as a new native base ISO (instead of ISO 160 or 200). This is particularly beneficial during day-time outdoor shooting or to take advantage of larger apertures to produce more bokeh.
The top electronic shutter speed has been boosted from the previous 1/32,000 to 1/180,000 second, no doubt opening up new opportunities for freezing the action in sport and wildlife photography. Or, if you want to make huge landscape prints, this is the first X Series camera featuring the Pixel Shift Multi-Shot function. The X-H2 uses the IBIS mechanism to shift the image sensor with high precision to carry out automatic shooting, recording 20 images, that are combined into a single frame using the dedicated software, "Pixel Shift Combiner". This free software processes the captured frame to generate an image containing about 160 million pixels.
Naturally the X-H2 has the same improved autofocus features found on the X-H2S, including subject-detection AF based on Deep Learning technology that automatically detects and tracks a broader range of subjects, including animals, birds, cars, motorcycles, bicycles, planes, and trains - as well as human faces and eyes, of course!
The new high-resolution sensor has a greater number of phase detection pixels than current models, resulting in an improved ability to attain AF-S focus. Furthermore, X-H2 also incorporates the improved AF prediction algorithm, which was newly developed for the X-H2S, enabling stable focusing even when using AF-C.
A 5-axis in-body image stabilisation system, made possible by X-Processor 5 and a sensing control function, provides up to seven stops of compensation, so hand-holding incredibly long exposures becomes very possible, as long as your subject isn't moving! The viewfinder features a high-definition 5.76-million-dot EVF with 0.8x magnification and a smooth refresh frame rate of approximately 120 fps.
And if you're interested in video, the X-H2 offers phenomenal 8K recording at 30P in 4:2:2, 10-bit colour. These specs will certainly keep the quality fanatics happy, plus the camera's heat dissipating design allows you to record in 8K for around 160 minutes. And if 8K resolution is more than you need, the camera supports 8K over-sampling to produce superb 4K footage that takes advantage of the higher resolution sensor.
Other video features include three Apple ProRes codecs, a 2x digital zoom function with little to no loss in resolution, and F-Log2 support which records an expanded dynamic range of 13+ stops.
The body design is the same as that of the X-H2S, with 79 weather-sealed points offering high levels of dust and moisture resistance. There's a top panel LCD screen, an adjustable AF ON button, a 1.62 million-dot vari-angle LCD monitor and the very useful, independent movie recording button. There are two memory card slots, a CFexpress Type B and a UHS-II SD.
The camera has just been announced this week, so we have yet to have a play, but if its performance is anything like the X-H2S, the extra pixel count suggests Fujifilm has another great camera to tempt us.
For further details, visit the Fujifilm website https://fujifilm-x.com/en-au/
Peter Eastway FAIPP HonFAIPP HonFNZIPP APPL GMPhotogII MNZIPP
Editor and Publisher
Why did you receive this email? You are registered on the Better Photography website.
Unsubscribe: If you'd like to unsubscribe, click the link here to visit our unsubscribe page: Unsubscribe me, please!