Article Ideas & Take-Aways
Dual Connection - Do You Have It?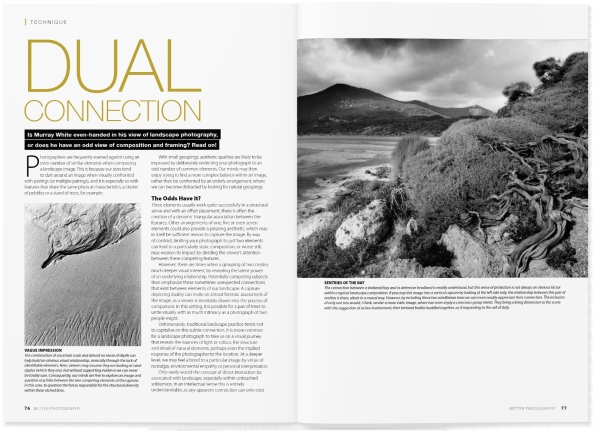 Is Murray White even-handed in his view of landscape photography, or does he have an odd view of composition and framing? Read on!
"Photographers are frequently warned against using an even number of similar elements when composing a landscape image. This is because our eyes tend to dart around an image when visually confronted with pairings (or multiple pairings), and it is especially so with features that share the same physical characteristics; a cluster of pebbles or a stand of trees, for example.
"With small groupings, aesthetic qualities are likely to be improved by deliberately restricting your photograph to an odd number of common elements. Our minds may then enjoy trying to find a more complex balance within an image, rather than be confronted by an orderly arrangement, where we can become distracted by looking for natural groupings.
"Three elements usually work quite successfully in a structural sense and with an offset placement, there is often the creation of a dynamic triangular association between the features. Other arrangements of one, five or even seven elements could also provide a pleasing aesthetic, which may in itself be sufficient reason to capture the image.
"By way of contrast, limiting your photograph to just two elements can lead to a particularly static composition, or worse still, may weaken its impact by dividing the viewer's attention between these competing features. However, there are times when a grouping of two creates much deeper visual interest, by revealing the latent power of an underlying relationship. Potentially competing subjects then emphasise these sometimes unexpected connections that exist between elements of our landscape.
"A capture depicting duality can invite an almost forensic assessment of the image, as a viewer is inevitably drawn into the process of comparison. In this setting, it is possible for a pair of trees to unite visually with as much intimacy as a photograph of two people might. Unfortunately, traditional landscapes...
Read all about it in the current issue of Better Photography magazine! Current subscribers just have to login to read online or download to their device. Not a subscriber? I'd love you to join and help support our small community. For just AUS $29.88 (it's 40% off, but you must use the coupon code BP40) you can subscribe for one year and have access to over 50 back issues as well. Subscribe now - visit our website here - https://www.betterphotographyeducation.com/better-photography-online/about-the-magazine
Peter Eastway FAIPP HonFAIPP HonFNZIPP APPL GMPhotogII MNZIPP
Editor and Publisher
‍

PHOTO TOURS AND WORKSHOPS WITH PETER EASTWAY & FRIENDS

BHUTAN - 29 SEPT-12 OCTOBER 2022
SPIRIT OF ANTARCTICA 17-28 NOVEMBER 2022
ANTARTICA, SOUTH GEORGIA - 27 NOV -17 DEC 2022 - WAIT LIST ONLY
JEWELS OF THE ARCTIC - 5-19 AUGUST 2023
SILK ROAD - TOUR 1 - 19 SEPTEMBER - 1 OCTOBER 2023
SILK ROAD - TOUR 2 - 1-10 OCTOBER 2023
SPIRIT OF ANTARCTICA - 9-20 JANUARY 2024
ANTARCTICA, SOUTH GEORGIA, SANDWICH ISLAND 19 JAN - 10 FEB 2024
Why did you receive this email? You are registered on the Better Photography website.
Unsubscribe: If you'd like to unsubscribe, click the link here to visit our unsubscribe page: Unsubscribe me, please!