The [Almost] Weekly Newsletter
The Arctic Report: White Bears, Blue Ice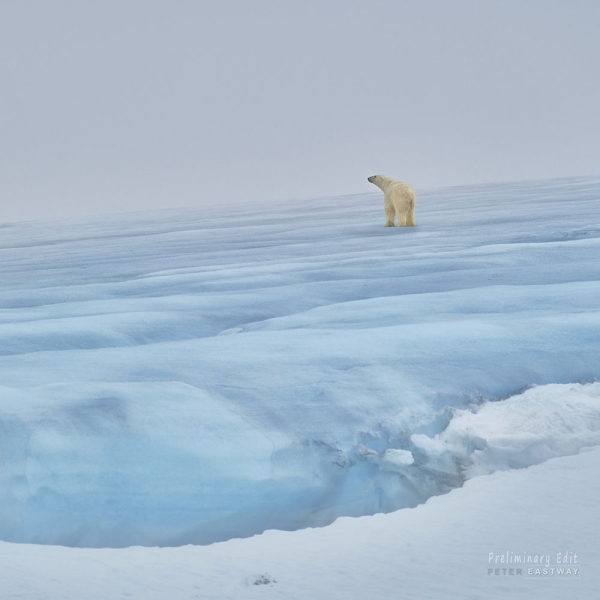 White Bear, Blue Ice
Fujifilm X-T4, 200mm f2.0 lens with 1.4 teleconverter, f2 @ 1/5800 second, ISO 160.
Kvitoya (White Island), off the northeast coast of Svalbard, is covered by a relatively low ice cap. Now, I'm no glaciologist, but I understand the blue ice is the result of pressure and often we don't get to see this ice because it is covered with fresh snow - hence the name of the island.
We were sitting in our zodiac doing circuits past the shore where there were three polar bears in the white snow. Behind I could see the blue ice and I thought to myself, wouldn't it be wonderful if the bears wandered up there.
Mind you, the weather wasn't optimum. The sea was quite choppy, moving the zodiac around and making it difficult to focus on the subject or, for that matter, keeping the subject within the frame. The longer your telephoto lens, the more difficult this was, so there's an argument for a slightly shorter telephoto for framing and then cropping the image later on.
In addition, there was low cloud and fog and the wind was blowing offshore, depositing a fine mist of water over the lens's front element. I was constantly cleaning the lens with a soft cloth I keep in my camera bag for such occasions. A rain-cover on the camera also helped, but there was nothing I could do to stop the rain accumulating on the front of the lens if I wanted to photograph the bears!
The polar bears were several hundred metres away (distances are really hard to gauge up here, for me at least), so we were shooting through a lot of atmosphere and in fact, the images looked almost 'noisy' - not because of the sensor, but because the lens was recording the water droplets in the air.
The original capture is a little drab compared to what you see here. And the omnidirectional light makes the bear look like he (or she) is almost pasted in - which is a fair criticism given my reputation, but I assure you that aspect of the image is authentic. The bear was there! I have lightened up the overall exposure and added in some clarity and colour saturation to bring the ice to life in post-production.
Having spent 30 days around Svalbard this year (that's a separate story of airline strikes and challenges), I realise I have only touched the surface of this amazing archipelago. If you're interested in joining me 5-19 August 2023, I am hosting a voyage that includes Svalbard and Greenland called Jewels of the Arctic.
And also a call-out for Bhutan! David Oliver and I are definitely going back (29 September to 12 October 2022) and we have just two guests with us, so this is a great opportunity to join a small group! Full details for all photo tours can be found on the website.
‍

PHOTO TOURS AND WORKSHOPS WITH PETER EASTWAY & FRIENDS

BHUTAN - 29 SEPT-12 OCTOBER 2022
SPIRIT OF ANTARCTICA 17-28 NOVEMBER 2022
ANTARTICA, SOUTH GEORGIA - 27 NOV -17 DEC 2022 - WAIT LIST ONLY
JEWELS OF THE ARCTIC - 5-19 AUGUST 2023
SILK ROAD - TOUR 1 - 19 SEPTEMBER - 1 OCTOBER 2023
SILK ROAD - TOUR 2 - 1-10 OCTOBER 2023
SPIRIT OF ANTARCTICA - 9-20 JANUARY 2024
ANTARCTICA, SOUTH GEORGIA, SANDWICH ISLAND 19 JAN - 10 FEB 2024
Peter Eastway FAIPP HonFAIPP HonFNZIPP APPL GMPhotogII MNZIPP
Editor and Publisher
Why did you receive this email? You are registered on the Better Photography website.
Unsubscribe: If you'd like to unsubscribe, click the link here to visit our unsubscribe page: Unsubscribe me, please!