The [Almost] Weekly Newsletter
Stopping Before The Best View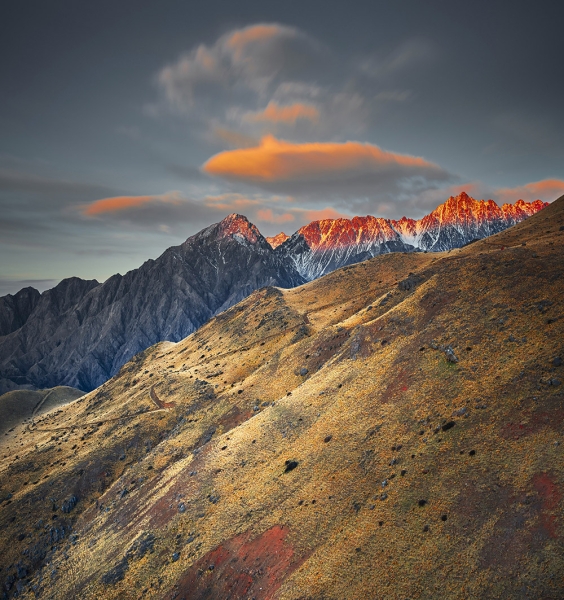 Above Hells Gate, Middlehurst.
Phase One XF 150MP, 55mm Schneider lens, f11 for 60 seconds, ISO 50.
How often have you been travelling to a destination, intent on seeing the view? You could be in Australia, Iceland or New Zealand - it doesn't matter. What does matter is you've been told about or you've seen a great location and you want to photograph it.
I have a question. Should you stop before the best view? This is sort of what happened for this photo taken at Middlehurst. In the distance on the left, you can see a small road that takes us to a corner of the mountain and some great panoramic views. I love going there each year - it's usually on the first night, weather permitting. And it's hard not to take an impressive landscape or two.
However, on this occasion as we were travelling back from our destination, we turned around to see the sky lighting up. Now, I'm not a big fan of sunset photographs in competitions, but when it comes to taking a few for myself, that's a different matter! And what I like about this image is the huge expanse of mountainside in the foreground, the red slips on the steeper sections. It's not a classic composition, cramming the 'action' of the big mountains and the sunset light show up into the top third of the frame, but this 'balance' creates a different type of interest. Some people might like to know what's behind the foreground mountain, whereas I like the fact that it hides it. It creates a sense of unknown - if what I can see already looks amazing, how much more could I see if I were around the corner?
Sometimes delivering everything in a photograph isn't as effective as allowing our viewers to use their imagination - and hence the question, should we stop before the best view?
As a corollary, we're always told to look behind us and I think this is possibly the single best piece of advice I have ever received. Okay, so you need a lot of other advice too, but how many photos would we have missed had we not been aware of what was happening behind and around us as well? And this concept isn't just about camera angle and place. It's about timing too - the sun had set behind clouds for the evening, or so we thought, but while we were on our way home, our cameras were still very much at the ready - and just as well.
If you're interested in experiencing the Middlehurst Experience in August this year, Tony Hewitt and I have just one place left You can check out the details on our website here.
2022 Competition Pointer: Setting Your Expectations
Are there any tricks to winning a photography competition? I wish I knew. Rather than aiming for the top prize, I think a better approach should be to have your photograph in the top 20 percent of entries. Why? Because most judges will agree about the bottom 80 percent, but the top 20 percent is up for grabs.
The top 20 percent always has the winning images, but which individual image wins can vary on the day. I have had entries of mine score first place in one award and not even be accepted in another, but that is the exception. I usually find that if an image is in the top 20 percent in one competition, it will be in the top twenty percent in most. And once you're into the top 20 percent, then you have a chance of taking out a prize.
Photography competitions aren't like a running race because there is an element of subjectivity about the result.
If your photos are special, you have a chance and, to an extent, that is exactly what entering a photography competition is - a chance. You have no control over what the judges like, their opinion about certain subjects or techniques, or what other photographers are entering. All you can do is produce your best work, work that you are personally proud of, and put it up. You have to be in it to win it.
Then, sit back and hope the judges take a fancy to your imagery. If nothing else, it is the best learning and growing experience available in photography.
Entries into the 2022 Better Photography Photo of the Year Awards close on 15 July 2022, so there's still time to enter - and who knows, you could be part of the $5000 prize pool too! And every entry gets a judge's comment to assist them improve. For more details or to enter, visit www.betterphotographyphotocomp.com now!
‍

PHOTO TOURS AND WORKSHOPS WITH PETER EASTWAY & FRIENDS

MIDDLEHURST - 3-9 AUGUST 2022 - 1 SPOT LEFT
ICELAND - 12-20 SEPTEMBER 2022
BHUTAN - 29 SEPT-12 OCTOBER 2022
SPIRIT OF ANTARCTICA 17-28 NOVEMBER 2022
ANTARTICA, SOUTH GEORGIA - 27 NOV -17 DEC 2022 - WAIT LIST ONLY
JEWELS OF THE ARCTIC - 5-19 AUGUST 2023
SILK ROAD - TOUR 1 - 19 SEPTEMBER - 1 OCTOBER 2023
SILK ROAD - TOUR 2 - 1-10 OCTOBER 2023
SPIRIT OF ANTARCTICA - 9-20 JANUARY 2024
ANTARCTICA, SOUTH GEORGIA, SANDWICH ISLAND 19 JAN - 10 FEB 2024
Peter Eastway FAIPP HonFAIPP HonFNZIPP APPL GMPhotogII MNZIPP
Editor and Publisher
Why did you receive this email? You are registered on the Better Photography website.
Unsubscribe: If you'd like to unsubscribe, click the link here to visit our unsubscribe page: Unsubscribe me, please!