The [Almost] Weekly Newsletter
Does This Crop Make It Better?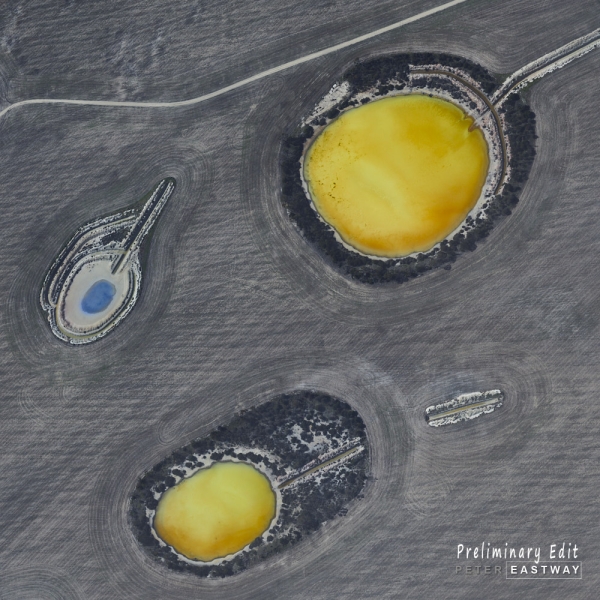 Farmlands Near Esperance, WA
Phase One IQ150, 80mm Schneider, f4 @ 1/3200 second ISO 160
I've just finished the Esperance/Albany photo tour with Tony Hewitt, accompanied by half a dozen enthusiastic photographers. We had a wonderful mixture of light, flights and bad humour (the latter attributed to this writer).
If you've travelled with Tony on a workshop, you'll know that he regularly asks, "What have you learnt today"? Usually I make a smart comment when it's my turn to answer, but as I was processing some of the aerials I'd taken, I realised I had learnt to crop. Okay, so I had re-learnt the lesson, one I also teach regularly, but the 'new' direction came from watching my 'students' who were cropping in very tightly to produce their final compositions. Why wasn't I being more aggressive as well? I certainly had plenty of pixels to spare - as do most of us these days with our 20+ megapixel sensors.
The image above is one example. North of Esperance are hundreds of small ponds, some dry, some full, some coloured. Of course, these ponds are found in many places all around Australia, but I had noticed a congestion of them on a commercial flight some 10 years ago, looking out my window. Keeping notes of future locations is an occupational habit. I'm still working out if I prefer the ponds in the 'wilderness', or surrounded by farmland. Both have their appeal.
And the original framing. Click through to the Better Photography website to see the original raw file, before processing and uncropped!
Read more
2022 Competition Pointer: What Do Judges Expect?
When judging photographs, I think most judges have some basic expectations: the photograph should be sharp (focused) in the right places (although blurred images can be wonderful in context); they should be correctly exposed (not too light or too dark); and they should be appropriately composed and framed. By this I mean the subject should be obvious within the frame - there's nothing worse than a fantastic subject being overcrowded by unnecessary information or a busy background. Deciding what to leave out of your photographs is just as important as what to leave in.
This doesn't mean that I won't award a prize to a blurred image with poor image quality because there could be emotional or pictorial aspects about the image that either justify the blurred image, or override it. However, this is a purely subjective process and so you can never be sure of impressing the judges.
However, you can expect to achieve a good score for a high standard. You can aim for a Silver Award and when they are easy to achieve, aim for a Gold Award. Don't expect to win a competition the first time you enter, rather look at it as a process of learning so that at some stage in the not too distant future, your work will be good enough to be up there with the winners.
Entries into the 2022 Better Photography Photo of the Year Awards close on 15 July 2022, so there's still time to enter - and who knows, you could be part of the $5000 prize pool too! And every entry gets a judge's comment to assist them improve. For more details or to enter, visit www.betterphotographyphotocomp.com now!
‍

PHOTO TOURS AND WORKSHOPS WITH PETER EASTWAY & FRIENDS

SVALBARD ARCTIC - 19-30 JUNE 2022
SVALBARD ARCTIC - 29 JUNE-10 JULY 2022
MIDDLEHURST - 25-31 JULY 2022 - WAIT LIST ONLY
MIDDLEHURST - 3-9 AUGUST 2022 - 1 SPOT LEFT
ICELAND - 12-20 SEPTEMBER 2022
BHUTAN - 29 SEPT-12 OCTOBER 2022
GEORGIA & ARMENIA - 24 OCT - 7 NOVEMBER 2022
ANTARCTICA 17-28 NOVEMBER 2022
ANTARTICA SOUTH GEORGIA - 27 NOV -17 DEC 2022 - WAIT LIST ONLY

Peter Eastway FAIPP HonFAIPP HonFNZIPP APPL GMPhotogII MNZIPP
Editor and Publisher
Why did you receive this email? You are registered on the Better Photography website.
Unsubscribe: If you'd like to unsubscribe, click the link here to visit our unsubscribe page: Unsubscribe me, please!