Article Ideas & Take-Aways

Post Production Bokeh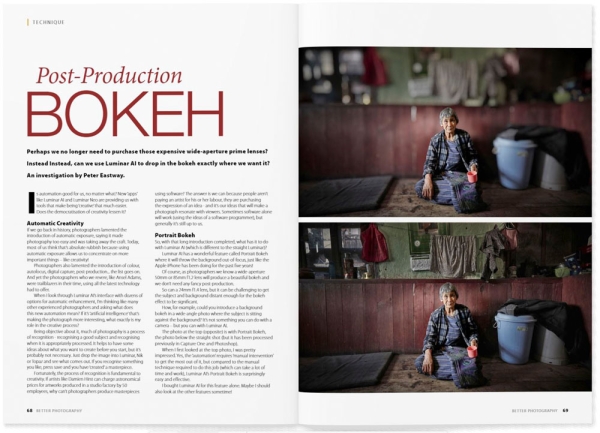 If we go back in history, photographers lamented the introduction of automatic exposure, saying it made photography too easy and was taking away the craft. Today, most of us think that's absolute rubbish because using automatic exposure allows us to concentrate on more important things – like creativity!
Photographers also lamented the introduction of colour, autofocus, digital capture, post-production... the list goes on. And yet the photographers who we revere, like Ansel Adams, were trailblazers in their time, using all the latest technology had to offer.
When I look through Luminar AI's interface with dozens of options for automatic enhancement, I'm thinking like many other experienced photographers and asking what does this new automation mean? If it's 'artificial intelligence' that's making the photograph more interesting, what exactly is my role in the creative process?
While I have some thoughts about this, the main purpose of the article is to look at creating out of focus backgrounds during post-production - and it is remarkably easy and remarkably good with Luminar AI.
Read all about it in the current issue of Better Photography (Issue 106). Click on the link below to subscribe - plus you get immediate access to 50 back issues full of super informative material and inspirational ideas! Use coupon code BP40 to get 40% off - just $29.88 for an annual subscription.
Peter Eastway FAIPP HonFAIPP HonFNZIPP APPL GMPhotogII MNZIPP
Editor and Publisher
Why did you receive this email? You are registered on the Better Photography website.
Unsubscribe: If you'd like to unsubscribe, click the link here to visit our unsubscribe page: Unsubscribe me, please!