Article Ideas & Take-Aways

A Beginner's Guide to Audiovisuals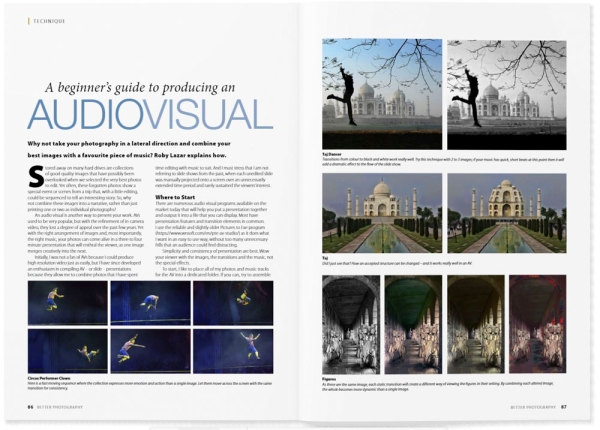 Writes Roby Lazar, "Stored away on many hard drives are collections of good quality images that have possibly been overlooked when we selected the very best photos to edit. Yet often, these forgotten photos show a special event or scenes from a trip that, with a little editing,
could be sequenced to tell an interesting story. So, why not combine these images into a narrative, rather than just printing one or two as individual photographs?
"An audio visual is another way to present your work. AVs used to be very popular, but with the refinement of in-camera video, they lost a degree of appeal over the past few years. Yet with the right arrangement of images and, most importantly, the right music, your photos can come alive in a three to four minute presentation that will enthral the viewer, as one image merges creatively into the next.
"Initially, I was not a fan of AVs because I could produce high resolution video just as easily, but I have since developed an enthusiasm in compiling AV – or slide – presentations because they allow me to combine photos that I have spent time editing with music to suit. And I must stress that I am not referring to slide shows from the past, when each unedited slide was manually projected onto a screen over an unnecessarily extended time period and rarely sustained the viewers' interest.
"There are numerous audio visual programs available on the market today that will help you put a presentation together and output it into a file that you can display. Most have presentation features and transition elements in common", but it's how you put the elements together that bring it all together.
Read all about it in the current issue of Better Photography (Issue 106). Click on the link below to subscribe - plus you get immediate access to 50 back issues full of super informative material and inspirational ideas! Use coupon code BP40 to get 40% off - just $29.88 for an annual subscription.
GFX Challenge Grant Program 2021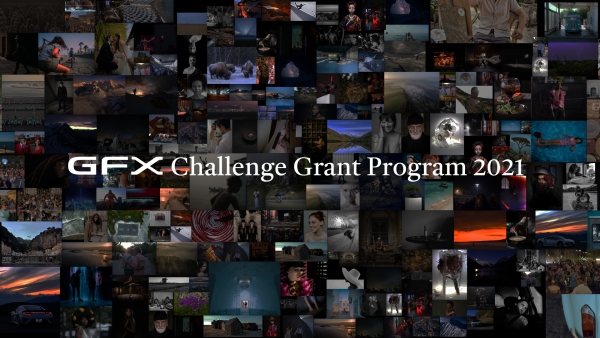 Make Your Next Great Image
The GFX Challenge Grant Program, sponsored by FUJIFILM, is a grant program that awards 5 Global Grant Award and 10 Regional Grant Award to help aspiring creatives bring their imaging projects to life. 
It is designed to nurture and develop the skills of emerging/promising content creators, giving them the opportunity to create content on topics that have significant meaning to them, while gaining experience using FUJIFILM GFX System gear.

Proposed projects may be submitted as still photography or in a movie format. At the conclusion of the production period in August 2022, the award recipients' final content will be showcased on the fujifilm-x.com website.

Submit a project proposal for a chance to receive a $10,000 global grant award, or a $5,000 regional grant award, and take the first step in turning your creative idea into reality!
Global Grant Award

Complimentary use of a GFX System camera body and two GF lenses for the duration of their project
Mentoring and technical assistance from Fujifilm technicians / product experts
US $10,000 Grant

Regional Grant Award

Complimentary use of a GFX System camera body and two GF lenses for the duration of their project
Mentoring and technical assistance from Fujifilm technicians / product experts
US $5,000 Grant

Entry Period:

The application is open from 10 November 2021 to 5 January 2022.

Eligibility:

The program is only open to individuals who are a resident of the countries / region listed in the section of "Entry Submission" from the link below.

The Program is open to both amateur and professional photographers and videographers.

This Program is not open to employees or officers of FUJIFILM and its subsidiaries

For full details and entry visit:     

 https://fujifilm-x.com/global/special/gfx-challenge-program/
Peter Eastway FAIPP HonFAIPP HonFNZIPP APPL GMPhotogII MNZIPP
Editor and Publisher
Why did you receive this email? You are registered on the Better Photography website.
Unsubscribe: If you'd like to unsubscribe, click the link here to visit our unsubscribe page: Unsubscribe me, please!